You Can Now Get A Purple Slush To Instagram In Front Of The Famous Purple Wall At Disney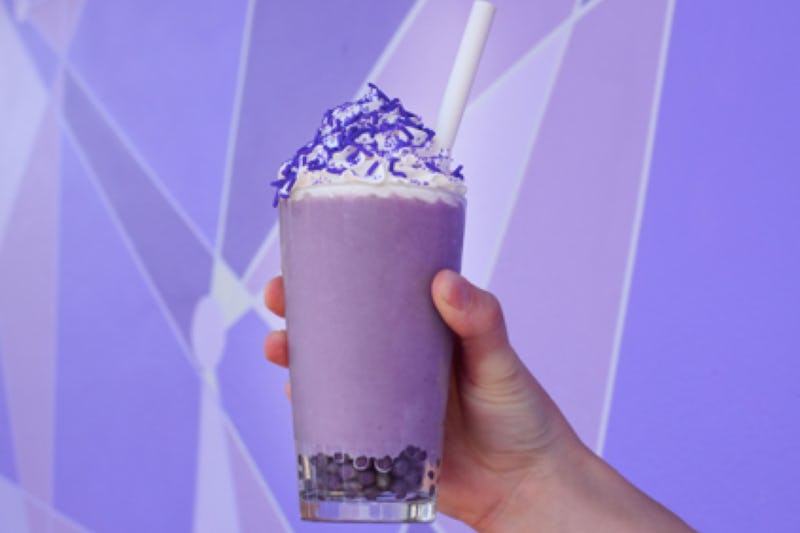 Courtesy of Disney
There are a lot of reasons to go wild in Walt Disney World. There's Star Tours, for instance, where you get to live inside a Star Wars movie. There's Space Mountain, where you get to roller-coast past ALIENS. There's Pirates of the Caribbean, which still holds up after a number of upgrades. And then there's the Purple Wall, an eminently Instagrammable art piece at Tomorrowland. Now, there's the "Purple Wall Slush," a tasty-looking drink you can pair with your #PurpleWall 'gram, ears and all. The 21st century is nothing if not an adventure.
According to a press release, the Purple Wall Slush is set to debut at the Tomorrowland Terrace (at the Counter Spot) on May 21. It's composed of taro tea mixed with ice (hence the "slush"), with tapioca Boba pearls sitting pretty at the bottom, and whipped cream and fancy purple sprinkles rounding out the top. It's a very pretty looking drink, and taro tea is delicious as all heck, so I can only assume this slush is the real deal. More importantly, though, it matches Disney's Purple Wall to a T, so if you want a Very Cool and Very Purple photo to rack up those Instagram likes, this is your accessory.
Disney Food Blog notes that in addition to the Purple Wall Slush, you can purchase special Purple Wall gear for a photo opp, like a Purple Wall baseball cap that is, well, purple. On the other hand, Mickey Mouse Ears will do the trick just fine.
Other new Disney treats this season, per Thrill Geek, include the Millennial Pink Macaron in Disneyland (available at the Jolly Holiday Bakery Café in Disneyland proper and at Fiddler, Fifer & Practical Café and Clarabelle's Hand Scooped Ice Cream at California Adventure); the Pineapple Whip Swirl Cupcake at Disney's All-Star Music Resort in Walt Disney World's Animal Kingdom park; Birthday Cake Ice Cream at the Magic Kingdom; the Belle cupcake at Epcot, and Cars candy apples at California Adventure.
Meanwhile, for folks who are unfamiliar with Walt Disney World's Purple Wall, it's located right by the entrance into Tomorrowland. Though the wall wasn't initially installed specifically for social media purposes, visitors were drawn to the wall's funky purple hue and used it as Instagram shoot backgrounds, hashtagging their pics with #PurpleWall. Earlier this year, the wall got a little re-purpling update for enhanced 'grammability, et voilà, a true social media star was born.
Of course, there's a lot more to Tomorrowland than the Purple Wall. Tomorrowland is home to the aforementioned Space Mountain, a truly astounding rollercoaster that sticks you in a rocket ship in the pitch black and shoots you through star-filled space, to the tune of Starry-O Phonic Sound. It's a real experience, and well worth long waits (though FastPass comes in handy here.)
Also at Tomorrowland is the Monsters, Inc. Laugh Floor (a very cute comedy show); theater-in-the-round show Stitch's Great Escape, and Walt Disney's Carousel of Progress, which takes visitors through several decades of typical American family life. It's a real trip, considering it first opened in 1975, and now we're all the way in ye grande 2018.
Of course, the real Tomorrowland highlight is in Disneyland in California, and that's Star Tours — The Adventure Continues (it's at Hollywood Studios in Walt Disney World). On that ride, you get to join R2D2 and C3PO on space ship that takes you through different 3D scenes from real Star Wars films, and f you're someone who spent their youth dreaming of adventuring on the Millennium Falcon, it's a real highlight. Wait to try the boba tea 'til after, though.