These Putin Quotes About Trump Show How He Likes To Flatter The President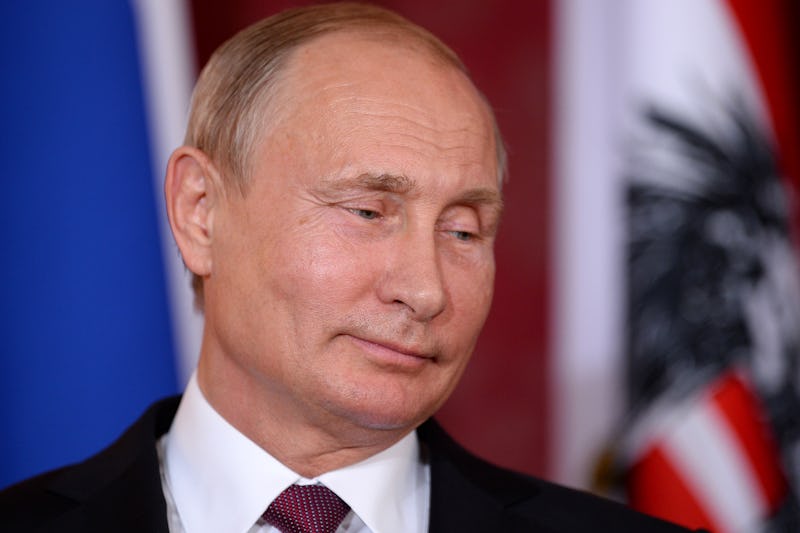 Thomas Kronsteiner/Getty Images News/Getty Images
President Donald Trump is expected to sit down for a one-on-one with Russian President Vladimir Putin in Helsinki on Monday. While the summit, which has become increasingly controversial given Friday's indictment of 12 Russian intelligence officers, is set to be Trump and Putin's first official meeting, the two leaders already have something of an established relationship. In fact, the pair have been exchanging compliments and praise for years now. So, what's Putin had to say about Trump? The Russian president hasn't been shy about making flattering his U.S. counterpart.
Putin's praise of Trump began well before the real estate mogul had even won the 2016 presidential election when the Russian president hinted in 2015 that he just might be Team Trump. Since then, Putin and Trump appear to have developed something of an affectionate relationship, despite the U.S.' investigation — and recent indictment — into allegations of Russian interference in the 2016 election.
Trump hasn't just heaped praise on Putin — most often complimenting the Russian president's leadership — he's also talked about his hope of becoming Putin's friend for years. Trump's reported desire to be Putin's "new best friend" dates back to at least 2013. But the flattery isn't exactly one-sided; Putin has volleyed more than a few compliments Trump's way since the real-estate mogul waded into politics. But are Putin's comments genuine or is his flattery of Trump merely a strategy?