Putin Tells America "Don't Worry, Be Happy" As Trump Pull Out Of Paris Deal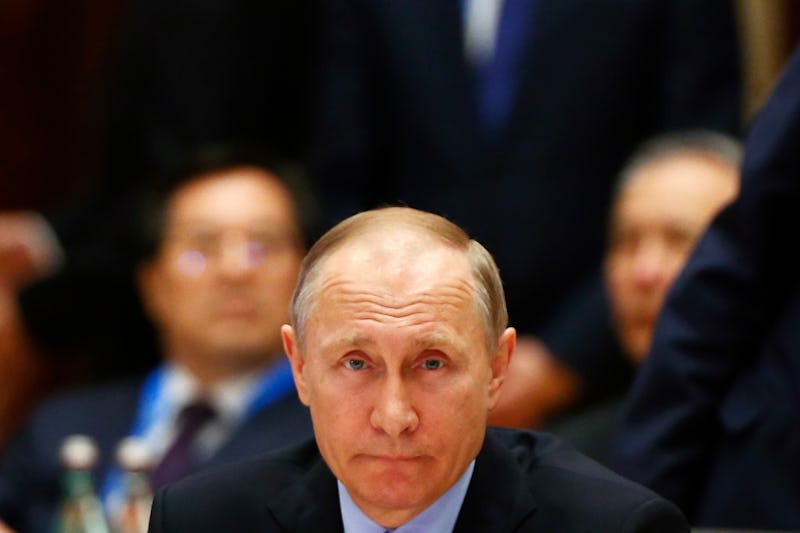 Pool/Getty Images News/Getty Images
While multiple world leaders have sharply criticized President Donald Trump for choosing to withdraw the United States from the Paris climate accord, Russian President Vladimir Putin appears to be trying his best to remain relatively neutral. Speaking at an economic forum Friday, the Russian leader defended the Paris climate agreement but said he would not judge Trump for his decision. Instead Putin told Americans "don't worry, be happy," quoting Bobby McFerrin's popular 1988 hit single of the same name.
In comments made Friday at an economic forum in St. Petersburg, President Putin said he wouldn't criticize Trump's decision but admitted he believed it would have been better if the United States had simply modified their commitments to the Paris agreement rather than withdrawal completely. "I wouldn't judge President Trump because President Obama took the relevant decision and maybe the current president thinks it wasn't properly thought through, that the corresponding resources aren't there?" Putin said. "This all requires careful attention, but in my opinion he didn't have to pull out of the Paris agreements because they are a framework."
The Russian president went on to downplay the significance of Trump's decision to withdraw from the landmark agreement, saying there may be time for the United States to find a way to remain. "It's not even come into force yet," Putin said. "It should come into force in 2021. So we still have time."
But while Putin refrained from criticizing Trump's decision to pull out of the Paris accord, he did stress the importance of having the United States involved in global efforts to combat climate change. "If we all work together constructively we can agree on something." In English, Putin then added, "don't worry, be happy."
Kremlin spokesman Dmitry Peskov had cautioned against a U.S. withdrawal while reiterating Putin's commitment to the Paris climate agreement Thursday just hours before Trump announced his decision. "Putin signed this convention in Paris. Russia attaches great significance to it," the Independent reported Peskov said. "At the same time, it goes without saying that the effectiveness of this convention is likely to be reduced without its key participants."
For the record, Russia recently became the world's biggest crude oil producer and among the world's top five greenhouse gas emitters. While Putin agreed to the Paris accord in 2015, the Washington Post reports Russia's reduction goals "are among the weakest submitted by any country" and Putin has been slow to formally ratify the agreement.