A Look Back At Queen Elizabeth & Prince Philip's Marriage In Honor Of Their Anniversary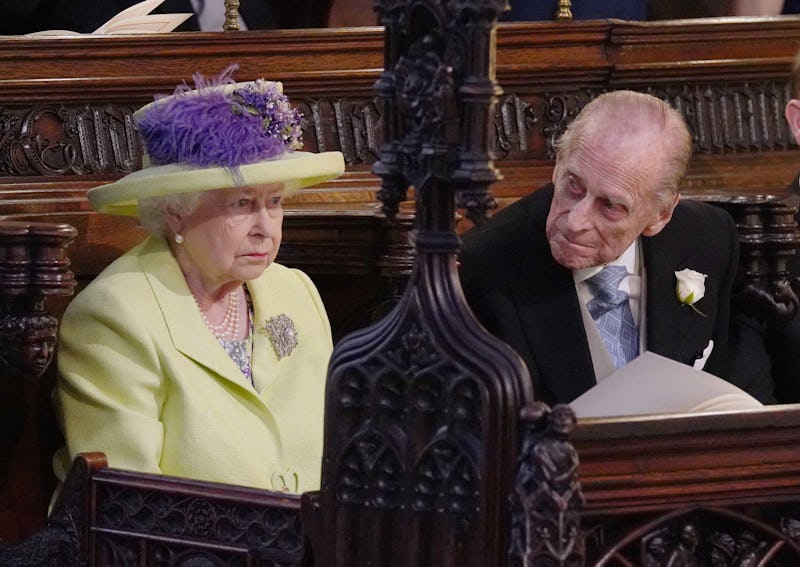 WPA Pool/Getty Images Entertainment/Getty Images
Queen Elizabeth and her husband, Prince Philip are celebrating a major milestone on Nov. 20. As People noted, the date marks Queen Elizabeth and Prince Philip's 71st anniversary. In honor of that special date, it's interesting to look back on the royal couple's lengthy relationship.
According to People, Elizabeth and Philip exchanged vows on Nov. 20, 1947 at Westminster Abbey (the same location of the Duke and Duchess of Cambridge's nuptials). Based on a Town & Country report, not everyone was thrilled by the couple's match upon the news of their engagement in 1947, since the United Kingdom was just getting over World War II and Philip was apparently considered to be "too German."
But, Elizabeth and Philip's love story eventually won many over, with their wedding being a particularly popular event. The then-future queen was even a trendsetter when it came to her dress, which she purchased herself using her own clothing coupons (she used coupons because of the rationing during World War II), according to Town & Country. Her gorgeous Norman Hartnell gown has inspired many generations to come. So, in case they were in need of a little fashion inspiration, Kate Middleton and Meghan Markle have one major, royal style icon that they can look up to.
In the past Elizabeth and Philip — who share four children, eight grandchildren, and seven great-grandchildren together — have been vocal about how special their bond is. For their Golden Wedding anniversary celebration (aka their 50th), the queen made a speech in honor of her longtime love. She said, in part:
"All too often, I fear, Prince Philip has had to listen to me speaking. Frequently we have discussed my intended speech beforehand and, as you will imagine, his views have been expressed in a forthright manner. He has, quite simply, been my strength and stay all these years, and I, and his whole family, and this and many other countries, owe him a debt greater than he would ever claim, or we shall ever know."
During the same celebration for their 50th wedding anniversary, Philip shared exactly how his marriage to Elizabeth works. He said, according to The Mirror:
"I think the main lesson we have learnt is that tolerance is the one essential ingredient in any happy marriage... You can take it from me, the Queen has the quality of tolerance in abundance."
For their 70th anniversary, they celebrated the milestone by releasing a new portrait to the public. According to the royal family's official Twitter account, Elizabeth and Philip posed together for the portraits, which were taken by Matt Holyoak of the Camera Press in early November 2017.
The Twitter account went on to detail a very special note about how the couple are framed in the photo. They reported that Elizabeth and Philip were framed by Thomas Gainsborough's portraits of King George III and his wife, Queen Charlotte, who enjoyed a lengthy marriage themselves as they were married for 57 years.
Seventy-one years is a major, major milestone for the couple to celebrate. And it's clear that their longtime love story is one for the ages.