Queen Elizabeth Just Wore Her Most Extra Outfit Ever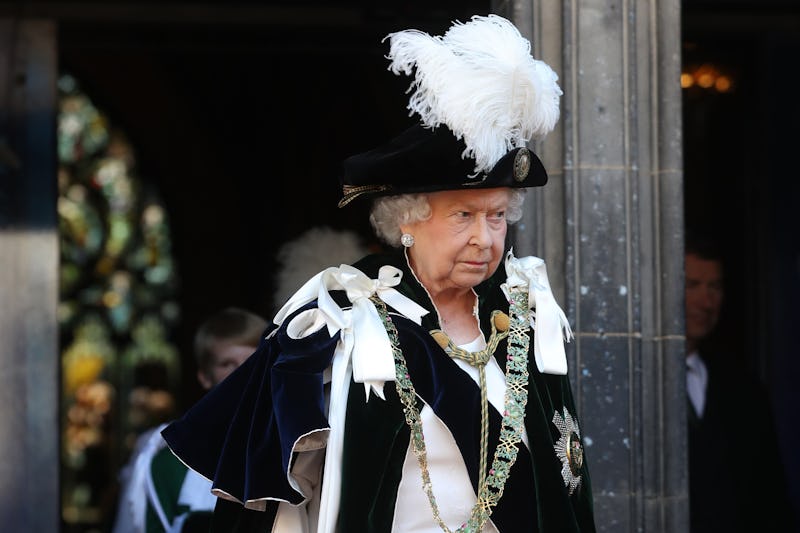 Chris Jackson/Getty Images Entertainment/Getty Images
If you thought that Her Majesty's lime green outfit was over-the-top, just wait until you see her latest outfit. Queen Elizabeth's Order of the Thistle Ceremony outfit included a hat with a two-foot feather on the top and a robe decked out with all of the royal accessories you can imagine. Because when you're celebrating the highest public-office honor in Scotland, you have to dress to impress.
You can always count on the Queen to bring the color, but she showed up looking more extra than ever to the Thistle Ceremony. The event, which was held to add two new Knights to the Order of the Thistle, is the highest public-office. It brings high honors and, well, extremely over-the-top outfits.
Queen Elizabeth's outfit was one of the most epic of the day. She wore an all-white dress. Yes, one of the only bland-colored dresses she's worn. Don't worry though, it was accompanied by an extra-long, emerald green cape and a hat with a large feather in the front.
She added on a metallic handbag, multiple oversized ribbons, and a necklace-looking attachment overtop of her sash. There's no word on what each accessory actually means, but it's safe to say that it's got something to do with her being royal AF.
Queen Elizabeth is known for her brightly-colored and well-accessorized outfits. She can almost always be seen wearing a bright color and a large hat. According to her INSIDER, it's because she wants people to be able to pick her out in a crowd.
"[The Queen] needs to stand out for people to be able to say 'I saw the queen'," daughter-in-law Sophie, the Countess of Wessex, says in the documentary The Queen at 90. "Don't forget that when she turns up somewhere, the crowds are two, three, four, 10, 15 deep, and someone wants to be able to say they saw a bit of the queen's hat as she went past."
This time was a little different, though. Queen Elizabeth's outfit at the Thistle Ceremony was identical to Prince William's, or, as they call him in Scotland, Earl of Strathearn. You know, minus the white dress and handbag. The two had the same cape and accessories on, though, for what might be the most bizarre family photo of all times.
Queen Elizabeth, Prince William, and Princess Anne were the only ones from the royal family who attended the ceremony. Kate Middleton did not show up because she is still on maternity leave after giving birth to Prince Louis. Prince Harry and Meghan Markle did not attend, either. Nor did Prince Philip, who resigned from all of his public appearances in August.
It's a shame that more members of the royal family didn't attend the event. You know, because it would have been great to see them all lined up with their awkwardly styled feather hats and capes. It would have made for one heck of a family Christmas photo. Or at the very least, a great addition to the Awkward Family photo book.
All jokes aside, the royals handle their duties in the best possible way. There aren't many people who could fly to multiple countries and wear over-the-top outfits in the same week, not to mention do it so gracefully, all at the same time.
This isn't your average best-selling outfit that Markle or Middleton brings to the table, but it's definitely something to look at. While this won't be the next viral get-the-look outfit from the royal, it will go down in history as one of the more over-the-top that they have worn.