Queen Maxima Just Wore The Biggest Tiara You've Ever Seen To Dinner With Kate Middleton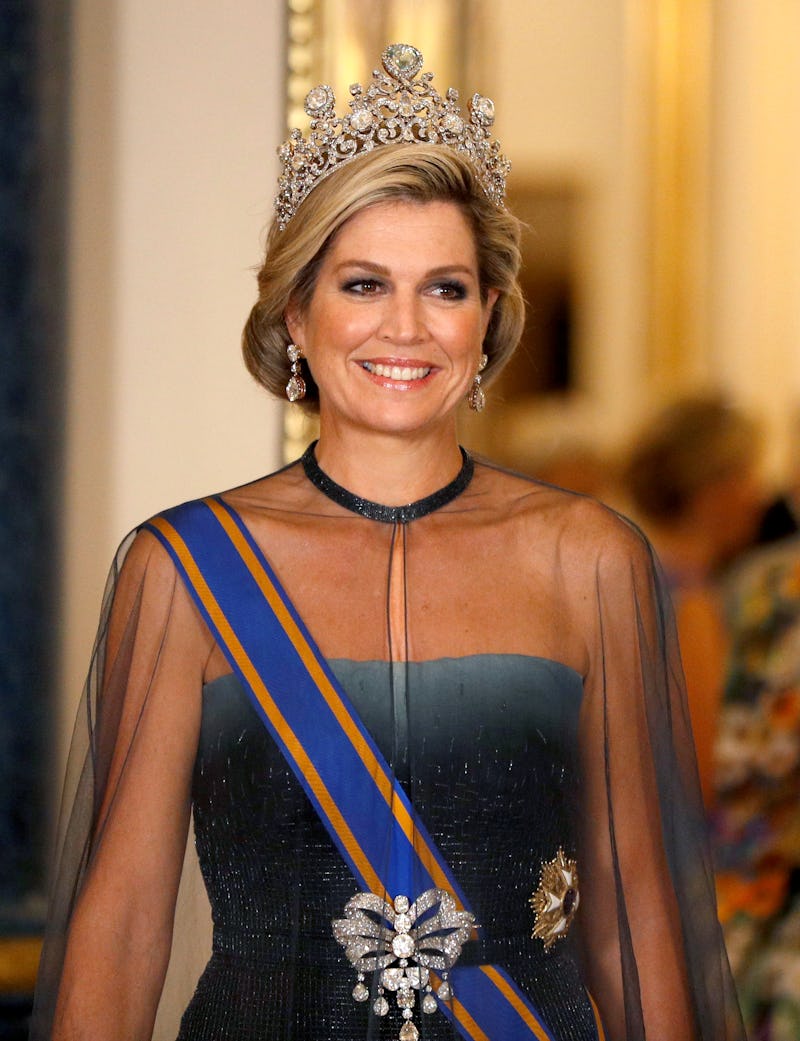 WPA Pool/Getty Images News/Getty Images
Kensington Palace is hosting guests this week, where King Willem-Alexander and Queen Maxima of the Netherlands have come to London for a state visit, marking it the first time in 40 years. When it comes to a historic moment such as this one, memorable hardware is usually involved, and Queen Maxima wore a massive tiara to the State Banquet dinner thrown in their honor at Buckingham Palace.
The royal couple was met with much pageantry when they arrived, but their visit wasn't exactly done on a whim. The Queen is engaging in what has been coined "Brexit diplomacy," where members of the royal family either visit EU countries, or their heads visit the UK, all in a bid to strengthen their friendships before Britain steps out of the EU. This particular trip brought the Dutch to England, and with it came a stellar wardrobe on Queen Maxima's part.
As you know, royals don't just toss a couple of outfits into a suitcase and head to the airport — they have a carefully planned "tourdrobe" that is as methodically laid out as a battle plan. But while a lot of the outfits have to be approved by several rounds of people, the person's style still allows to peek through. And Queen Maxima's style is true to her name — she's a total maximalist.
Case in point: the Stuart Tiara that she wore to the State Banquet that Queen Elizabeth II held. While it looks roughly the size of a dinner plate, there is actually an interesting history behind the ornamental piece, which links the Netherlands and Britain together. According to Town & Country, the central diamond once belonged to England's King William II and Queen Mary II, who started their co-rule in 1689.
While Mary was an English princess, William, her first cousin, was Dutch-born. After the two died, the diamond made its way back to the Netherlands, where it stayed in the royal vault for hundreds of years and was used in everything from brooches to necklaces. It finally reached its tiara form in 1897 for Queen Wilhelmina, King Willem-Alexander's great grandmother. Her mother had it designed for her daughter's inauguration as Queen, where the jeweler, Eduard Schürmann & Co., created the crown with as many as 900 diamonds.
This also isn't the first time that the Stuart Tiara has been on British soil. Queen Juliana, Queen Maxima's grandmother-in-law, wore the sparkler during a state visit to Windsor Castle in 1972, where you can see the iconic tiara photographed next to Queen Elizabeth II. What are the chances the British monarch might remember that dazzling diamond?
In comparison to the other royals at dinner, her glimmering crown seemed to dwarf all the other tiaras in the room. For example, Duchess Kate wore the Lover's Knot Tiara, which was one of Princess Diana's favorite accessories.
Meanwhile, Queen Elizabeth picked the Girls of Great Britain and Ireland tiara, which she received on her wedding day from her grandmother. (She even reportedly calls it "Granny's Tiara!")
The diamonds were out in full force this week, and for a wonderful, relationship-building reason.