'Queer Eye' Star Antoni Porowski Is Opening A Restaurant & The Details Sound So Delicious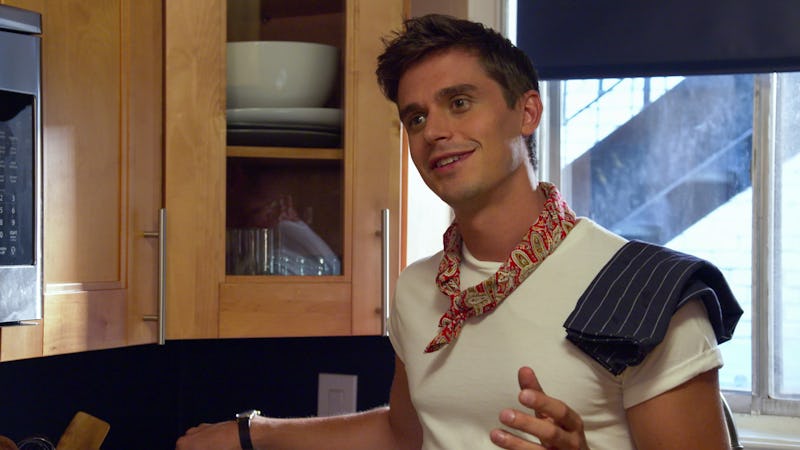 Courtesy of Netfilx
Queer Eye's own culinary expert is planning on sharing his take on cuisine with the residents of New York City. According to Food & Wine, Queer Eye's Antoni Porowski is opening up a restaurant, which he revealed during a June 19 panel at the 92nd Street Y in New York City. Antoni told the panel that he wasn't "supposed to talk about it," according to Food & Wine, but then he dished some information. The eatery, name currently unknown, will be considered fast-casual and there will definitely be more than just avocados on the menu.
According to the publication, Antoni told the panel:
"I'm all about like cheese and pork belly and decadence, and as a result of the increased vanity of being on camera all the time and working out and eating healthy, I'm developing a fast-casual food concept restaurant that I'm gonna be opening here in New York."
There's no word on when Antoni's restaurant will be opening, but it's definitely a date for Queer Eye fans to look forward to. Antoni has won hearts for his use of avocados and drawn some controversy on the Netflix series from fans who were skeptical of his simple, basic recipes that he introduced to the subjects on the show.
In a People interview from February, Antoni responded to the criticism by clarifying that everyone who appears on Queer Eye has a different level of culinary mastery. "I remember the first episode I went in and literally did a three-course meal with multiple components and I was thinking 'Yes, I'm going to show off my skills here and this is going to be a full on cooking show,'" he told the publication. "But what I realized is that it's the simple little things. This guy had never really prepared a meal for himself ... "This is somebody who's never seen the inside of an avocado."
And yes, Antoni himself has worked in food for a long time and has a pretty high level of culinary mastery. During the 92nd Street Y panel, he talked about the many jobs that he has held in the food industry to prepare him for being a food expert on Queer Eye and having an upcoming restaurant. According to Food & Wine, Antoni said:
"I was a busboy, a waiter, a manager, a sommelier... like...all of it from a family-run Polish restaurant, with like grandmas in the basement hand-making pierogies, to working at Bond Street for a while. I've done it all. So I have experience more on the front-of-house side of things, but I've always had a strong reverence and a respect for chefs. ... But, um, they've always been sort of like my rockstars and I've just always had a lot of respect for them, so for me I've always felt like I was sort of on the outside. For whatever reason, I also like to perform, so I think that's why I liked being a waiter. And I was a pretty damn good waiter."
In addition to his restaurant and Queer Eye Season 2 streaming on Netflix, Antoni has something else on his plate: he's writing a cookbook. He dished some details at the 92nd Street Y panel, including the lack of avocado recipes in the book.
"It's a 100-recipe cookbook. And I think ... oh my God ... not one of them has avocados in it!" Antoni said, according to Food & Wine. "It's turned, I realize, into my own culinary memoir, which I'm super excited about. I've submitted 50 recipes and I'm working on the rest, and I'm super excited for it to come out."
Antoni has a lot of fun food projects on the horizon — whether or not avocados are involved.