Quentin Tarantino Said Roman Polanski's 13-Year-Old Rape Accuser "Wanted to Have It"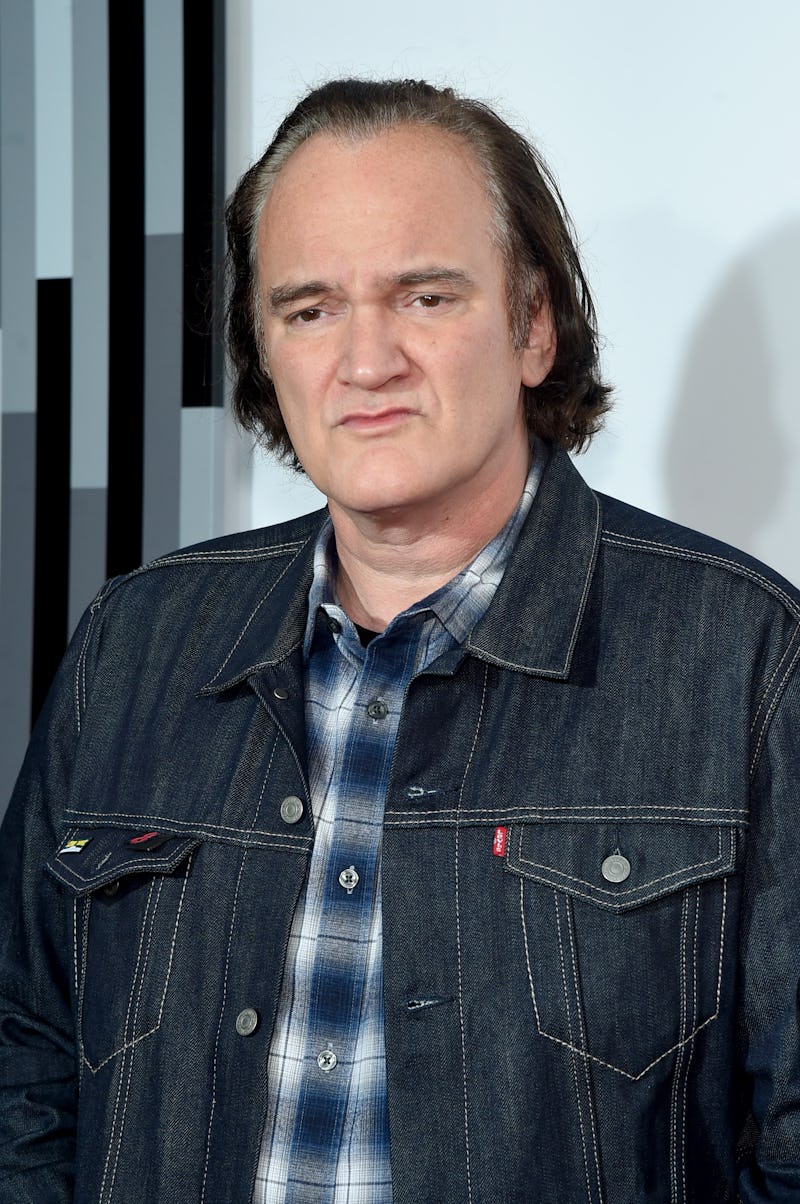 Jamie McCarthy/Getty Images Entertainment/Getty Images
In a resurfaced 2003 interview with Howard Stern, Quentin Tarantino defended Roman Polanski against claims of raping a 13-year-old girl in 1977. "He didn't rape a 13-year-old," Tarantino is heard saying about the director in the unearthed audio (via The Hollywood Reporter). Bustle has reached out to Tarantino's lawyer and agent for comment regarding the interview, but did not receive a response at the time of publication.
Warning: This article contains information about rape, which some may find triggering.
Tarantino didn't stop there and continued, "It was statutory rape ... He had sex with a minor. That's not rape. To me, when you use the word rape, you're talking about violent, throwing them down; it's like one of the most violent crimes in the world. You can't throw the word rape around. It's like throwing the word 'racist' around. It doesn't apply to everything people use it for."
The two-time Oscar winning writer went onto say that he agreed what Polanski did was wrong (Polanski plead guilty to unlawful sex with a minor), but said that using the word "rape" to describe his actions isn't correct. "The only thing I'm having a problem with is using super big buzzwords that don't quite apply to the situation when you say that word or what you imagine," Tarantino said.
The Django Unchained director also said that the 13-year-old was "down with it" and that Polanski's version of the situation "sounds more likely" compared to what the girl claimed at the time. Tarantino also disputed claims that the girl was drugged by Polanski. "No, that was not the case at all. She wanted to have it and dated the guy." He also later added, "But the situation was not that she was against all this. She was down to party with Roman."
At one point, The Howard Stern Show co-host Robin Quivers said to Tarantino, "You know how [Polanski] could've avoided all this? Not being with a 13 year old." To that, the Pulp Fiction writer said, "He likes girls!" Quivers countered, "He likes babies!"
Tarantino made it clear during the interview that he doesn't have a close relationship with Polanski. "I've met him once, but he's not a friend or anything," he told Stern. Even though he's not friends with Polanski, Tarantino defended the director passionately. At one point during the interview, Stern declared, "If you have sex with a 13-year-old girl and you're a grown man, you know that that's wrong." Tarantino even said that he would "beat the hell out of [Polanski]" it had been his 13-year-old daughter.
According to Variety, Polanski was arrested in 1977 for five charges following claims of raping the 13-year-old girl named Samantha Geimer (née Gailey). The charges included rape by use of drugs, perversion, sodomy, and lewd lascivious acts upon a child under 14. According to ABC News, in March 1977, Geimer claimed Polanski drugged her with alcohol and a quaalude and then raped her during a modeling shoot at Jack Nicholson's Mulholland Drive home. (Nicholson was not home at the time, as the AP reports.)
After pleading guilty to unlawful sex with a minor (as lesser charge), Polanski spent 42 days in jail and then fled to France the day before his sentencing was meant to take place. The director has lived outside of the United States for the past 40 years. He has dual citizenship in both France and Poland. In December 2016, Poland's supreme court ruled that Polanski cannot be extradited to the U.S. stemming from his 1977 arrest. France doesn't allow the extradition of its citizens.
In October 1993, it was reported (via Entertainment Weekly) that Polanski and Geimer reached a settlement wherein he owed her $500,000. However, he didn't pay her the amount on time and according to August 1996 court documents, Polanski owed her over $600,000 plus interest.
In June 2017, the Associated Press reported Geimer pleaded in a Los Angeles court for the case against Polanski to end. "I implore you to consider taking action to finally bring this matter to a close as an act of mercy to myself and my family," she said in the courtroom. After the hearing, Geimer said, "I'm standing here saying he's served his sentence. He owes me nothing. He owes the state of California nothing except to show up here eventually. I wish he could show up and feel he could be treated fairly, but I don't know if that will ever happen."
According to the AP, Polanski sent Geimer an apology letter. Also, in his memoir, Roman, the AP reports Polanski referred to his encounter with Geimer as romantic. At the time of his arrest in 1977, Polanski also claimed he had consensual sex with Geimer, according to Rolling Stone.