14 Quotes For National Chocolate Cake Day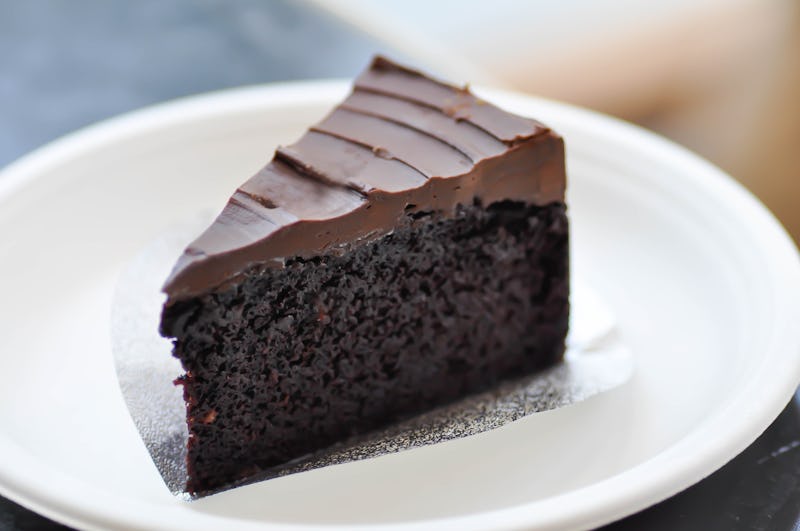 Narinnate Mekkajorn / EyeEm/EyeEm/Getty Images
Is there any problem that chocolate cake can't fix? According to these 14 quotes about chocolate cake for National Chocolate Cake Day, probably not. From Audrey Hepburn to Nina Dobrev, the authors of these 14 quotes share a love for chocolate cake that cannot be denied (and why should it?). This world may not be perfect, but a slice of fresh, out-of-the-oven chocolate cake may be the closest we'll ever get.
So how should you celebrate today? First things first, make sure you get your hands on a slice of chocolate cake. Whether you want to pick one up from the grocery store or whip up your own masterpiece from scratch, it hardly matters — just so long as you get to enjoy a moist and fluffy piece of the day's celebratory dessert.
Once you've got a slice of chocolate cake in front of you, these 14 quotes will perfectly accompany it. They'll remind you of the nostalgia that goes along with chocolate cake, they'll advise you not to feel guilty when you eat your chocolatey dessert, and most importantly, they'll reinforce the sense of joy that a day like today can give you. It's January 27th, you guys, just eat some darn chocolate cake — it's practically your civic duty.
1. "Let's face it, a nice creamy chocolate cake does a lot for a lot of people; it does for me." — Audrey Hepburn
2. "Part of life and part of the enjoyment of life is a croissant and a chocolate cake and eggs and milkshakes and oatmeal. There's so many things, you have to learn to appreciate it all. When I don't eat as much as I should, I'm not fun to be around; I'm fussy." — Nina Dobrev
3. "Chocolate cake is the bomb!" — Scarlett Pomers
4. "People have often asked me whether what I know about love has spoiled it for me. And I just simply say, 'Hardly.' You can know every single ingredient in a piece of chocolate cake, and then when you sit down and eat that cake, you can still feel that joy." — Helen Fisher
5. "I bake a chocolate cake from scratch every week." — Victoria Osteen
6. "Honestly, I just go to restaurants to eat so I won't die. If there was a pill I could take in January and then I wouldn't have to eat again for the rest of the year, I would take it. Of course, I wouldn't want to sacrifice my chocolate cake and ice cream." — Steven Wright
7. "I had a little epiphany when I was a writer at 'Chicago' magazine. I sat down to dinner at the Ritz-Carlton. Somebody poured a white dessert wine with chocolate cake. It was a wine I would never have expected to make sense. The idea of any wine tasting fabulous with chocolate cake was fascinating to me." — Ted Allen
8. "Cakes are special. Every birthday, every celebration ends with something sweet, a cake, and people remember. It's all about the memories." — Buddy Valastro
9. "Like a lot of kids, I had a Superman cake or different theme cakes, but then I hit the age where I think my mom thought I was ready for the German chocolate cake that she makes for my dad. Just the sight of that, the taste of that frosting, just reminds me of being at home with my mom and my dad and my sister and my friends." — Willie Geist
10. "My policy on cake is pro having it and pro eating it." — Boris Johnson
11. "I was a fat child and loved cake, perhaps because it was the only sweet thing in my life." — Andre Rieu
12. "I like quinoa. I like gingerbread. I feel they should be kept separate. I'm not in favor of this thing of making kind of raw, vegan chocolate cake and saying it's as good as chocolate cake. I mean, just eat cake and be done with it. And then have a separate meal of quinoa." — Bee Wilson
13. "I wanted to buy a candle holder, but the store didn't have one. So I got a cake." — Mitch Hedberg
14. "Let them eat cake." — Marie Antoinette
Images: Narinnate Mekkajorn / EyeEm/EyeEm/Getty Images; Giphy