Quotes About Confidence For Compliment Day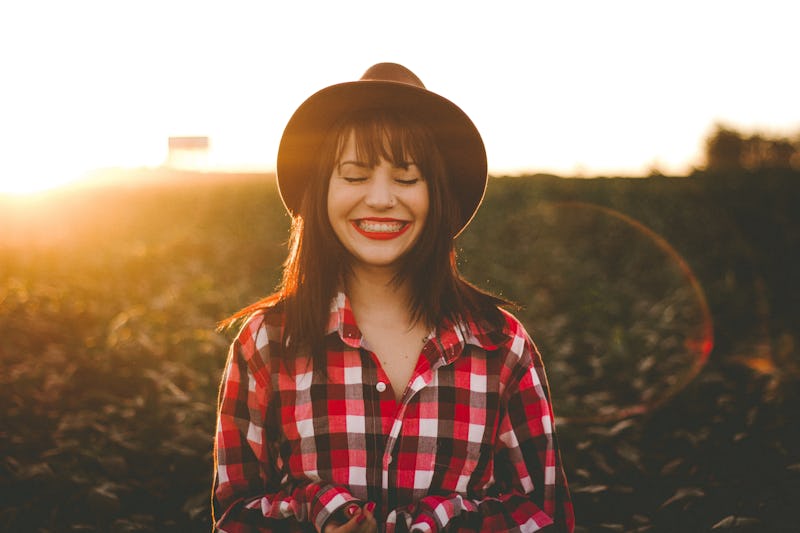 In the words of the great Demi Lovato: what's wrong with being confident? Well, in the words of the authors of these quotes about confidence for National Compliment Day, not a thing. Giving compliments not only helps others to feel more confident about themselves, but it also exudes confidence on your end of things. Why? You have to have confidence to give it.
Jan. 24 is officially National Compliment Day in the U.S., so don't let today pass you by without radiating confidence and spreading some major complimenting love to your friends, family, and coworkers. Heck, why not share some of it with a stranger? As far as I am concerned, love makes the world go round, and giving a compliment is a way to give some love.
The authors of these 13 confidence quotes range from Hellen Keller and Blake Lively to Nicole Scherzinger and Vince Lombardi, and while they all manage to define confidence in different ways, there's one commonality that runs through them all: confidence is beautiful. Spend today feeling confident and helping others to feel the same. In fact, why not spend every day that way? The way I think of it, National Compliment Day is just a reminder that that's what we should all be doing.
1. "Optimism is the faith that leads to achievement. Nothing can be done without hope and confidence." — Helen Keller
2. "The most beautiful thing you can wear is confidence." — Blake Lively
3. "With confidence, you have won before you have started." — Marcus Garvey
4. "When you have confidence, you can have a lot of fun. And when you have fun, you can do amazing things." — Joe Namath
5. "Kindness in words creates confidence. Kindness in thinking creates profoundness. Kindness in giving creates love." — Lao Tzu
6. "There is a difference between conceit and confidence. Conceit is bragging about yourself. Confidence means you believe you can get the job done." — Johnny Unitas
7. "Life is not easy for any of us. But what of that? We must have perseverance and above all confidence in ourselves. We must believe that we are gifted for something and that this thing must be attained." — Marie Curie
8. "Girl power is about loving yourself and having confidence and strength from within, so even if you're not wearing a sexy outfit, you feel sexy." — Nicole Scherzinger
9. "If you have no confidence in self, you are twice defeated in the race of life." — Marcus Garvey
10. "Experience tells you what to do; confidence allows you to do it." — Stan Smith
11. "Love who you are, embrace who you are. Love yourself. When you love yourself, people can kind of pick up on that: they can see confidence, they can see self-esteem, and naturally, people gravitate towards you." — Lilly Singh
12. "Confidence is contagious. So is lack of confidence." — Vince Lombardi