R. Kelly Just Pleaded Not Guilty To The Latest Sexual Assault Charges Against Him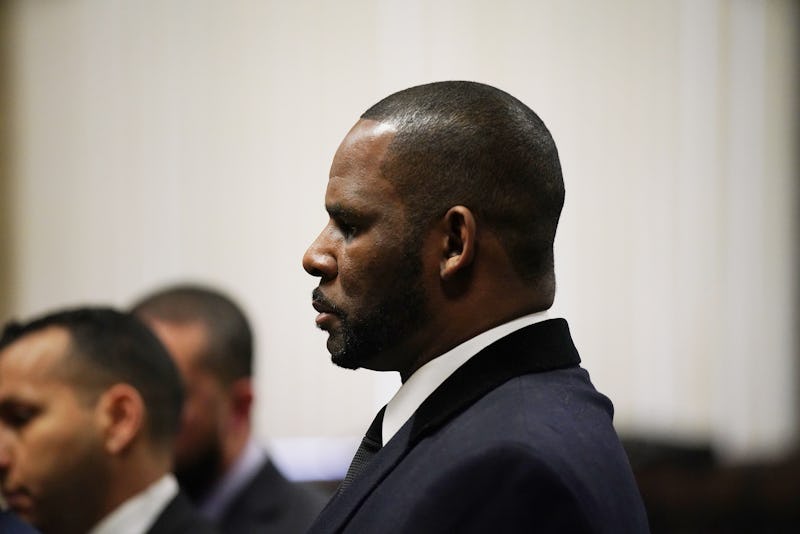 Pool/Getty Images Entertainment/Getty Images
In a Chicago court Thursday morning, R. Kelly pleaded not guilty to 11 sexual assault charges that were recently filed against him. The new felony charges, which could mean up to 30 years in prison for the singer if he is convicted, are in addition to the 10 charges of aggravated sexual abuse that were filed against him earlier this year.
Kelly has staunchly denied all allegations of sexual misconduct. As NPR reported, the 11 new sexual assault charges were brought against Kelly in May. The outlet indicated that the charges stem from an alleged incident or incidents involving one alleged victim, who was a minor, in January 2010.
The New York Times noted that the 11 new charges Kelly is facing include four counts of aggravated criminal sexual assault. The paper added that the lengthy prison sentence for that crime is over four times longer than the maximum sentence for every one of the 10 charges that were filed against Kelly in February. The paper noted that the February charges were related to aggravated sexual abuse allegations involving four alleged victims — three minors and one adult. Kelly pleaded not guilty to these 10 charges as well. The new charges are related to allegations that also involve one of these four alleged victims, the Associated Press noted.
The AP added that Kelly's lawyer, Steve Greenberg, said after the hearing that he didn't have a theory about why prosecutors decided to levy the new charges against Kelly.
"It's the same case. It's just that they've just changed what they've charged him with," Greenberg said, per the AP. "It's the same facts ... the same bond, the same evidence. We expect the same result."
CNN noted that Kelly has not been taken into custody and remains free on bail that was paid in February. Kelly's spokesperson, Darryll Johnson, told reporters after the hearing in Cook County court that Kelly is "upbeat," according to the AP. Johnson also added "Initially, he [Kelly] was a little depressed. But I mean, with anything, if someone accuses you of something, you'll be depressed. He knows the truth."
Kelly didn't speak directly to the press following the hearing.
As the Chicago Tribune described, in addition to the charges filed against him, Kelly has also faced significant scrutiny in the media as a result of these sexual misconduct allegations. BuzzFeed News noted that the Lifetime documentary series Surviving R. Kelly aired in January 2019 and outlined many of the abuse allegations against Kelly. The hashtag #MuteRKelly has been used as part of a social media campaign to encourage radio stations and other music services to stop playing the R&B singer's music.
Kelly will return to court on June 26 for a status hearing, the AP reported. NPR noted that all four Cook County cases against Kelly will be discussed at this hearing.