This Photo Of Rachel Bloom As A Tween Is A Lot To Take In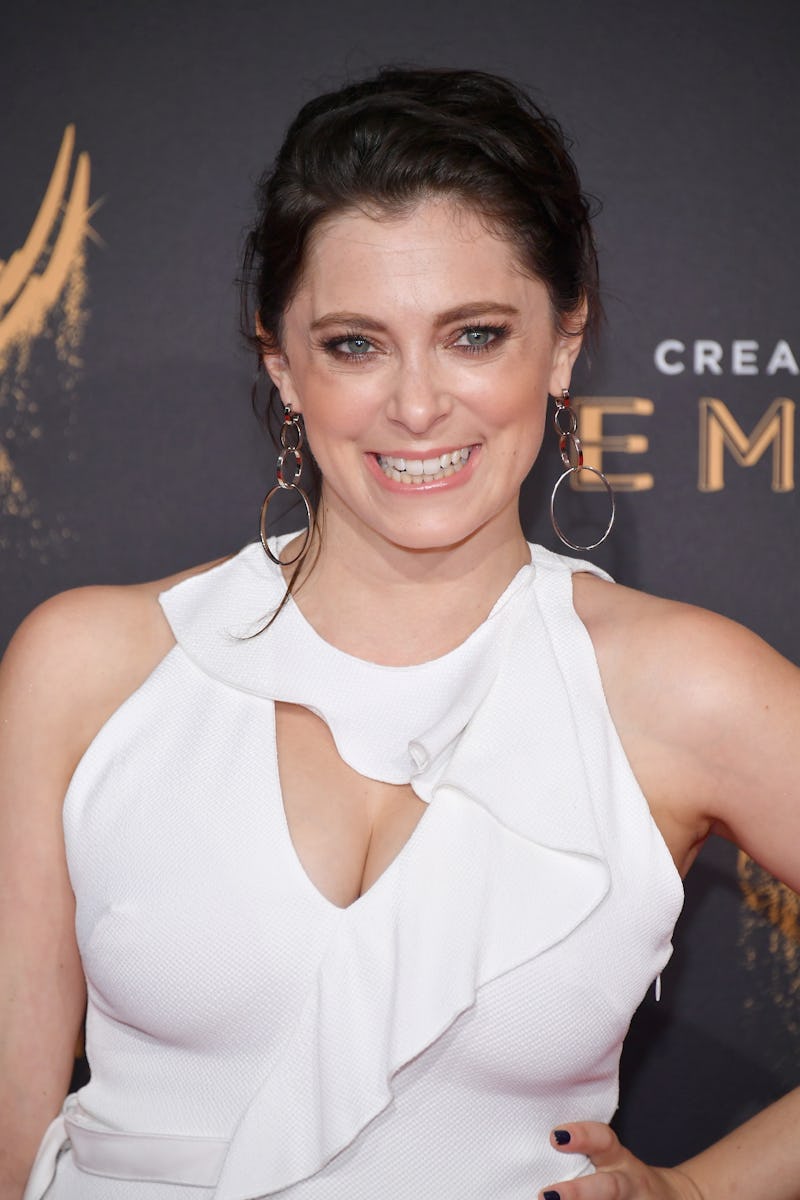 Neilson Barnard/Getty Images Entertainment/Getty Images
It's always fun when celebrities get a little silly on social media. The new Twitter campaign #PuberMe, which was started by Stephen Colbert when Nick Kroll appeared on The Late Show, is allowing celebs to do just that. Rachel Bloom's #PuberMe photo especially delivered on the hilarity. Many other celebs got in on the fun with their pics too. The best part about the whole thing is that it's for a great cause.
Kroll appeared on the show to promote his new Netflix animated series Big Mouth, which he co-created with his friend Andrew Goldberg. The show focuses on matters of teenage puberty, and to tie into that theme, Kroll showed a pic of himself and Goldberg when they were in that classically awkward stage. Colbert jumped in and had a fun picture at the ready of himself at 13.
The two decided to ask other celebrities to jump in on this trend and to tweet out "#PuberMe" along with their photos. Colbert raised the bar even higher and said that for every celeb (celeb status dependent on Colbert's opinion) who tweeted out a pic with #PuberMe, he would donate money to his AmeriCone Dream Ice Cream Fund for Puerto Rico hurricane relief. Kroll said he would match all of Colbert's donations, making this Twitter campaign not only fun but also charitable.
Celebs didn't hesitate to join on the #PuberMe campaign. The results are truly something else. But if there was an award for best #PuberMe photo, that honor would have to go to Rachel Bloom, of Crazy Ex-Girlfriend fame.
Bloom captioned the photo, "I won a grandparent/grandchild lookalike contest #PuberMe #puertoricorelief". It's Bloom as a little grandma! This pic is instantly iconic in its hilarity. She won that grandparent/grandchild contest and she's also winning the unofficial #PuberMe pic contest.
While Bloom's pic may top of all of the #PuberMe pics, that doesn't mean that the other images weren't funny. Celebs flocked to Twitter to be brave and show off their #PuberMe looks, since it is for a good cause after all. Some of them even rival Bloom's.
John Mulaney Had An Interesting Homecoming Look
John Mulaney, who lends his voice to Kroll's Big Mouth series, had an unfortunate moment in front of the camera for his homecoming pic. He said, "Ok @nickkroll & @StephenAtHome. Homecoming Freshman year. Why'd the photographer allow this? #puberme #puertoricorelief". Not sure why the photographer allowed this photo for Mulaney's homecoming, but thankfully he did because the result is this hysterical pic.
Lena Dunham & Her Cat
This pic is everything, if only for Lena Dunham's cat peeking its head out of a blanket in the corner. Don't worry, Lena. The pimple definitely didn't distract from the cat too much.
Jane Lynch Got In On The Fun
Glee alum Jane Lynch shared a snap for the #PuberMe campaign on Twitter, too. Wonder what Sue Sylvester would have to say about Lynch's fun photo?
Lena Headey's "Shoe Sock Combo"
Lena Headey senses that her pic is kind of awkward. She posted, "The hair .. the shoe sock combo @StephenAtHome #PuberMe #puertoricorelief". The combo is definitely a little suspect. Headey's look is a far-cry from her Cersei garb on Game of Thrones.
Patton Oswalt's "Awesome" Snap
Patton Oswalt had some fun with the campaign, too. He picked a very jazzy look to jump in on the #PuberMe fun.
Double Trouble: Billy Eichner & Fred Armisen
Billy Eichner took a prop from the comedic masterpiece that is Difficult People in order to engage in the #PuberMe fun. It's twice the fun here thanks to Eichner.
It's so great that these celebs all jumped in to provide their fans with a couple of laughs for such a good cause. They can certainly keep these pics coming because every one has seriously been a gem.