Rachel Is Reportedly The Next 'Bachelorette'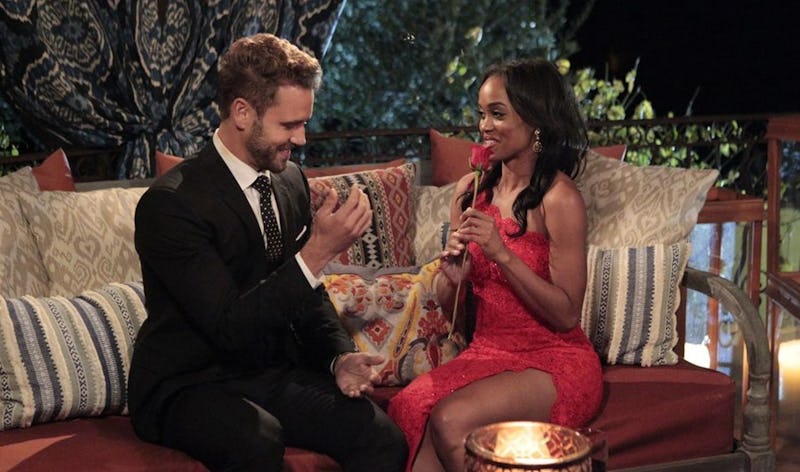 Rick Rowell/ABC
It sounds like the recipient of Nick Viall's first impression rose could be the star of the next season of The Bachelorette. Sources close to the show have allegedly confirmed to E! News, The Los Angeles Times, The Hollywood Reporter, BuzzFeed, Us Weekly, and Entertainment Weekly that Rachel Lindsay will be announced on Jimmy Kimmel as the next Bachelorette. Speaking to Bustle, a rep for ABC would only confirm that the announcement of the 2017 Bachelorette will take place on Jimmy Kimmel's Feb. 13 episode.
Update: Bachelor franchise executive producer Mike Fleiss tweeted the following at around 8:30 p.m. ET: "Very happy about the overwhelming support for our new Bachelorette!" However, he did not refer to Rachel by name in the tweet nor confirm the Bachelorette was specifically Rachel.
Earlier: The Dallas lawyer would be a hugely significant pick: After 33 seasons of The Bachelor and The Bachelorette, Lindsay would be the long-running franchise's first black lead. If she is named the thirteenth Bachelorette, it would be, as series creator Mike Fleiss might say, "historic." On his Twitter account, Fleiss has been teasing a "historic" announcement for the franchise for weeks.
Now, if you've been doing your best to avoid any and all Bachelor news that could potentially give away what happens on the show, this report about The Bachelorette Season 13 might thwart your efforts: Lindsay is still a competitor Viall's season of the reality dating competition series. The sources do not divulge when or how Lindsay is eliminated from the show, but if the reports are indeed true and she becomes the next Bachelorette, it seems safe to assume she does not receive Viall's final rose. Typically, the Bachelorette is chosen from the current Bachelor contestant pool as someone who did not finish the show as engaged to the Bachelor and who usually finishes as a finalist.
If you are serious about steering clear of Bachelor spoilers, I am sorry your no-spoiler streak has been broken. And uh, here's a GIF of Viall skulking down the beach like a Velociraptor.
Hope that soothes you as you celebrate the franchise's first black lead.