Rachel Lindsay's Reaction To Dean & Lesley's Split Will Have You Nodding Your Head In Agreement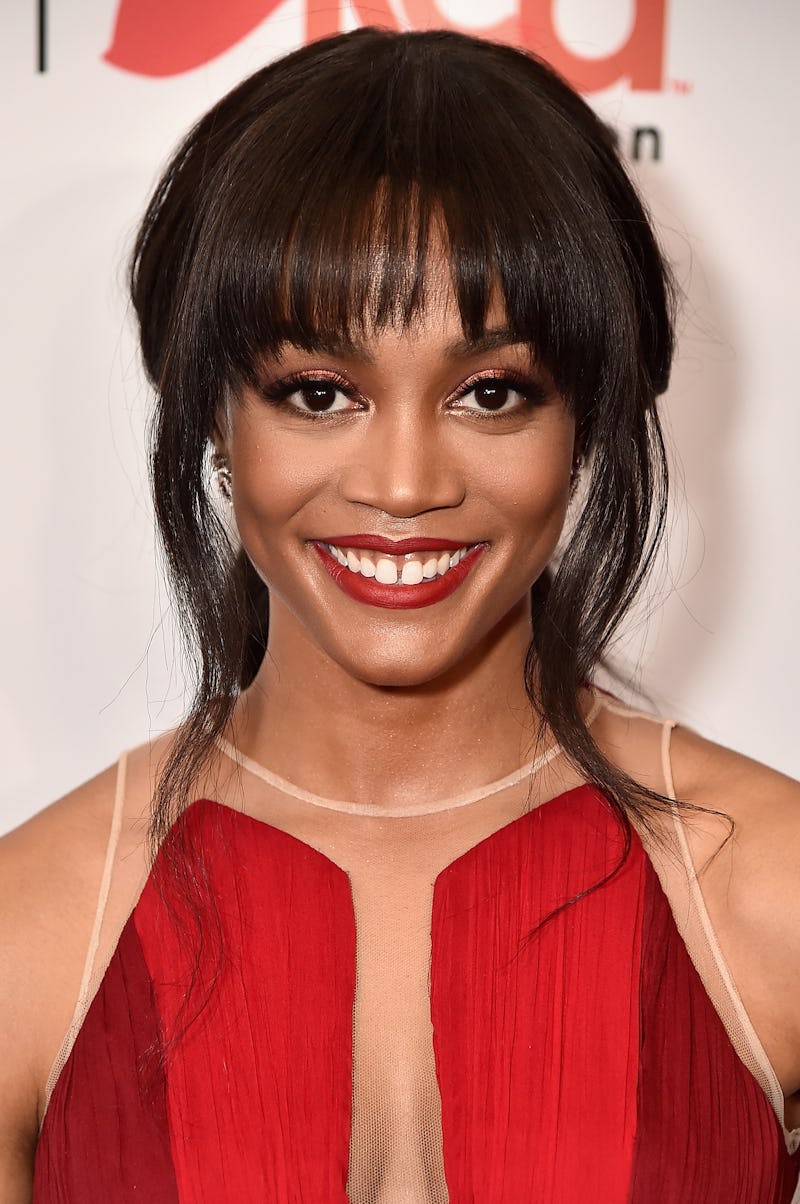 Theo Wargo/Getty Images Entertainment/Getty Images
As anyone who's ever been asked to comment on their ex's newfangled breakup probably knows, doing so with poise and thoughtfulness isn't always as easy as it sounds — even if you dumped them. For those seeking a blueprint method to up the maturity factor on their own post-romance perspectives, Rachel Lindsay's response to Dean & Lesley's split is probably a pretty solid place to start. During a Monday, April 9, appearance on veteran Bachelor favorites Ben Higgins and Ashley Iaconetti's podcast Almost Famous, Lindsay shared her thoughts on the recent breakup between Bachelor: Winter Games stars Dean Unglert and Lesley Murphy.
"I was shocked that it ended so quickly," Lindsay said of the end of the couple's reported four-month long relationship. And, cue the furious nods of agreement from the likes of #BachelorNation.
On the subject of Dean and Lesley's recent break-up, the former Bachelorette managed to express her thoughts on the split with conceivable candidness, as well as some insight. Nothing new for Lindsay, the attorney from Dallas who was lauded for her smarts and intuition during her Bachelorette stint. Of course, this particular commentary situation proved a bit unique, since she dated Dean herself not too long ago (courtesy of Lindsay's Bachelorette season, ironically enough).
But, if her comments are any indication, it sounds like Lindsay was still rooting for the Winter Games couple. Like so much of Bachelor Nation, Lindsay told Almost Famous that she actually thought Dean and Lesley "were a pretty good match for each other." Speaking to Higgins and Iaconetti, Lindsay continued, saying,
"I thought that they seemed to have a lot of the same interests — like personalities that meshed really well together — and I thought that they were gonna work out."
Of course, being the ultra-pragmatic woman that she is, Lindsay made sure to couch her response in a sort of clarification. "I didn't think that they were going to be running down the aisle anytime soon," Lindsay said during the podcast. Lindsay is currently happily engaged to her Season 13 pick, Bryan Abasolo and Dean dated Lindsay during her Bachelorette season. The former Bachelorette "definitely thought [Dean and Lesley] were going to be boyfriend and girlfriend for a while."
After watching Dean and Lesley's onscreen romance blossom during the inaugural season of Winter Games, which played out on ABC earlier this year, it's probably safe to say a pretty hefty chunk of Bachelor Nation was thinking the same thing. The fact that folks are feeling blindsided by the sudden split isn't necessarily surprising, especially considering the fact that, during the show's post-finale Tell All episode this past February, Dean literally got down on one knee. Granted, the grand gesture ultimately amounted to a good-natured hoax (he was offering Lesley a set of keys to his apartment). But still, the couple seemed pretty happy.
But, as tends to be the case when it comes to Bachelor-made romances, quite a lot can change in a month and a half's time. Following an exclusive report by E! last week claiming Dean and Lesley had decided to call it quits, the former lovebirds each released respectively lengthy Instagram posts that seemed to confirm the end to their relationship. Dean's breakup post came first over the weekend, though its contents were so cryptic that it was initially unclear whether he was even corroborating the then-breakup rumors in the first place. (Of course, as we now know, he was.)
Lesley, on the other hand, waited until Monday night to share her post-breakup thoughts with her social media following. Judging by the markedly long-winded post's caption, it seems the former Winter Games contestant is intent on letting go, and moving on.
"Don't be afraid to be the one that loved the most and give everything you had, because you've got to find people who love like you do and who are ready," Lesley wrote in the post's caption. "It was a long winter, and I'm excited for a new season. Let the spring cleaning commence. I'm ready."
Apparently, Lindsay is not the only woman of Bachelor Nation who knows how to have the last word. All in all, it doesn't seem like there were too many gripes (egregious ones, at least) between either former couple to begin with.