Rachel's 'Men Tell All' Special Dress Is Absolutely Gorgeous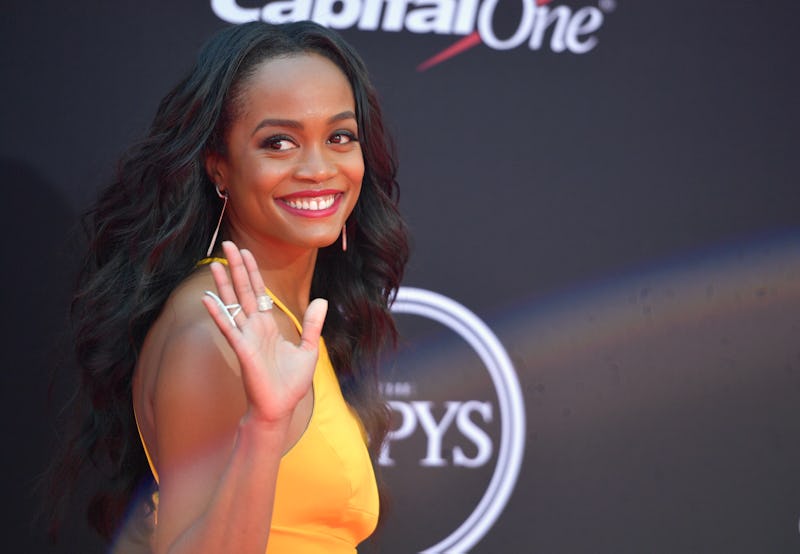 Matt Winkelmeyer/Getty Images Entertainment/Getty Images
The drama's ramping up as the show hurtles towards its finale — and so is the fashion. As such, Rachel Lindsay's dress in The Bachelorette's "Men Tell All" episode is every bit as fabulous as you'd expect — in fact, think of it this way: It's basically the perfect outfit for the emotional confrontations and confessionals she's going to be doing in the season's penultimate episode. It's not quite as showstopping as the dress she'll be donning for the finale, of course — but it's consummately stylish in its own right.
Between telling off the racially insensitive Lee, to having a heart-wrenching conversation with Dean, it's already shaping up to be quite the tea-spilling episode — and luckily, Rachel's fashion game is on par with her drama game. She donned a gorgeous lacy cocktail dress for the evening, complete with some unique embellishments adding extra interest to the look. Bright multicolored floral beading adorns the dress' strapless sweetheart neckline and bodice, with delicate black lace overlaid over a neutral shell making up the rest of the dress. She paired the look with some stylish ankle strap stiletto sandals, as well as some glow-y makeup and some statement earrings.
Pretty darn gorgeous, right? And very of-the-moment and chic! It only stands to reason, though — after all, Rachel (and longtime Bachelorette stylist Cary Fetman) have always had their style on point, especially in the formalwear department.
Don't you just love the beading? It's so vibrant and intricate, and it climbs the sides of the bodice in such a beautiful way.
All in all, it's quite the showstopper — and it paves the way beautifully for what's sure to be an excellent finale dress next week!