These Racist Texts About Meghan Markle Are Causing Serious Outrage In The UK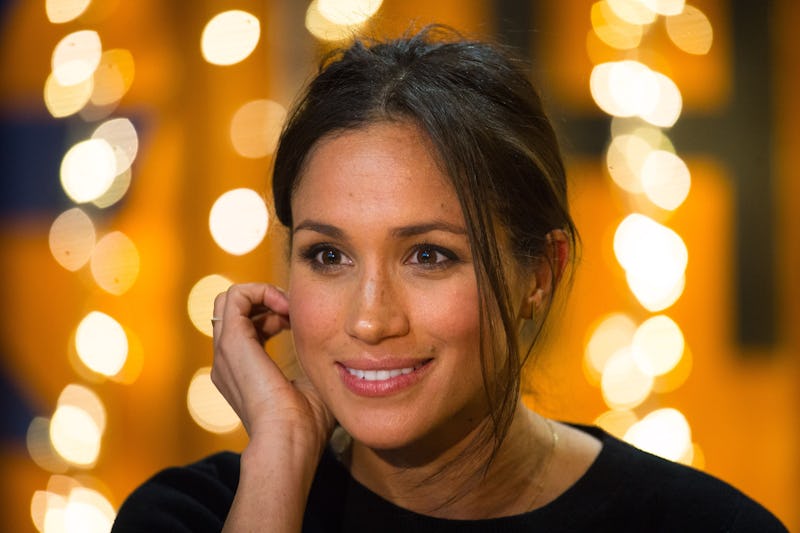 WPA Pool/Getty Images Entertainment/Getty Images
Prince Harry's engagement to American actress Meghan Markle has prompted a lot of celebration and congratulations — but unfortunately, the reactions didn't stop there. Apparently, the girlfriend of a U.K. politician, Jo Marney, sent racist messages about Meghan Markle to a friend, and now she and her politician boyfriend are facing some pretty serious fallout.
Marney, whose Twitter bio says that she is a "Presenter. Music Journalist. Model. Actor. Brexiteer," recently began dating Bolton, the leader of the United Kingdom Independence Party, or UKIP. Their relationship caused problems from the very start, as Bolton left his wife — and their two kids — in December to be with Marney. That personal decision already led to calls for Bolton to resign from his position as the head of the party, which he had only just assumed in September. Neither Marney nor Bolton have been hiding their relationship, and Marney even tweeted holiday photos of herself with Bolton.
Things got even tenser for Bolton on Saturday, when the Daily Mail published the racist texts that Marney, 25, had reportedly sent to an unnamed friend of hers. In the texts, Marney unloads about her feelings on people of color and refers to Markle, whose mother is black, as "a negro."
Black people, she says, are "ugly ... not my thing," and Markle is "a 'gender equality' t*** [who's] obsessed with race ... and her seed with [sic] taint our royal family." She then goes on to push the common racist trope about the mental inferiority of black people, saying that Markle is "just a dumb little commoner. Tiny brain ... she's black ... a dumb little 'actress' who no one has heard of ... This is Britain, not Africa."
When the other texter calls Marney a racist, she responds first by saying "lol so what" and then explaining that she doesn't see herself that way.
Not wanting other races and cultures to invade your own culture doesn't mean I hate their race. Just means I don't want their cultures invading mine.
She then goes on to say, however, that Markle's presence in the royal family could lead to "a Muslim PM ... and a black king."
Once the texts hit the news, Marney apologized for them, but said the messages had "to an extent, been taken out of context." The opinions present in the texts, she said in a statement, had been "deliberately exaggerated in order to make a point," but she also said that she "fully [recognises] the offense they have caused."
"No offense was intended and, again, I apologize unreservedly for any such offense or hurt that my messages have caused to members of the public, members of Ukip my friends, family and loved ones," Marney's apology continued, and she's not exaggerating about the problems that her messages have caused.
UKIP chairman Paul Oakden responded by immediately suspending her from the party — "UKIP does not, has not and never will condone racism."
Marney's comments, combined with her close relationship to UKIP and its leadership, are especially problematic for the party, which at least a third of Britons already view as racist. They're closely linked to far-right parties all over Europe, and UKIP leaders have had to publicly respond to racist pronouncements from UKIP candidates in the past. UKIP members, candidates, and elected politicians have also said notably racist things in the past on Twitter and elsewhere, and not all of them led to public apologies or removals from office. This, however, is not the face that UKIP wants to promote.
"It would be hypocritical to allow her to stay because [Bolton] said in the leadership election he was the candidate against racism and nazis," wrote teenage UKIP activist Jack Penny in a series of tweets. "So [Marney] has to go or [Bolton] and UKIP are doomed if we let this behavior happen in the party."