This Emotional Detail About 'GBBO' Winner Rahul's Life Left Twitter SOBBING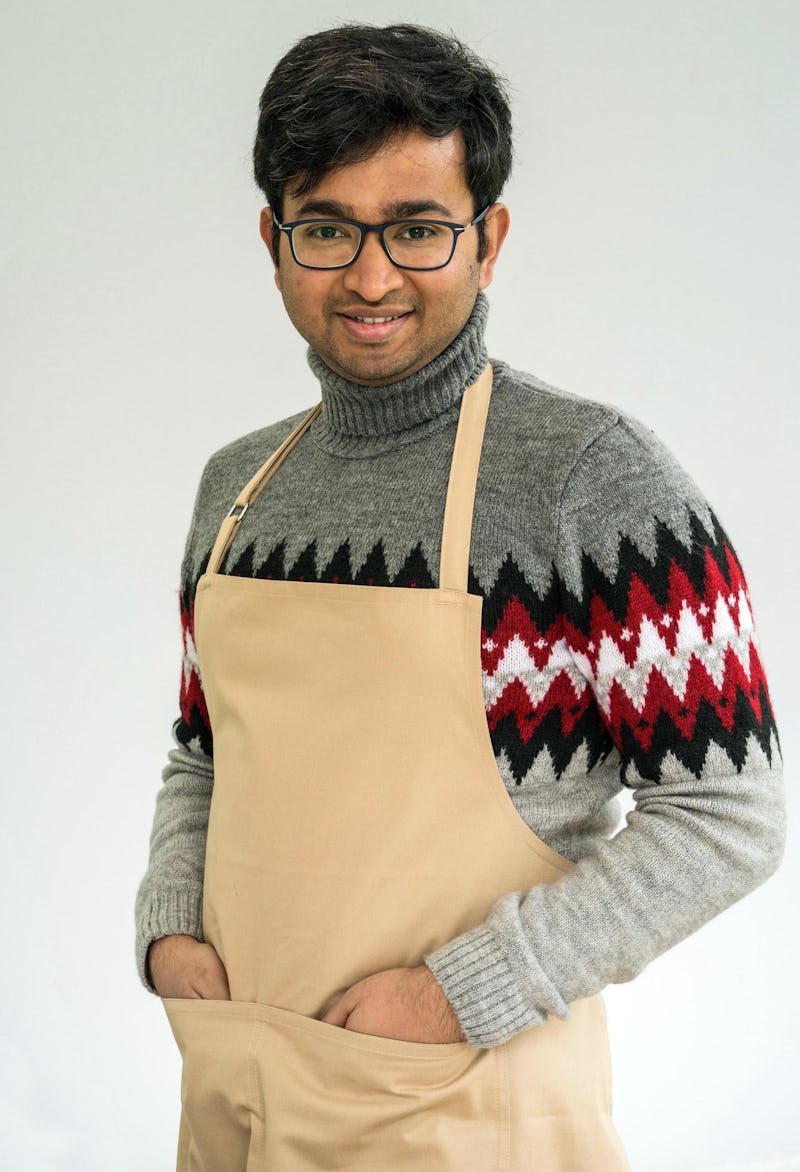 Channel 4 / Love Productions
During the final of the Great British Bake Off viewers tuned in to discover exactly who had been crowned winner of the 2018 series. After some tricky final challenges it was eventually revealed that Rahul Mandal had emerged victorious. The 30-year-old edged out fellow finalists Kim-Joy Hewlett and Ruby Bhogal during the signature, technical, and showstopper challenges — but it was Great British Bake Off winner Rahul's backstory which really struck a chord with viewers.
During the grand final, viewers were given the backstory of the remaining contestants which told some personal stories about the finalists, and explained what led them to the hit Channel 4 baking show — and Rahul's story certainly tugged at the heartstrings. It was revealed that the Bake Off winner had arrived in England by himself eight years ago, at the age of 23. Rahul had no friends or family in the country, and after strangers, David and Liz, took the research scientist under their wing, he began to prosper into the star baker we know and love today.
The Rotherham based Bake Off star first began baking upon his move to the United Kingdom from Kolkata. According to Radio Times, Rahul has previously described his baking style as "East-meets-West" and recently opened up about his decision to apply for the renowned baking show. He said: "Even five years ago I really had no idea about the Great British Bake Off", and then revealed that it was a persistent co-worker who eventually persuaded him to apply for the 2018 series. "He kept sending me the application link, until I said to him that I have started applying," he explained.
After learning more about the winning contestant, viewers of the Great British Bake Off appeared to be moved by his inspiring story, and took to social media to express their thoughts on his emotional backstory.
In the all important final episode, the three finalists were tasked with completing a signature challenge which involved creating two batches of iced doughnuts, a technical challenge which saw bakers make six pita breads and three accompanying dips (relying on only campfires to bake), and a four-and-a-half hour showstopper challenge which required finalists to create their very own landscape dessert.
Rahul's showstopper creation included an edible rock garden, which was inspired by Victorian explorers bringing back exciting plants from around the globe, however not everything went entirely to plan. During the mammoth final challenge, one of the eventual Bake Off winner's storage containers smashed due to the overheating tent, which caused producers to intervene and remove any cooking equipment that may have contained broken glass - meaning poor Rahul had to start all over again.
The setback clearly didn't spook the 30-year-old, however, who went on to be named winner of the entire series. Shortly after his victory, Rahul said "I don't know whether to laugh or to cry. I just feel I need to talk with my mum", and added "This is probably the first time that I have got something like this, like a trophy", reports the BBC.
When commenting on their chosen winner, judges Prue Leith and Paul Hollywood discussed what they thought made Rahul stand out amongst the bakers. Leith said: "I think the amazing thing about Rahul and why I am so proud of him is that he came in unconfident, but he just kept going. He never reined in his ambition, he always tried to do a bit more than everybody else, and it paid off." Whilst fellow judge Hollywood added: "He is one of those characters that you will miss when you are not with him. I don't think he realises still how good he actually is and I think that's what's magic about Rahul."
So it appears that Rahul certainly made a good impression on the Great British Bake Off judges and viewers alike, and knowing about the personal struggles behind the baking makes his win all the more sweet.