Rami Malek Just Announced That He'll Be Playing The Villain In 'Bond 25' With An Ominous Video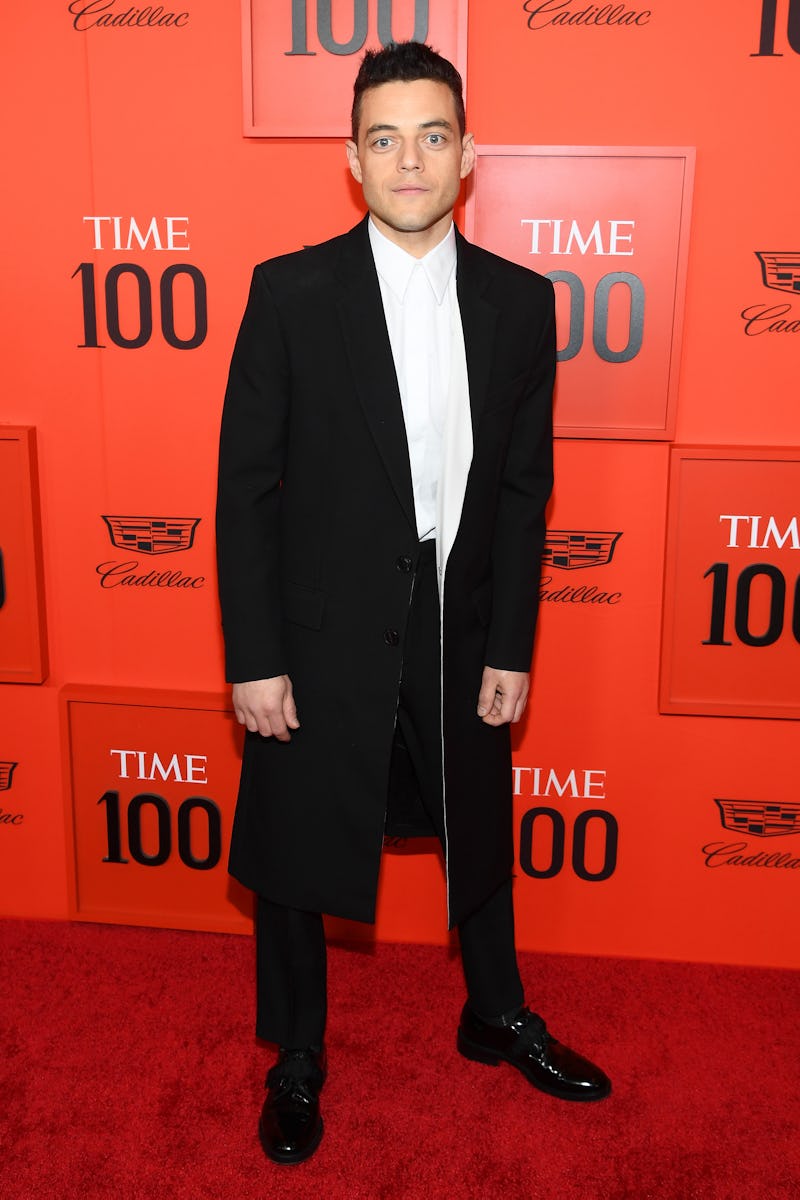 Dimitrios Kambouris/Getty Images Entertainment/Getty Images
Rami Malek is officially joining the James Bond franchise in Bond 25, and it sounds like he'll be playing a villain. The news was announced during a live press event on Thursday, April 25, where a handful of the cast, including Bond himself, Daniel Craig, along with director Cary Fukunaga teased the new film. Though he was not present during the press event, the Oscar winner did send a video message, seemingly confirming that Rami Malek will be playing the new Bond 25 villain.
In the video message, Malek teased, "I promise you all, I will be making sure Mr. Bond does not have an easy ride in this, his twenty-fifth outing." With his an uncanny stare and a lingering delivery, the actor already seems to be enjoying playing the bad guy. And it's an unnerving message to say the least.
That said, Malek isn't the only new cast member joining Bond 25. Dali Benssalah, Billy Magnussen, Ana De Armas, David Dencik, and Lashana Lynch have also been confirmed for the upcoming film. Though these new actors were all confirmed in the press event, their roles have yet to be announced. And though Malek appeared to confirm his villain status, it's possible that some of these other new cast members will be right there by his side, threatening the security of the world, and, of course, Bond himself.
Malek teased his new role in February, telling Entertainment Tonight that "it would be nice to play a villain." In that same interview, he added, "That would be an actor's dream, another dream role for me." It's clear the Mr. Robot star is eager to start torturing the beloved 007 — on screen, that is.
He might not have been in Jamaica for the press event, but that probably has something to do with his Thursday morning appearance on Good Morning America. Walking out just moments after his casting was announced, Malek continued to tease his villainous role. After praising Craig's work as Bond, the actor added, "It'll be very interesting to go up against that man." He couldn't say much more, but he did promise that, in honor of Craig's last Bond film, "I'm gonna give him a run for his money."
Craig, of course, has famously been threatening to quit the franchise for years. He first played Bond in 2006's Casino Royale, followed by Quantum of Solace (2008), Skyfall (2012), and 2015's Spectre. After his fourth film with the franchise, Craig hinted that he was ready to leave Bond behind, only to announce in August of 2017 that he would return to the spy world for one last time.
At Thursday's the press event, which was broadcasted from Bond author Ian Fleming's Jamaican villa, Craig and Fukunaga were joined by returning cast members Léa Seydoux and Naomie Harris, as well as new cast members De Armas and Lynch. The set up definitely gave the impression that fans can expect a heavier female presence in the upcoming Bond 25, which would definitely be a refreshing change for the franchise. That said, most of the returning cast is male, with Ralph Fiennes, Rory Kinnear, Ben Wishaw, and Jeffrey Wright all reprising roles from previous films.
All in all, the new Bond 25, which is expected to hit theaters in early 2019, is shaping up to be another exciting adventure for both 007 and Malek.