Rapper Lil Peep Has Died At Age 21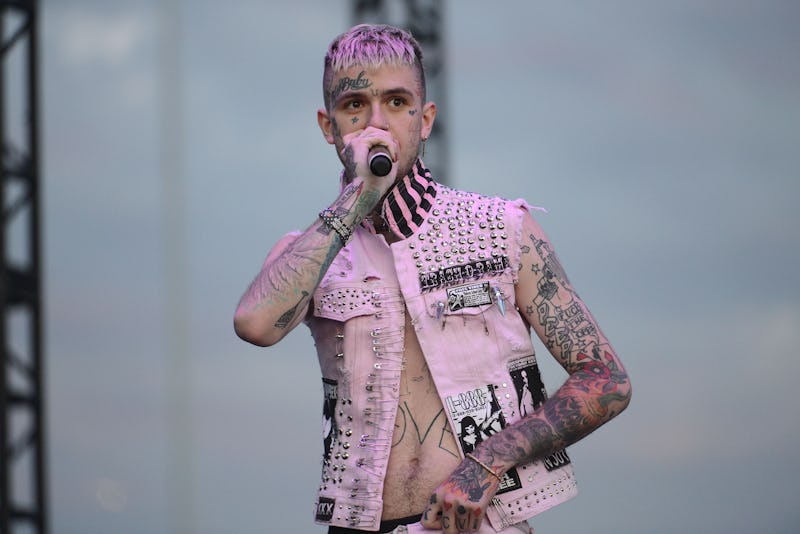 Scott Dudelson/Getty Images Entertainment/Getty Images
Sad news for the music community this week. According to The New York Times, rapper Lil Peep has died at 21 years old, reportedly after suffering from an overdose. Born Gustav Ahr, Peep was given his nickname by his mom as a child while he was growing up in Long Island, N.Y. He died in Tucson on Wednesday night. Although his official cause of death has not been confirmed, NYT reports that the Tucson Police Department says there is evidence that he died of a Xanax overdose. Bustle has reached out to the Tucson Police Department for comment, but did not receive a response at the time of publication.
Sarah Stennett, the CEO of First Access Entertainment, which partnered with Peep in 2016 told Bustle in a statement:
I am shocked and heartbroken. I do not believe Peep wanted to die, this is so tragic. He had big goals and dreams for the future which he had shared with me, his team, his family and his friends. He was highly intelligent, hugely creative, massively charismatic, gentle and charming. He had huge ambition and his career was flourishing. I have spoken to his mother and she asked me to convey that she is very, very proud of him and everything he was able to achieve in his short life. She is truly grateful to the fans and the people who have supported and loved him.
Although fans are in shock at his unexpected death, just hours before the bad news broke, Peep posted a photo on Instagram with a caption that said, "when I die You'll love me." Following that photo came a few others, including a selfie, as well as a photo of a few of his fans.
Peep was open about his issues with addiction and substance abuse. In February, he tweeted, "I am a depressed drug addict and I'm nearing my breaking point. Everything I love is disappearing." In an Instagram video he posted on Wednesday from El Paso, he told followers that he took six Xanax, adding that he was "lit" and didn't feel sick.
If you're unfamiliar with Peep, over the past two years he's gained a following on SoundCloud and YouTube, where his music videos have amassed millions of views. In early 2017, Pitchfork called him "the future of emo," praising him for the way he spun his angst-filled, occasionally vengeful lyrics. He dropped out of high school and later got his diploma online, and then, he moved to Los Angeles to pursue music, recording his songs on his MacBook with Garage Band.
In the interview, Peep talked about his depression openly, although he also seemed optimistic about what the future held for him and his rapping career, as well as how he truly felt he was bringing something brand new to the music scene.
"No one's ever been in this genre before, so I couldn't really compare it to anything from the past," he told the site. "I'm excited to find out."
Since the news of Peep's death broke, celebrity friends and fellow musicians have rushed to social media to react, including his ex-girlfriend, Bella Thorne. Travis Barker and Post Malone have also shared messages about Peep on Twitter and what he meant to them. He may not have been a part of the rap world for very long, but in that time, he seemed to have made a huge impact on those he knew and worked with.
Diplo, Sam Smith, and Lil Yachty also chimed in, with Smith calling Peep's death "desperately sad."
His death also seems to have stirred up conversations about mental health among his fans, which fellow YouTuber Elijah Daniel tweeted about at length on Thursday morning, emphasizing the danger of addiction and the importance of helping those who suffer from it get the help they need.
It's always heartbreaking to hear of the passing of someone so young, especially someone who had so much potential. Peep may never be able to make the music he had so many plans for in the future, but it's obvious that his fans will keep his legacy alive with the music he did create in his short life and career.