How To Check If The Ground Beef In Your Fridge Is Part Of This Major Salmonella-Linked Recall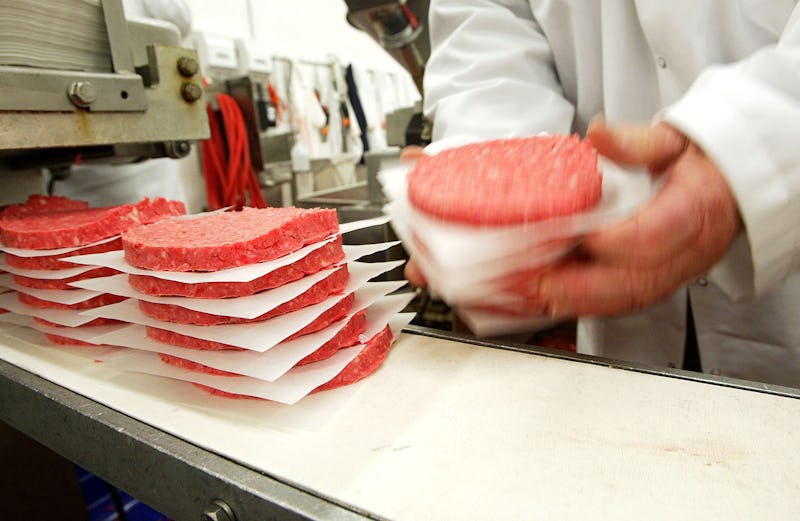 Justin Sullivan/Getty Images News/Getty Images
If you've got any ground beef in your fridge or freezer, make sure to check the labels. According to the United States Department of Agriculture (USDA), over 6.5 million pounds of ground beef have been recalled by Arizona meat producer JBS Tolleson due to possible salmonella contamination. In a recent statement issued by the USDA, various raw beef products have been recalled with the establishment number 'EST. 267' found inside the USDA mark of inspection on the packaging label.
According to CNN, the USDA was first alerted to the salmonella outbreak back in September, and 57 cases of salmonella poisoning linked to the JB Tolleson beef were reported in 16 states between Aug. 5 and Sept. 6. CNN further reports that sales receipts and shopper card numbers from several salmonella patients helped investigators find the source of the contamination.
People reports that the potentially contaminated meat products were packaged between Jul. 26 and Sept. 7, and were distributed to stores nationwide. USA Today notes that hundreds of products are on the beef recall list published by the United States Department of Agriculture's Food and Safety and Inspection Service (FSIS), which can be found here. Investigators are urging consumers to be especially careful about beef stored in the freezer, as there's a high likelihood that potentially contaminated beef "may be frozen and in consumer's freezers," according to the official statement. If you do have recalled beef in your fridge or freezer, investigators say to throw it out or return to the store you bought it from.
The USDA further notes that eating foods contaminated with salmonella bacteria can lead to salmonellosis, which is the most common food-borne illness. Symptoms of salmonellosis include abdominal cramping, diarrhea, and fever that usually start between 12 and 72 hours after eating contaminated foods. The illness typically lasts between four and seven days, and most people recover without medical treatment. That said, some people with severe diarrhea sometimes require hospitalization, and infants, adults over age 65, and people with weakened immune systems face a higher risk for developing severe illness from salmonella. USA Today notes that salmonella infection can potentially spread from the intestines to the bloodstream, so antibiotic treatments might be required in some cases.
According to the press release, the FSIS advises all consumers to make sure to handle fresh and frozen raw meat products safely. Ground beef should always be cooked to an internal temperature of 160 degrees Fahrenheit, while other cuts of beef should be cooked an internal temperature of 145 degrees, and then allowed to rest for three minutes before eating.
Food thermometers are also helpful for ensuring that meats have been cooked to an internal temperature high enough to kill off potentially dangerous bacteria. "The only way to confirm that ground beef or other cuts of beef are cooked to a temperature high enough to kill harmful bacteria is to use a food thermometer that measures internal temperature," the press release further states. And it's important to note that potentially contaminated products should never be eaten — no matter the internal temperature they may have been cooked to.