These Rawhide Chews For Dogs Have Been Recalled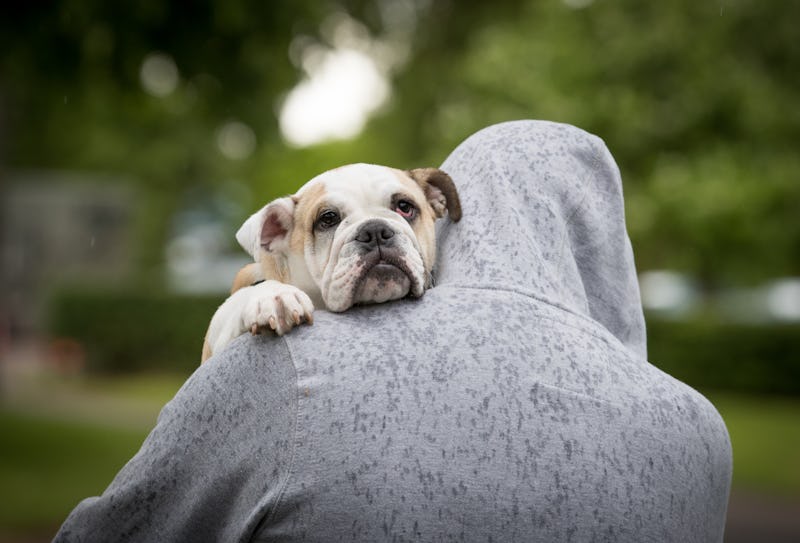 Matt Cardy/Getty Images News/Getty Images
Moms and dads of dogs, be aware: There's a nationwide rawhide chew toy recall, and it's now been extended to 10 additional brands. This is a good time to check on your pup's toys and see if any of your rawhide chew is affected — but if it is, what should you do? Don't worry: the manufacturer has got you covered.
United Pet Group, a global marketing and manufacturing for name-brand pet products, voluntarily issued their initial recall on Mon., June 12 after pet owners reported their pets experiencing vomiting and diarrhea following the consumption of noticeably "bad smelling" rawhide chew toys. Earlier Mon., June 19, United Pet Group extended their recall to include 10 new brands, including Petco, Good Lovin', Dentley's, and Essential Everyday. For a full list of recalled brands, check out this article from The Miami Herald. The expiration date pool, which can be found on the back of the bag, is 06/01/2019 through 05/31/2020 for all brands except Enzadent or Dentahex, of which the dates run from 6/1/2021 to 5/31/2022.
In investigating the dogs' symptoms, United Pet Group reportedly found that several manufacturing sites in Mexico and Columbia, as well as a supplier in Brazil, were using a "quaternary ammonium compound mixture" as a processing aid. The mixture is often used as an anti-microbial agent when cleaning food-processing equipment, though it's not approved for making rawhide dog chews.
United Pet Group is offering a full refund for any potentially contaminated rawhide products. You can return them to a brick-and-mortar store, or receive the refund from the company directly by calling 855-215-4962 from 8 a.m. to 11 p.m.