These Reactions To Susan Collins' Kavanaugh Speech Show Just How Divided People Are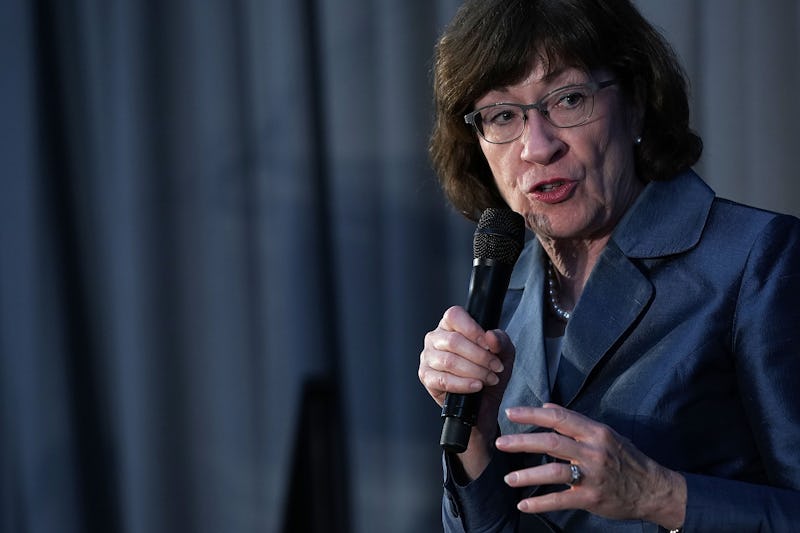 Alex Wong/Getty Images News/Getty Images
On Friday, Maine Republican Sen. Susan Collins announced her support of Brett Kavanaugh's confirmation to the Supreme Court. Collins' decision to vote along party lines quickly prompted various reactions from Twitter users, highlighting that Kavanaugh's confirmation process, though contentious, did little to affect the public perception on his nomination.
Up until her speech on the Senate floor on Friday, Collins was considered a potential swing vote in Kavanaugh's confirmation. According to Newsweek, she was the only Republican senator who had not given any clear indication on how she would vote. Arizona Sen. Jeff Flake and Alaska Sen. Lisa Murkowski — who are both Republicans — were also considered crucial votes. However, Flake has since announced that he will vote to confirm Kavanaugh "unless something big changed," while Murkowski has implied that she will vote against the Supreme Court nominee.
Collins has previously broken from her party during key votes — notably last summer, when she voted against repealing key portions of the Affordable Care Act. But in Kavanaugh's case, Collins delivered a lengthy statement on Kavanaugh's "exemplary" record, and denounced what she described as the "time of such great disunity" that Americans currently live in. Some Twitter users applauded Collins for her decision, while others criticized her for going along with her party.
One Twitter user — Rewire.News' Jessica Mason Pielko — argued that Collins' support of Kavanaugh was yet another example of white women bringing the Trump administration into power. Exit polls from the 2016 presidential election indicated that roughly 52 percent of white women voted to elect Donald Trump. For Pielko and many critics of the right, Collins was an illustration of that phenomenon. However, other Twitter users lauded Collins for supporting Kavanaugh despite the backlash she faced:
Still others believed that Collins' call for unity was sincere and compelling, even if they didn't agree with her support of Kavanaugh:
A pattern quickly became clear in Twitter users' reactions to Collins' decision. Those on the left were largely critical of her — though some complimented her moderate record — while those on the right predominantly offered her their praise. Collins' speech seemingly did little to change how people already felt about Kavanaugh's nomination.
Former President George H.W. Bush was among those who commended Collins for her decision to vote in Kavanaugh's favor:
MSNBC's Joy Reid, meanwhile, reminded her followers that Collins generally follows a similar ideology to most other Republicans, even if she occasionally votes differently from them.
Another Twitter user echoed Reid's point, and urged Americans to stop perceiving Republican moderates as potential heroes:
As Newsweek pointed out, Collins' vote likely was based — at least in part — on how the GOP would react. Maine Gov. Paul LePage, for example, has reportedly received encouragement from Trump to run for the Senate, and there was speculation that he would run against Collins if she voted against Kavanaugh. LePage has also criticized Collins in the past for her vote against the ACA repeal. But when Collins announced that she would vote in Kavanaugh's favor, LePage had nothing but praise for the senator:
While Republicans expressed admiration for Collins, some on the left urged Democrats to take note of West Virginia Sen. Joe Manchin's decision to vote against his party in favor of Kavanaugh.
The GOP may be close to scoring a victory with Kavanaugh's confirmation, but progressives are not giving up just yet. Ilyse Hogue, the president of NARAL Pro-Choice America, argued that Collins' statement should ultimately push people into action:
The full Senate is expected to vote on Kavanaugh's confirmation on Saturday; with Collins and Manchin announcing that they will vote "yes," he is extremely likely to be confirmed.