The Report On Christine Ford's Polygraph Test About Kavanaugh Is Out — Here's What It Says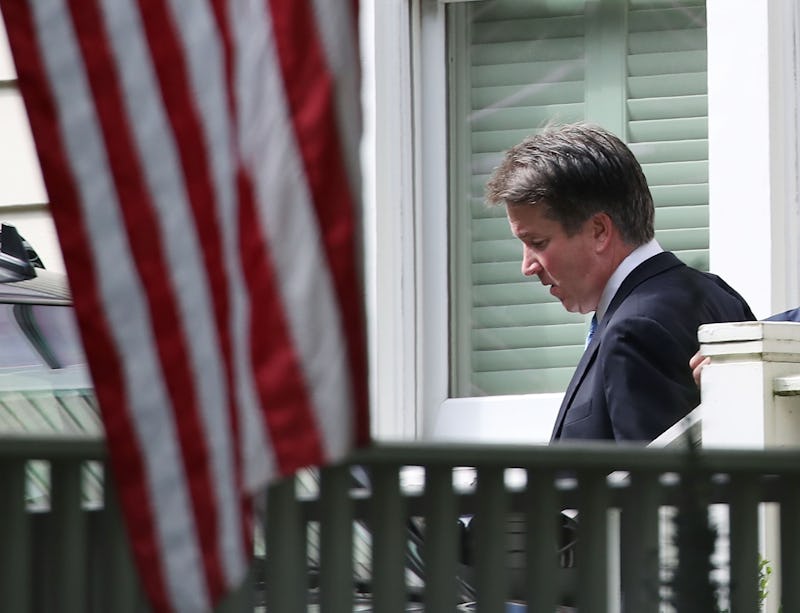 Mark Wilson/Getty Images News/Getty Images
On Wednesday, lawyers for Dr. Christine Blasey Ford released the results of a lie detector test that she took regarding her sexual assault allegation against Supreme Court nominee Brett Kavanaugh. You can read Ford's polygraph examination report in full if you'd like to dive into the details, and it contains a clear conclusion: According to the test, Ford is almost certainly telling the truth.
The polygraph test, which was carried out in early August, includes three separate assessments of Ford's answers, each using a different method of statistical analysis. Although the methodology is somewhat complex, all three of the analyses concluded that Ford is unlikely to be lying about her story.
Ford claims that Kavanaugh pinned her to a bed, groped her, attempted to remove her clothes, and pressed his hand against her mouth when she tried to scream back when the two were teenagers. Kavanaugh categorically denies her allegation. For her polygraph, Ford told her story and was then asked two questions: "Is any part of your statement false," and "did you make up any part of your statement."
She answered "no" to both, and examiners concluded that she's not likely to be lying. Here are the relevant parts of the report (emphasis in original):
Based upon this analysis, it is the professional opinion of this examiner that Blasey's response to the above relevant questions are Not Indicative of Deception.
A second analysis was conducted utilizing a scoring algorithm developed by Raymond Nelson, Mark Handler and Donald Krapohl (Objective Scoring System Version 3) which concluded "No Significant Reactions- Probability these results were produced by a deceptive person is .002."
...
A third analysis was conducted utilizing a scoring algorithm developed by the Johns Hopkins University Applied Physics Laboratory (PolyScore Version 7.0) which concluded "No Deception Indicated- Probability of Deception Is Less Than .02"
The report was released just one day before Ford's planned testimony in front of the Senate Judiciary Committee.
Ford isn't the only woman to accuse Kavanaugh of sexual misconduct. Deborah Ramirez told the New Yorker that Kavanaugh exposed himself and waved his penis in her face while playing drinking games at Yale University, while Julia Swetnick said that she witnessed Kavanaugh facilitating gang rape and groping women without their consent at multiple parties in the early 1980s. Kavanaugh called Ramirez's accusation a "coordinated effort to destroy my good name," and said that Swetnick's allegation, which she made in a sworn statement under penalty of perjury, is "ridiculous and from the Twilight Zone." He denies all of the allegations categorically.
By and large, Senate Republicans have cast doubt on Kavanaugh's accusers. Sen. Orrin Hatch accused Ford and Ramirez of collaborating with Senate Democrats in a "smear campaign," and suggested that Ford is "mixed up" in her recollection of Kavanaugh. Sen. Lindsey Graham said he'll vote for Kavanaugh regardless of what Ford — whom he referred to as "the lady" — says during her testimony, while Sen. James Inhofe accused Ford and Ramirez of having "a little help" from anti-Kavanaugh operatives, though he presented no evidence to support this theory.
Sen. Majority Leader Mitch McConnell has repeatedly expressed confidence that Kavanaugh will ultimately be confirmed to the court. Not everybody agrees, however: On Wednesday, Kavanaugh's odds of getting confirmed plummeted to below 50 percent on betting markets, Fortune reports.
If you or someone you know has been sexually assaulted, call the National Sexual Assault Telephone Hotline at 800-656-HOPE (4673) or visit online.rainn.org.