Read The Doc Describing How Trump's Ex-Lawyer Used Hush Money To Influence The Election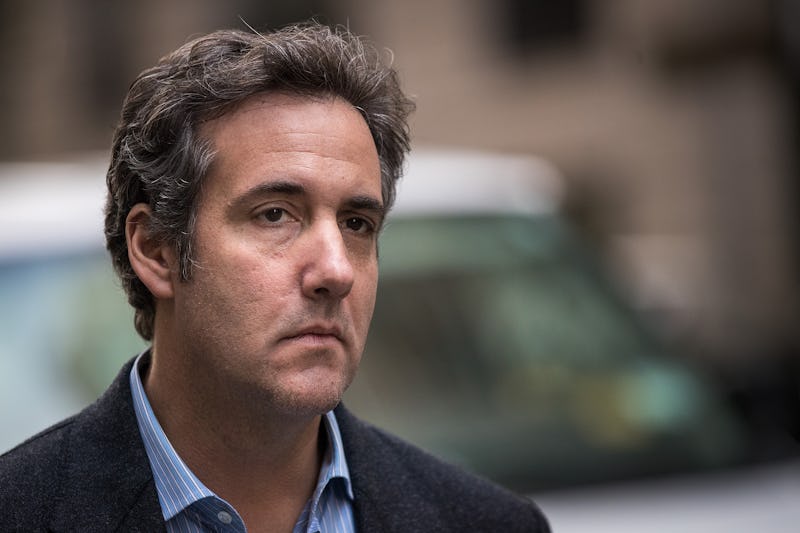 Drew Angerer/Getty Images News/Getty Images
President Trump's former personal attorney reached a plea deal after being investigated for allegations of bank fraud, tax evasion, and campaign finance violations over payments to women who said they had affairs with Trump. On Tuesday afternoon, Michael Cohen entered into a plea bargain with federal prosecutors, ABC News reported. The agreement was struck with the U.S. Attorney for the Southern District of New York.
The plea agreement listed in detail the eight various crimes which Cohen pled guilty to, which include tax evasion, bank fraud, and campaign finance violations. The criminal information filed in court detailed exactly how those crimes were allegedly committed, and included two hush agreements he entered into as an attempt to influence the 2016 presidential election.
The criminal information described how Cohen had an agreement with a chairman, referred to only as "Chairman-1," of a "a media company that owns, among other things, a popular tabloid magazine." Chairman-1 agreed to tell Cohen whenever they got wind of a negative story about a person associated with an individual who worked with a campaign Cohen was associated with, referred to only as "Individual-1."
The chairman "offered to help deal with negative stories about Individual-1's relationships with women by, among other things, assisting the campaign in identifying such stories so they could be purchased and their publication avoided," the criminal history reads. "Chairman-1 agreed to keep Cohen apprised of any such negative stories."
The history described two specific instances where Cohen assisted in paying out two separate hush agreements concerning alleged extramarital affairs between Individual-1 and other women, including a $130,000 payment made in October of 2016. Cohen documented that the $130,000 payment was for a "retainer." Cohen had previously admitted to paying adult film actress Stormy Daniels $130,000 out of his own pocket. A financial disclosure from Trump shows that he reimbursed Cohen for that payment. Daniels has described that payment as hush money meant to keep her quit about an alleged affair with Donald Trump, which Trump has denied ever happened.
The payments, Cohen told the court, were "for the principal purpose of influencing the election." It is widely understood that Cohen was referring to Trump in his statement to Judge William Pauley in Manhattan. New York Daily News reported that Cohen admitted to paying off two women in violation of campaign finance laws "in coordination with and at the direction of" a candidate.
Cohen's plea deal could prove to be a significant legal hurdle for Trump, as his former attorney may shed light on possible collaboration between Trump's 2016 presidential campaign and Russia along with insight into the then-Republican presidential candidate's campaign finances. Commenting on Cohen's proximity to Trump, analyst and journalist Seth Hettena told ABC News that he's "the guy who knows where all the bodies are buried."
"This is a guy who is willing to cut corners," Hettena added. "To bend rules. Whatever is going to help whatever interest he is serving."
Those curious to find out what ultimately happens to Cohen should keep their eyes on Dec. 12 — the day when Trump's famed "fixer" will be sentenced. For the time being, has Cohen surrendered himself to the FBI. Trump's ex-lawyer could end up facing four to five years in federal prison but the same punishment could be lessened if Cohen decides to cooperate and divulge Trump campaign-relevant information to special counsel Robert Mueller.
Monica Busch contributed to this report.