Mitt Romney Viciously Ripped Apart Trump's Charlottesville Response & Twitter Is In Shock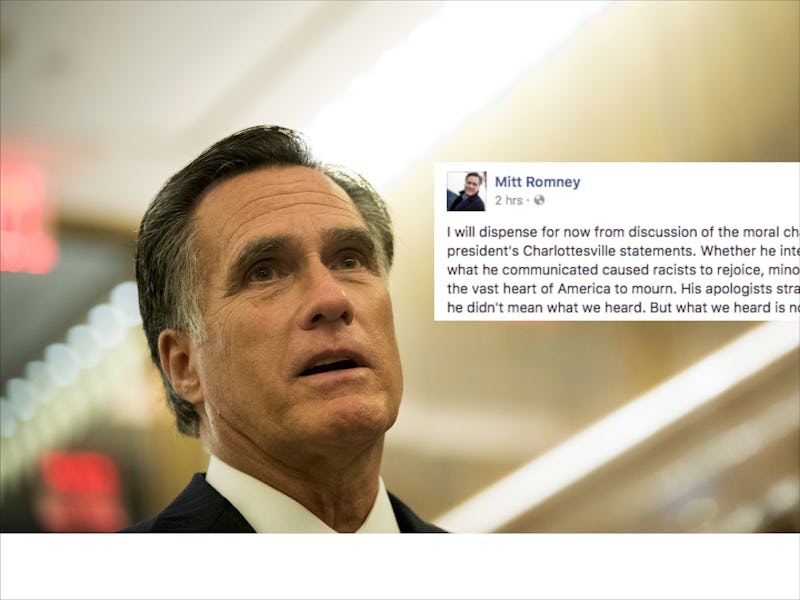 Drew Angerer/Getty Images News/Getty Images
On Friday, a week after the devastating events in Charlottesville, Virginia, former Republican presidential nominee Mitt Romney condemned Donald Trump in a Facebook post on the matter. Specifically, the former governor of Massachusetts described Trump's response to the white supremacist protests ― insisting, among other things, that both sides were responsible for violence and that some "very fine people" were present at a torch-lit rally featuring the loud chanting of "Jews will not replace us" ― as having "caused racists to rejoice, minorities to weep, and the vast heart of America to mourn."
Trump had this effect, Romney said, "whether he intended to or not," and set the stage for a dangerous moment in American history. Romney also criticized Trump's "apologists" who've tried to clean up his remarks after the fact. Added Romney:
His apologists strain to explain that he didn't mean what we heard. But what we heard is now the reality, and unless it is addressed by the president as such, with unprecedented candor and strength, there may commence an unraveling of our national fabric.
The full statement is embedded below, and it speaks to the divide between the Republican establishment of just five years ago compared to the establishment of today ― although it's worth remembering that Romney bent over backward to gain Trump's endorsement in 2012 while he was spreading racist conspiracy theories about Obama's place of birth, so his hands are not entirely clean in this.
Romney's critical words ― which concluded with a warning that Trump faces a "defining moment" being observed around the world ― generated a lot of response on social media, whether from people applauding him for speaking out, criticizing him for not speaking out more forcefully, or noting his past association with Trump back when it was politically advantageous.
This is not the first time Romney has been heavily critical of Trump, although it's the most prominent example since the president took office in January. During the 2016 presidential primary process, Romney delivered a sharply worded address at the University of Utah's Hinckley Institute of Politics, calling Trump a "con man" and repeatedly noting his initial failure to condemn former KKK leader David Duke.
The latter point, highlighting Trump's reluctance to fully and non-conditionally condemn white supremacist hate, is once again freshly relevant after the Charlottesville demonstrations, and the lethal attack on anti-racist counter-protesters.
Under normal circumstances, the kind of words Romney is using could tease a potential return to elected politics, or even a 2020 challenge against Trump himself. That said, however, deciding to primary your own party's incumbent president is a huge undertaking, and Romney ― who would be 73 in 2020 ― declined to enter the 2016 field despite many people hoping he'd step in to foil Trump's candidacy.