Here's What NBC News' Chairman Said About Firing Matt Lauer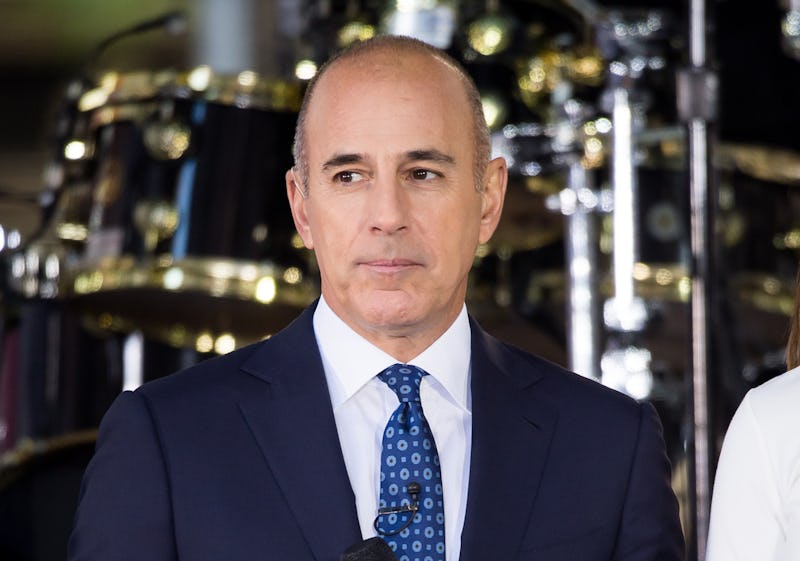 Noam Galai/WireImage/Getty Images
Longtime morning news host Matt Lauer was fired by NBC News early Wednesday. The network received a detailed sexual harassment complaint against the star on Monday night, and he was out the door in less than 48 hours. Andrew Lack, the NBC News chairman, announced Lauer's termination in a memo to employees just before 7 a.m. ET.
Lack wrote that they had received a complaint "from a colleague about inappropriate sexual behavior in the workplace" and conducted a serious review (Lauer has not yet publicly responded to the allegation, or his firing). He said it was a "clear violation" of NBC's standards. Lack also noted that while this is the first complaint about his behavior during his more than 20 years at the network, there's "reason to believe this may not have been an isolated incident."
Dear Colleagues,
On Monday night, we received a detailed complaint from a colleague about inappropriate sexual behavior in the workplace by Matt Lauer. It represented, after serious review, a clear violation of our company's standards. As a result, we've decided to terminate his employment. While it is the first complaint about his behavior in the over twenty years he's been at NBC News, we were also presented with reason to believe this may not have been an isolated incident.
Our highest priority is to create a workplace environment where everyone feels safe and protected, and to ensure that any actions that run counter to our core values are met with consequences, no matter who the offender.
We are deeply saddened by this turn of events. But we will face it together as a news organization — and do it in as transparent a manner as we can. To that end, Noah and I will be meeting with as many of you as possible throught the day to day to answer your questions.
Andy
TODAY co-anchors Savannah Guthrie and Hoda Kotb announced the firing on the air, keeping the details to what was explained in the letter. Guthrie called it a "sad" morning; she read the letter from Lack, and then told viewers that they had just learned about the news moments before. "We're devastated," Guthrie said, "and we are still processing all of this."
Guthrie went on to say that the TODAY team would be updating viewers in the hours and days to come.
I will tell you right now we do not know more than what I just shared with you, but we will be covering this story as reporters, as journalists. I'm sure we will be learning more details in the hours and days to come. And we promise we will share that with you.
"Noah," to whom Lack refers in the memo, is Noah Oppenheim, the NBC News president. He has been under fire for killing NBC's investigation into Harvey Weinstein, months before The New York Times and The New Yorker ran their story on allegations of sexual assault and harassment against Weinstein. Weinstein has "unequivocally denied" all accusations of rape through a lawyer.
Ronan Farrow, an NBC correspondent, wrote his Weinstein exposé for The New Yorker. Originally he was researching it for NBC News, but then Oppenheim reportedly killed the piece well into the investigation. The network has defended Oppenheim saying, "Oppenheim has never had any relationship with Weinstein, business or personal."
Lauer is not the only morning show host to be fired in recent weeks. Charlie Rose was fired by CBS News just over a week ago, a day after multiple women accused him of sexual misconduct on the job. He did not explicitly deny the allegations, but said in a statement:
I have behaved insensitively at times, and I accept responsibility for that. I always felt that I was pursuing shared feelings, even though I now realize I was mistaken.
Lauer's termination is the latest in a growing list of men across the country who are being held responsible for such misconduct.