Read Samantha Bee's 'Full Frontal' Speech On What She Regrets Most About That Ivanka Insult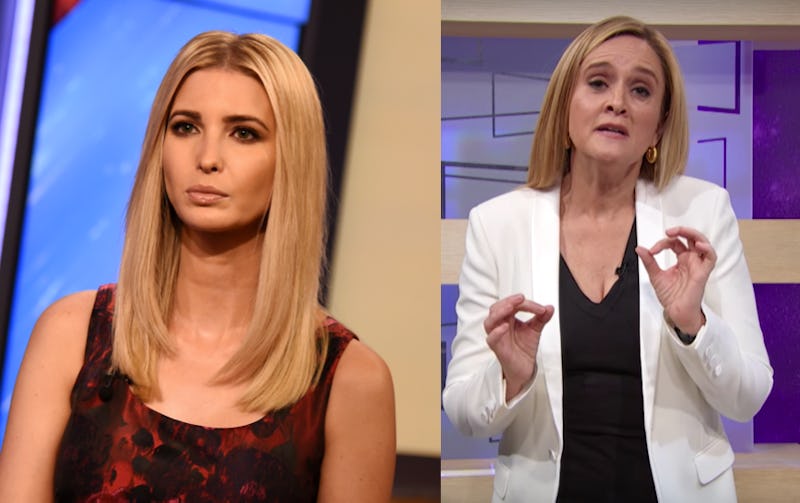 Ilya S. Savenok/Getty Images Entertainment/Getty Images; Full Frontal with Samantha Bee/YouTube
Words have power and the closer you are to the spotlight, the greater the weight they hold. Sure enough, the controversy one host sparked for calling the first daughter the c-word on TBS' Full Frontal hasn't even come close to fizzling out. And if you read Samantha Bee's latest statement on her Ivanka Trump comments, it's clear that might not happen for awhile still. Bee has some talking points she wants to make loud and clear.
On Wednesday night, Bee addressed her statement for a third time saying that she "crossed the line," regrets, and apologizes for it. At the same time, though, she discussed why she's so frustrated that media focused on her comments instead of how undocumented children are being treated by the Trump administration.
A lot of people were offended and angry that I used an epithet to describe the president's daughter and adviser last week. It's a word I have used on the show many times, hoping to reclaim it, but this time I used it as an insult. I crossed the line, I regret it, and I do apologize for that. The problem is that many women have heard that word at the worst moments of their lives. A lot of them don't want that word reclaimed, they want it gone. And I don't blame them. I don't want to inflict more pain on them. I want this show to be challenging and I want it to be honest, but I never intended it to hurt anyone, except Ted Cruz. Many men were also offended by my use of the word... I do not care about that.
She continued:
I hate that this distracted from more important issues. I hate that I did something to contribute to the nightmare of 24-hour news cycles that we're all white-knuckling through. I should have known that a potty-mouthed insult would be inherently more interesting to them than juvenile immigration policy. I would do anything to help those kids. I hate that this distracted from them. To them, I am also sorry. And look, if you are worried about the death of civility don't sweat it. I'm a comedian. People who hone their voices while in basement bars while yelling back at drunk hecklers are definitely not paragons of civility. I am, I'm really sorry that I said that word, but you know what? Civility is just nice words. Maybe we should all just worry more about the niceness of our actions.
Bee's initial comment about Trump came during an episode that aired May 30, while discussing a story about the president's new policy on separating children from their parents at the border. Bee snapped at the first daughter for not saying anything (at least not publicly) about the issue. Instead, Trump posted a photo of her and her son to Twitter.
"You know, Ivanka, that's a beautiful photo of you and your child," Bee began, "But let me just say, one mother to another, 'Do something about your dad's immigration practices, you feckless c*nt.'"
Bee went one step further by telling her to "put on something tight and low-cut" to get her father to do something about the issue.
On May 31, the day after the original statement aired, Bee took to Twitter to apologize to Trump and her viewers.
And in a statement from the network, TBS accepted responsibility as well saying, "Those words shouldn't have been aired. It was our mistake too and we regret it."
Later that day, while accepting an award at the Television Academy Honors, Deadline Hollywood reported her saying the following:
Every week I strive to show the world as I see it, unfiltered. Sometimes I probably should have a filter. I accept that. I take it seriously when I get it right and I do take responsibility when I get it wrong.
Now, Bee seems determined to put that insult behind her, accept that the c-word can't be "reclaimed," and get people talking about the issues that actually affect human beings in the United States.