Here's What CBS News' President Had To Say About Firing Charlie Rose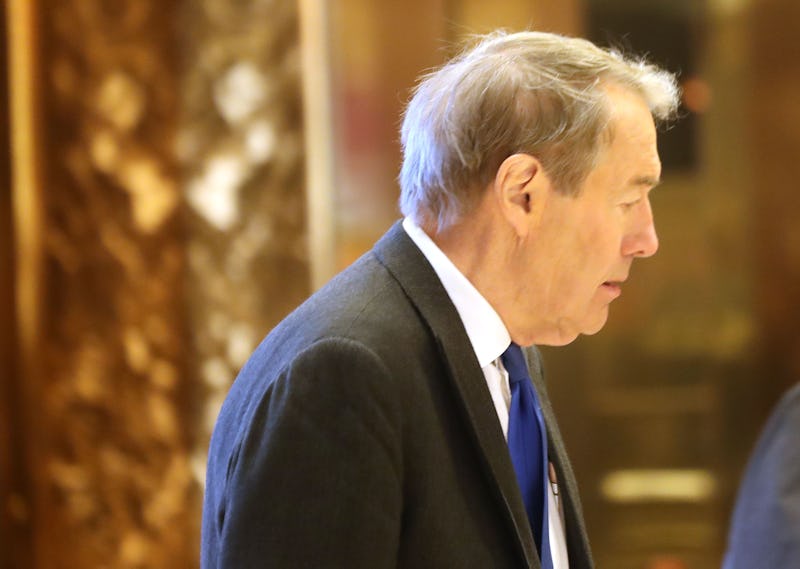 Spencer Platt/Getty Images News/Getty Images
After The Washington Post broke the news that eight women had accused a well-known television host of sexual harassment and misconduct, CBS News fired Charlie Rose from the company, where he co-hosted CBS This Morning. Rose had initially been suspended, but in a memo reportedly sent to staffers Tuesday afternoon, CBS News president David Rhodes stated that he was firing Rose because the company's credibility in reporting depends on its credibility in "managing basic standards of behavior." The termination is effective immediately.
Rose, who was also fired from PBS where he hosted his eponymous show Charlie Rose, was accused of sexual forms of sexual misconduct, including purposefully walking naked in front of women, groping women, calling women and describing his sexual fantasies to them, and making unwanted sexual advances toward women.
On Monday, when the allegations were made public, Rose released a statement acknowledging wrongdoing while also stating he disputes some of the accusations. He said, "It is essential that these women know I hear them, and that I deeply apologize for my inappropriate behavior. I am greatly embarrassed. I have behaved insensitively at times, and I accept responsibility for that, though I do not believe that all of these allegations are accurate. I always felt that I was pursuing shared feelings, even though I now realize I was mistaken."
Rose's CBS This Morning co-hosts Gayle King and Norah O'Donnell responded to the accusations about their co-worker Tuesday morning, saying that Rose "doesn't get a pass from anyone in this room." Their responses came before he was fired, but they made very clear that they were dismayed by the allegations and wanted to applaud the women who had stood up to tell their stories.
King, who said she held Rose in high regard, detailed how she was still grappling with the news and added, "He doesn't get a pass because I can't stop thinking about the anguish of these women. What happened to their dignity, what happened to their bodies, what happened maybe to even their careers. I can't stop thinking about that and the pain they are going through."
A few hours after they had responded, CBS News announced that it had fired Rose. The full statement read:
A short time ago we terminated Charlie Rose's employment with CBS News, effective immediately. This followed the revelation yesterday of extremely disturbing and intolerable behavior said to have revolved around his PBS program.
Despite Charlie's important journalistic contribution to our news division, there is absolutely nothing more important, in this or any organization, than ensuring a safe, professional workplace — a supportive environment where people feel they can do their best work. We need to be such a place.
I've often heard that things used to be different. And no one may be able to correct the past. But what may once have been accepted should not ever have been acceptable.
CBS News has reported on extraordinary revelations at other media companies this year and last. Our credibility in that reporting requires credibility managing basic standards of behavior. That is why we have taken these actions.
Let's please remember our obligations to each other as colleagues. We will have human resources support today and every day, and we are organizing more personal and direct training which you will hear about from senior management shortly.
I'm deeply disappointed and angry that people were victimized — and that even people not connected with these events could see their hard work undermined. If all of us commit to the best behavior and the best work — that is what we can be known for.
Rose has not yet issued a response to his firing.