Black Women Sent This Scathing Letter To Demand Top Democrats Support Maxine Waters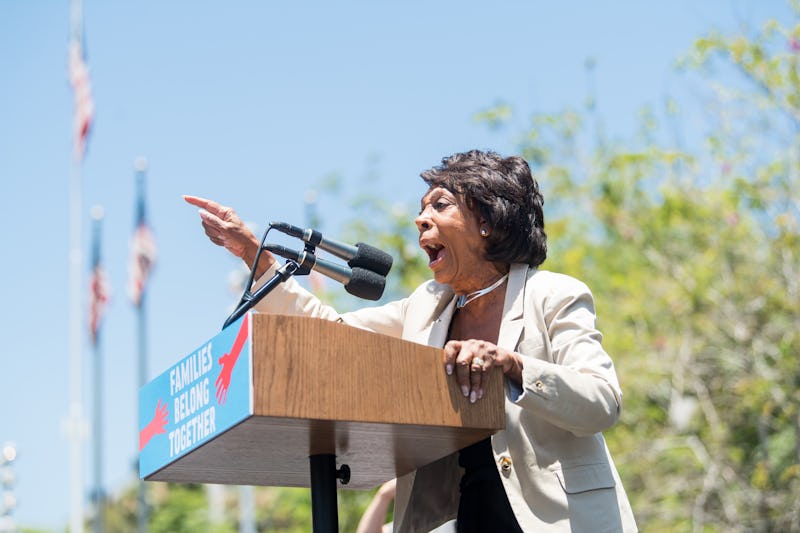 Emma McIntyre/Getty Images Entertainment/Getty Images
California Rep. Maxine Waters has been a vocal opponent of the Trump administration's "zero tolerance" immigration policy, and recently called on members of the Democratic Party to protest administration officials in public spaces. She has since faced attacks from Donald Trump and received death threats from his supporters, prompting black female leaders signed a letter defending Maxine Waters to Democratic leadership.
House Minority Leader Nancy Pelosi and Senate Minority Leader Chuck Schumer both distanced themselves from Waters' comments last month about protesting members of Trump's Cabinet. Pelosi blamed Trump's "daily lack of civility" for Waters' remarks, but still argued that Waters' comments were "unacceptable," and called for elections to be conducted in a way that "achieves unity."
In response, nearly 200 black female leaders and allies outside Congress signed a letter earlier this week expressing their "profound indignation and deep disappointment" regarding Democratic leaders' "failure to protect Congresswoman Waters from unwarranted attacks." The letter also called on Democrats to publicly apologize to and support Waters, warning them that a failure to do so could turn voters against them:
Disparaging or failing to support Congresswoman Waters is an affront to her and Black women across the country and telegraphs a message that the Democratic Party can ill afford: that it does not respect Black women's leadership and political power and discounts the impact of Black women and millennial voters.
Waters first called on her supporters to protest Trump administration officials late last month in response to Trump's "zero tolerance" immigration policy, which according to The Washington Post has resulted in more than 2,000 immigrant children being separated from their parents.
"Let's make sure we show up wherever we have to show up," Waters said at the Wilshire Federal Building last month. "And if you see anybody from that Cabinet in a restaurant, in a department store, at a gasoline station, you get out and you create a crowd. And you push back on them. And you tell them they're not welcome anymore, anywhere. We've got to get the children connected to their parents."
Waters subsequently received death threats over her comments, and said she was forced to cancel public events as a result. She addressed these death threats during an immigration rally over the weekend, however, saying that anyone who wanted to harm her had "better shoot straight." "There's nothing like a wounded animal," Waters warned.
The black female leaders and allies defending Waters signed and sent their letter to Democratic leadership on Tuesday. According to Politico, Pelosi — who initially criticized Waters' comments — subsequently released a statement on Wednesday condemning the threats of violence that Waters had received.
"Congresswoman Maxine Waters is a valued leader whose passionate call for family reunification should be heard without any threats to her safety," Pelosi's statement read. "Donald Trump has sullied the bully pulpit with reckless disregard for the safety of others ... He should stop his attacks on Congresswoman Waters and all Members of Congress, the free press, and all Americans who have the right and the responsibility to speak their minds."
Schumer, meanwhile, does not appear to have responded to the letter yet. His initial reaction to Waters' comments, however, was to describe them as un-American in a statement delivered on the Senate floor.
"I strongly disagree with those who advocate harassing folks if they don't agree with you," Schumer said shortly after Waters made her remarks. "If you disagree with a politician, organize your fellow citizens to action and vote them out of office. But no one should call for the harassment of political opponents. That's not right. That's not American."
Despite the negative responses she has received from both Democrats and Republicans, however, Waters has made it clear that she wants to maintain her focus on the children being separated from their parents, rather than on other lawmakers' comments.
"I've got to keep the focus on the children," Waters recently told MSNBC host Joy Reid, "and the fact that this administration is endangering children in the worst kind of way."