Gorsuch Has A Scary Case History For Trans Rights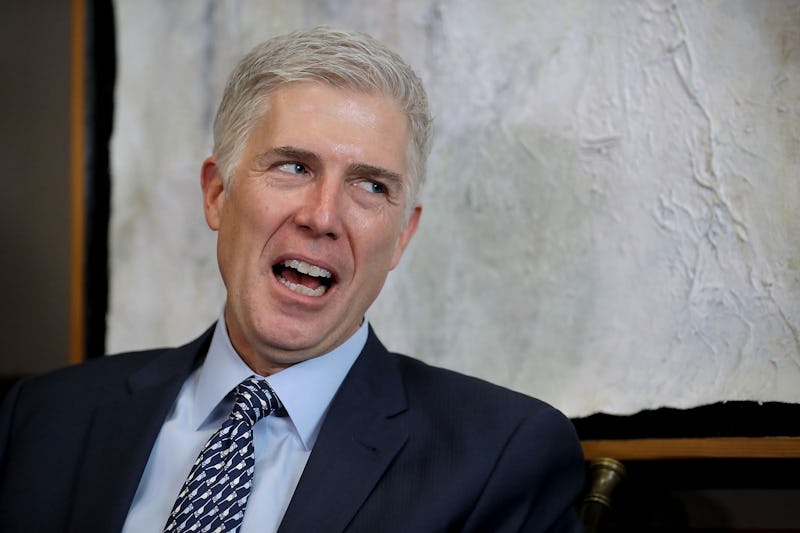 Chip Somodevilla/Getty Images News/Getty Images
Hold up, not so fast there Neil Gorsuch. After unprecedented opposition to President Obama's Supreme Court nominee Merrick Garland, President Trump's pick, Gorsuch, has had a pretty easy go of it — both in Congress and his depictions by the media. But there seems to be more to the story. After The New York Times ran a piece on how Gorsuch could be openminded on gay rights, a leading LGBTQ rights organization is asking citizens to revisit Gorsuch's record on the bench. Read The National Center for Transgender Equality's letter on Gorsuch to The Times. Then help block his nomination.
In the letter, Harper Jean Tobin, the group's policy director, challenges that Times piece entitled "Court Nominee Is Not Easy to Pigeonhole on Gay Rights, Friends Say." As an aside, anything but full support for equal rights should be a disqualification for Democrats thinking of confirming his nomination. There's actual evidence showing the 49-year-old judge from the Federal Appeals Court in Denver has a troublesome track record on transgender issues, and his appeasement of religious businesses, which results in discrimination against LGBT people among other problems. And it's possible that this could be an even larger judicial issue than marriage equality in coming years.
Read Tobin's words:
To the Editor:
Re "Court Nominee Is Not Easy to Pigeonhole on Gay Rights, Friends Say" (news article, Feb. 12):
Judge Neil M. Gorsuch may be less caustic in his personal style than Justice Antonin Scalia, but his record shows legal views that would undermine basic civil rights for L.G.B.T. Americans.
For example, several appeals courts have held that federal law prohibits job bias against transgender workers. Judge Gorsuch joined a ruling that employers were free to fire a transgender woman by citing unsubstantiated "safety reasons" about her using workplace restrooms — a view several other courts have rejected.
And his "religious liberty" opinions are truly sweeping, suggesting that there is no limit to what a business can claim is a burden on its moral views — that it is all "a matter of faith we must respect."
The signs are simply too strong that Judge Gorsuch's America is one in which L.G.B.T. people can be refused service at restaurants, hotels and doctors' offices, and employers could hang an "L.G.B.T. Need Not Apply" sign.
Harper Jean Tobin.
Director of Policy, National Center for Transgender Equality
Washington
Some 67 percent of Americans oppose discrimination in employment (as well as housing, public accommodations, etc.) for LGBT people. And yet as the letter says, Gorsuch joined a ruling in 2009 that ignored a transgender woman's right to use the bathroom that corresponds to her gender identity at work. That's not his only case regarding trans individuals either. In February 2015, he joined a decision refusing to consider a transgender prisoner's right to access hormone therapy.
This makes it clear that Gorsuch is far outside of the mainstream when it comes to his view on LGBT rights. Right now, it's only Senate Democrats that stand between him and confirmation — and they need to step up and channel some GOP-style obstruction. That's the only option to keep another anti-LGBT voice from joining the court.
He may have some gay friends, but that does not mean Gorsuch should be taking Garland's place on the court. These cases related to transgender rights prove it. Call your senators today.