Read Trump's Bizarre Letter To James Comey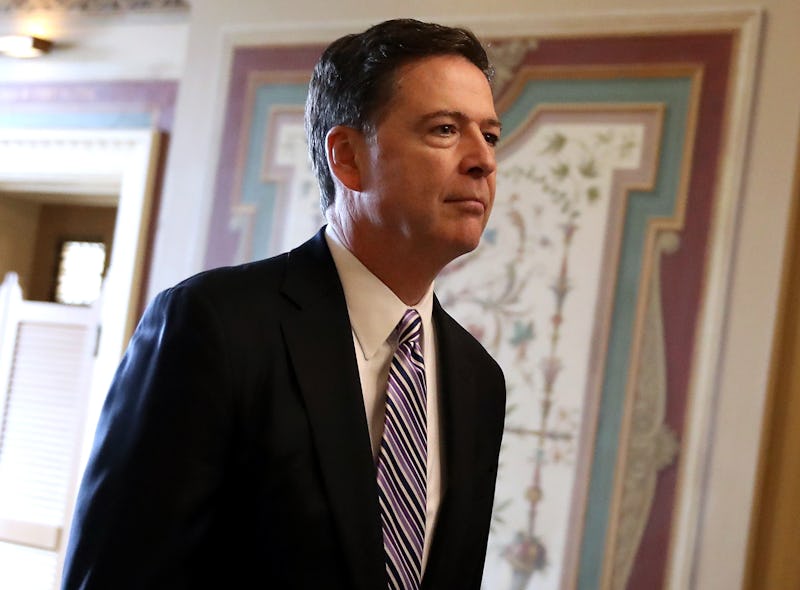 Justin Sullivan/Getty Images News/Getty Images
On Tuesday, President Trump terminated the FBI director, effective immediately. The letter Trump sent to James Comey laid out his reasoning, and it also included a bizarre paragraph regarding an FBI investigation into him.
Apparently, Trump received letters from Attorney General Jeff Sessions and Deputy Attorney General Rod Rosenstein recommending that Comey be terminated from his position. Sessions said the FBI leadership needed a "fresh start" and someone who follows the rules and principles and sets the right example. Sessions wrote that letter based on Rosenstein's letter, which claimed that the FBI's reputation had been suffering under Comey, specifically citing his handling of the investigation into Hillary Clinton's emails. Rosenstein's letter further states Comey was "wrong" to announce that the email case was to be closed without prosecution.
After these, Trump wrote a letter of his own. In it, he states that Comey is to be removed from office ASAP, but it's the second paragraph that gets a little weird. Trump asserts that Comey informed him "on three separate occasions" that he is not under investigation. That is false — Comey confirmed in March that Trump is, in fact, under FBI investigation for possible ties to Russia during the 2016 campaign. Trump denies any connection to Russia.
In its entirety, the dismissal letter reads:
Dear Director Comey,
I have received the attached letters from the Attorney General and Deputy Attorney General of the United States recommending your dismissal as Director of the Federal Bureau of Investigation. I have accepted their recommendation and you are hereby terminated and removed from office, effective immediately.
While I greatly appreciate you informing me, on three separate occasions, that I am not under investigation, I nevertheless concur with the judgement of the Department of Justice that you are not able to effectively lead the Bureau.
It is essential that we find new leadership for the FBI that restores public trust and confidence in its vital law enforcement mission.
I wish you the best of luck in your future endeavors.
Donald J. Trump
As you can see, Trump ended the letter with the classic HR statement, "I wish you the best of luck in your future endeavors." A little passive aggressive, no? It's not clear yet who will replace Comey — or how the new appointee may handle the investigation into Trump that is actually happening, regardless of what Trump might think.
Best of luck to them in that endeavor.