This Recap Of Arie's 'Bachelorette' Season Will Remind You Why Bach Nation Fell For Him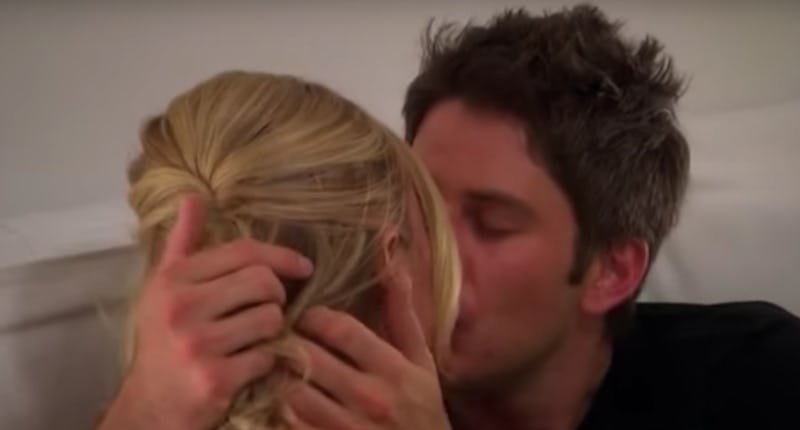 ABC
He was given an icy reception by fans upset that he was Not Peter, but new Bachelor Arie Luyendyk Jr. basically was Peter back in 2012, when the jaw-dropping Bachelorette finale saw Emily Maynard eliminate Arie in favor of Jef Holm. So maybe a recap of what happened on Arie's season of The Bachelorette is just what fans need to remind themselves that, while it's been a few years since he's appeared on the franchise, Arie was one of Bachelor Nation's biggest fan favorites for a reason. After all, that season really seemed like his to lose — and after the way Maynard and Holm's relationship fell apart, it was even more tragic that the show didn't have the ending it was so obviously telegraphing from the beginning. But in case your memories of the season are hazy — or you're a recent fan who missed out on the season in 2012 — this should help you get into the Bachelor spirit.
Season 8 of The Bachelorette was a little bit different than normal. The twenty-odd suitors traveled to North Carolina, Emily's hometown, so she'd be able to stay at home with her daughter while looking for love. So with a change of scenery, the season began, as they all do, with the introductions of all of the men looking to make a great first impression on the former Bachelor winner (she received a proposal from Brad Womack the previous year). And the winner of the First Impression Rose was actually neither Arie nor Jef — it was Doug, making him an early frontrunner for the ultimate prize. Emily found a letter from Doug's son a more endearing intro than the usual stunts (Kalon made a dramatic helicopter entrance; someone brought an ostrich egg). However, in her book, I Said Yes, Emily revealed that Arie actually made the best first impression with his personality.
After the first and second week, Arie had yet to really appear much. Those early episodes are all about thinning the herd, and Emily dutifully sent men home with whom she didn't feel chemistry and handed out roses to the ones who charmed her with their gentlemanliness. Arie got a one-on-one date in the third week, and earned both his rose and the nickname "The Kissing Bandit" for the first of his many makeout sessions with Emily. Arie's kissing abilities are still one of his most memorable qualities, but he also made sure to stick up for Emily when another competitor, Ryan, jokingly called Emily a "trophy wife."
In the show's fourth week, the contestants traveled from Charlotte to Bermuda for a tropical vacation, then in the fifth week to London for a second international trip. During the London trip group date, Kalon, who was more a reality TV show character than a serious candidate for Emily's heart, made a rude comment about Emily's daughter. He was immediately sent home, but this also affected the other men. Emily was disappointed that most of the men, including Arie, didn't stand up for her adequately, and made sure to send a message by giving Jef a rose early during a one-on-one because he confronted Kalon, while Arie was left to the final one saved during a rose ceremony.
During weeks six and seven, the now-smaller group went on trips to Croatia and Prague, where there were more eliminations (Ryan's "trophy wife" comments finally for him sent home, for example) and more chances for the men to prove they were falling in love. Jef made a strong case for himself by talking about Emily's daughter, while Arie made some seriously romantic moves, resulting in some real passion between the two. However, his romantic past with a Bachelor producer nearly waylaid their relationship. But at the end of the trips, Emily has determined her final four: Jef, Arie, Chris, and Sean, who would get home visits.
During hometowns in week eight, all four men made great cases for how much they were falling for Emily, and all four families did their best to welcome her. Emily's choice to eliminate Chris honestly just came down to bad luck and the need to send someone home, because at this point, there weren't really any clear frontrunners — all of these men felt like contenders. During the ninth week trip to Curacao, no one spent an overnight date with Emily, though she did say she would be tempted to invite Arie over and thus decided not to offer him the overnight card. Emily sent Sean home after the overnight dates, and Jef and Arie made it to the finale, where they met Emily's family, and would have the chance to propose.
However, after the events of the last few weeks, Emily had already decided on the man she was going to choose: Jef. Because of this, she decided to cut the finale short, telling Arie that she wasn't going to choose him and breaking up with him before the finale was over or the two had the chance for one last date. Arie, understandably, was heartbroken and shocked, while Emily too seemed upset. But she did seem happy when accepting a proposal from Jef in the final moments of the episode.
As it turned out, this wasn't quite a "happily ever after." In I Said Yes, Emily reveals that immediately, she started wondering "how a relationship with Jef was going to work, how he would fit into Ricki's life, if he was, in fact, ready to be a stepparent." And during the After the Final Rose special, it was revealed that Arie traveled to Emily's home in hopes to changing her mind — though Emily didn't read the journal that he gave her.
So, there you have it — the story of one of The Bachelorette's most shocking seasons ever and the origins of 2018's Bachelor. It's over five years in the making, but maybe this season will be the redemption the jilted Bachelorette contestant deserves.