These Unbelievable Polar Vortex Records Pretty Much Sum Up Winter 2019 Right Now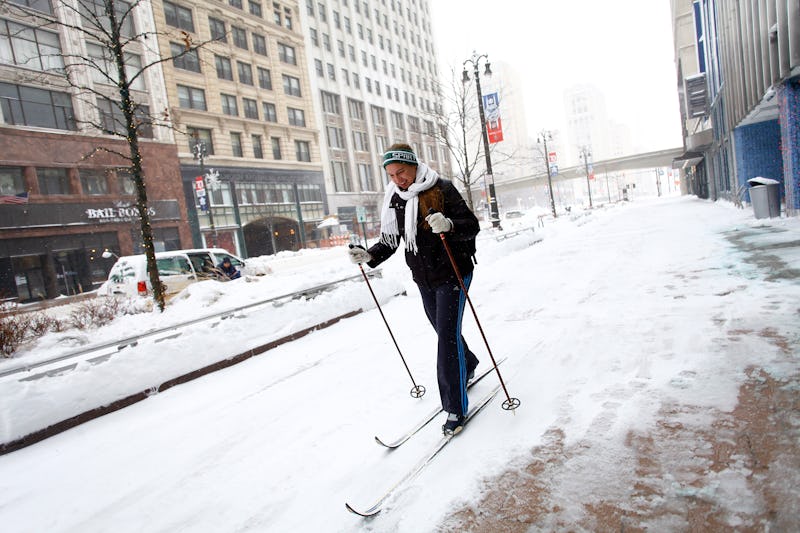 Joshua Lott/Getty Images News/Getty Images
The polar vortex has arrived, and it's been every bit as fatally frigid as meteorologists were predicting it to be. According to Axios, multiple records have been broken by the 2019 polar vortex, and they're related to how unspeakably cold temperatures have been in the midwestern region of the United States. The outlet reports that some areas of the region have seen temperatures as low as minus 60 degrees Fahrenheit, including wind chill — a temperature that could cause frostbite in minutes.
Ricky Castro, a National Weather Service meteorologist based in Illinois, said the weather pattern this winter could "possibly be history-making." Not to mention, states of emergency were declared in Illinois, Michigan, Wisconsin, Alabama, and Mississippi on Wednesday morning, per BBC.
Perhaps even more alarmingly, BBC notes that over 20 million people in the continental United States are predicted to experience temperatures of minus 28 degrees Fahrenheit or lower by the end of the week. Needless to say, that means a large population of the country is likely to be exposed to dangerously cold weather.
Here are some of the wildest records that have been broken so far by the polar vortex, because this winter is bound to go down in the books: