Red Gerard Brought Home The First U.S. Gold Medal Of 2018 & Twitter Is SO Proud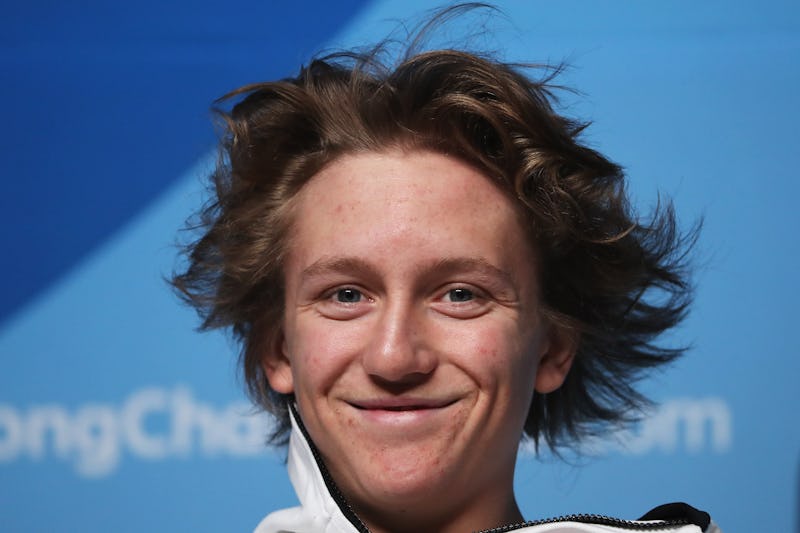 Ker Robertson/Getty Images Sport/Getty Images
On Saturday, in what must have been the biggest moment of his very young life, 17-year-old American snowboarder Red Gerard won the first U.S. gold medal of the 2018 Winter Olympics. And he had a pretty characteristic reaction, for a teenager who just etched his name into the aals of Olympic history; with the TV cameras recording, he blurted out "holy f*ck!"
The achievement and the moment have spurred reactions across social media, with tons of people both awed by his snowboarding prowess, and his somewhat exuberant choice of words. In addition to becoming the first American gold medalist at the 2018 Winter Olympics games, Gerard is the youngest competitor to win a gold medal in any event in PyeongChang so far.
In simple terms, it's his moment in the spotlight, and based on how he reacted you'd be hard pressed to deny he enjoyed it. A native of Rocky River, Ohio, Gerard beat out a competitive field in the slopestyle on Saturday, and ended up concluding his first-ever Olympics event with a gold medal in his back pocket ― metaphorically speaking, of course, since there's no telling how much pocket space he's got in his snowboarding outfit.
Gerard's performance clearly came as a shock, a delight, and an inspiration to countless observers. Perhaps that's because everybody knows what it's like to be 17, and just how daunting and improbable it seems to be able to climb to the very top of your field at such a young age. Or maybe it's because of the dramatic, virtuoso final descent, when he shot to the head of the field and clinched the gold. Or hey, maybe it's just simple national allegiance ― the enthusiasm of all those people chanting "USA" throughout the country.
Whatever the explanation, this much is very clear: Gerard is the latest Olympic hero for the United States, and as a gold medalist already at just 17, there's no telling just how storied an Olympic career he could ultimately have. Of course, that depends on how much he wants to make snowboarding the long-term focus of his life, but based on how well it turned out on Saturday, it seems like a pretty compelling option.
Gerard's fellow Olympian Gus Kenworthy chimed in on Saturday, wishing him well after the huge gold medal win. Kenworthy, a freestyle skier, will try to emulate Gerard in bringing home a gold medal from the 2018 Winter Games.
The U.S. Ski and Snowboard Team tweeted out a video of Gerard's family celebrating on the sidelines after his victory, and to say they looked excited would be a bit of an understatement. It makes perfect sense, of course ― not many families have a kid who's still in high school snowboarding his way into Olympic history.
Of course, just how significant Gerard's win will be to the overall medal count depends on how many other Americans win their events ― if it comes down to a close race in the final days, Gerard's victory could be a difference-maker. That's an entirely separate question from that of his own personal success at the games, however, which is already secured.
For what it's worth, even at the tender age of 17, Gerard is far from the youngest person to win an Olympic gold medal ― that distinction belongs to 13-year-old Marjorie Gestring, who helped the U.S. women's diving team win gold at the 1936 Olympics in Berlin, Germany. But regardless of age, nobody can take away what he just accomplished ― an Olympian, and a gold medalist, all before he's old enough to cast a vote.