Reese Witherspoon & Nicole Kidman Are Just Like You & Your BFF (Well, With A Lot More Money)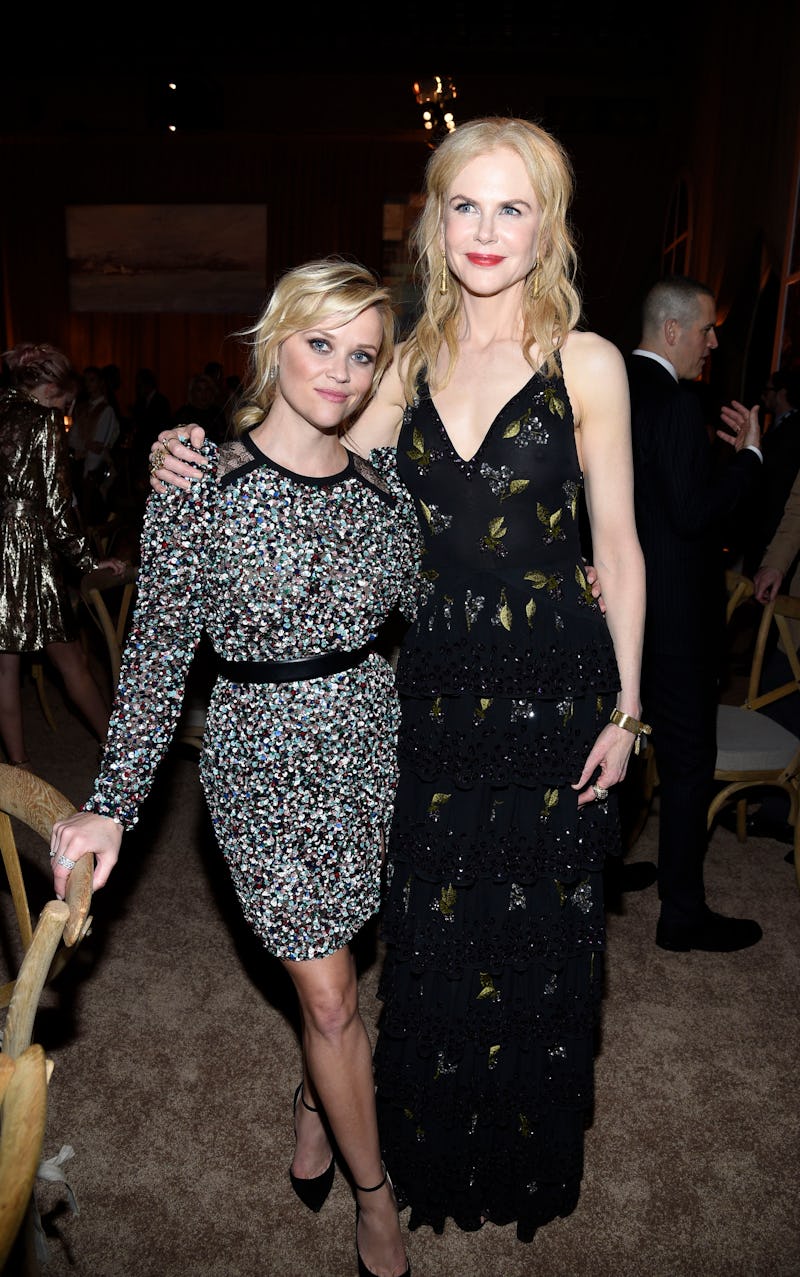 Kevork Djansezian/Getty Images Entertainment/Getty Images
At the Emmy Awards this Sunday, HBO's limited series Big Little Lies is up for seven awards. And while the potential for wins is something fans will be interested in, another exciting aspect viewers will likely get to see is the real life friendship between two of the show's leading ladies Reese Witherspoon and Nicole Kidman. Some people watch award shows to find out who wins, but let's be real — most of us tune in to see all of our favorite celebs all under one star-studded roof.
Witherspoon and Kidman's friendship blossomed while they were filming the show, and their looks at their relationship displayed on Witherspoon's Instagram page are going to be your new #friendshipgoals. The two have continued their friendship off the set of their hit series and, thankfully, have given fans photographic evidence of their adventures, as well. Their social media official friendship is so wonderful partly due to the fact that they are just like you and your friends: There are silly shots of their #SundayFunday, personalized birthday posts, and selfies with the perfect soft smiles.
In an interview with E! News, Kidman gushed about filming with Witherspoon "I love her," she said. "We had such a great time." Kidman continued to give more insight into their friendship and said, "We have so much in common and we're very close. I'm lucky to have her as such a good friend."
Kidman doesn't have an Instagram page, but her camera roll is probably full with the same oversized coffee mug-holding shots that are featured on Witherspoon's page.
The two Oscar-winners are both up for Outstanding Lead Actress in a Limited Series or TV Movie at the 2017 Emmys, but there is nothing but love and support between the two co-stars. In an interview with Net-A-Porter'sThe Edit after Kidman's dynamic and heart-wrenching performance in Big Little Lies, Witherspoon said, "My God, can somebody just give this woman an Emmy? I mean, please."
Like any true female celebrity friendship, they've had to deal with their share of inevitable feud rumors. Earlier this year, Australian magazine claimed that Witherspoon was "furious" with Kidman over her allegedly promoting her movie Lion more heavily than Big Little Lies. However, the rumor was quickly shot down as "completely incorrect" by a "representative close to both actresses," according to the Daily Mail.
In a world that is constantly trying to pit successful, powerful women against each other, Witherspoon and Kidman's relationship is a shining example of the fact that celebrity women can be friends and not in competition with each other. On their critically acclaimed show, they play thick as thieves best friends and, as evidenced on Witherspoon's Instagram, their friendship is another example of life imitating art.
Witherspoon has graciously provided fans with many envious shots of the pair's relationship over the course of their friendship via her Instagram page and, while riding the press wave of Big Little Lies, they've sung each other's praises in numerous interviews. With the Emmy Awards this Sunday night fans can look forward to several interviews with the cast, as they are expected to take home a number of awards, and it's safe to say that we can expect a whole new slew of Instagram posts of these two Hollywood friends that can last us until we finally find out if Big Little Lies will be coming back for Season 2.