This Year's Reese's Trees Are Stuffed Full Of Reese's Pieces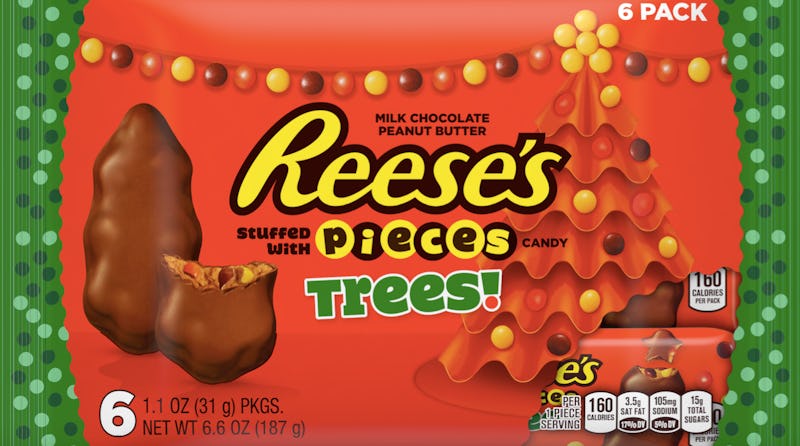 Reese's
With Thanksgiving a mere week away, chances are you have begun to see Christmas tree vendors pop up in your area. Christmas trees can be found in homes all over the world as Dec. 25 nears. In fact, according to Statista, 27.4 million real trees and 21.1 million fake trees were sold last year in the U.S. The needle-filled tree has become a symbol inextricable from the season. And just as inextricable are your favorite Christmas tree-shaped desserts. Enter the iconic Reese's Christmas tree, with a whole new look: Reese's Trees with Pieces are new to 2018, making the holiday treat more peanut butter-y than ever.
Any true '90s kid knows that the Reese's trees of Christmas past have only been created from classic Reese's peanut butter and chocolate, which is, of course, delicious on its own. But the reinvention of the Reese's Tree incorporates an extra layer of flavor and texture with the help of another miniature member of the Reese's family: pieces. Basically it is a regular Reese's peanut butter cup filled with additional candy shell-covered morsels of sweet peanut butter. And the whole thing is shaped like a Christmas tree. Talk about festive.
This is not the first time Reese's Christmas Trees have made the news in recent memory. In 2015, the treat was all over the internet, but not for the most positive of reasons.
During this time three years ago, photos of Reese's Christmas Trees plastered the internet. Many consumers took to social media, nonplussed by the rounded, vaguely egg-shaped treat they discovered within a Reese's Christmas Tree wrapper. One user with the handle @AshweeCarter posted a photo of her lumpy Reese's next to its wrapper, accompanied by a caption reading "... I have questions."
The company responded with a clever series of advertisements that doubled as a rebuttal to the criticism. Per Adweek, following the outcry about shapeless sweets, Reese's spearheaded the #AllTreesAreBeautiful campaign, encouraging customers to embrace the inherent differences of candies (and people).
In press release, Reese's reiterated its stance on trees, and how the company will continue to uphold the ideas about what the public can learn from them: "This year, Reese's is reminding fans that #AllTreesAreBeautiful with the NEWEST addition to their Reese's Tree line — Reese's Trees with Pieces! We know that many were hot on this news in 2015, when some made comparisons to our trees looking 'blobs' — but one thing is certain — no matter what they look like on the outside they are still delicious on the inside!"
Whether you decide to eat one of these straight from the package, or find a few into your stocking on Christmas morning, one thing is for sure: regardless of how your Reese's Christmas Tree with Pieces looks, it is sure to be the most delicious tree in your house this season.
Individual Reese's Christmas Trees have a suggested retail price of $0.99, and six-packs of $3.99; living your peanut butter and chocolate blob dreams, though, remains priceless.