Renee Zellweger Has A New Netflix Series That Will Explore CRUCIAL Life Decisions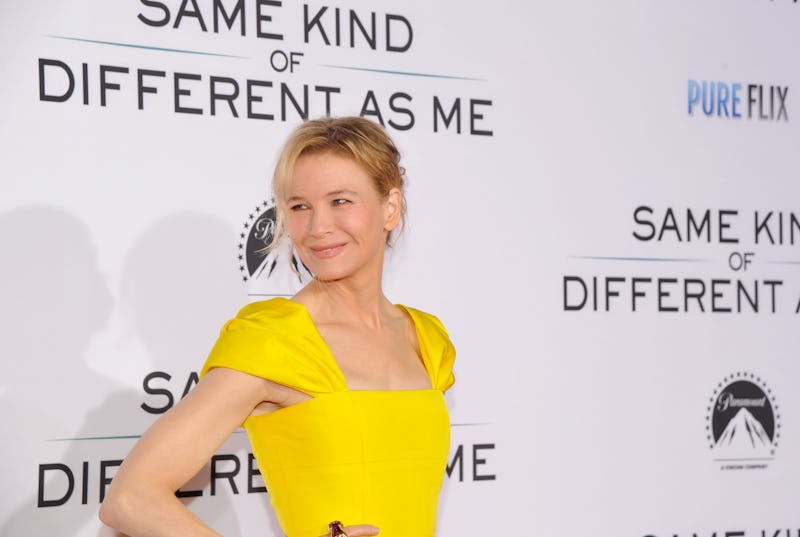 John Sciulli/Getty Images Entertainment/Getty Images
One of your favorite actors is finally taking on a major TV role and she's going in with a bang. Renee Zellweger's Netflix series What/If was announced by the streaming service in a press release on Friday, Aug. 17. It's already shaping up to be a show everyone will be talking about. The anthology thriller, to premiere in 2019, will take a look at the outcomes of the decisions we make and what happens when good people do bad things. As if the premise wasn't enticing enough, What/If has an excellent crew that will likely cause the show to be a standout in its premiere season.
As detailed in the press release, the anthology comes from Mike Kelley, the creator of Revenge — a wildly popular, female-led drama that ran on ABC from 2011 to 2015. Netflix described the series What/If as a social thriller which "explores the ripple effects of what happens when acceptable people start doing unacceptable things." Zellweger's character Anne will be at the center of Season 1, described as such: "Cash-strapped newlyweds weigh a lucrative but ethically dicey offer from a powerful woman in this series."
The series will have an anthology format, which has proven to be popular in recent years with series like FX's American Horror Story, HBO's True Detective, and USA's The Sinner. There isn't much more information about the series available, but t seems the network already has a plan for the series beyond its debut season next year. "Each season will tackle a different morality tale inspired by culturally consequential source material, and the power of a single fateful decision to change the trajectory of an entire life," the Netflix press release said.
Fans will also be psyched to learn that joining Kelley and Zellweger is director Robert Zemeckis. Zemeckis, who's directed classics like Forrest Gump, Back to the Future, and Romancing the Stone, will serve as executive producer on the 10-episode series, according to the press release. Charles Roven is also tied to the project as an executive producer. Roven has produced other iconic films such as The Dark Knight, American Hustle, and Wonder Woman.
This, of course, will be Zellweger's first big role on TV. The actor has been a household name in film for years, starring in pop culture favorites like Chicago (2002), Jerry Maguire (1996), and Bridget Jones's Diary (2001). According to IMDB, the last TV appearance Zellweger made was when lending her voice to a 2001 episode of King of the Hill as Tammy Duvall.
Slowly but surely, Zellweger is reclaiming her presence in Hollywood after taking a six-year hiatus starting in 2010. In a 2017 interview with Bustle, Zellweger explained she took a break from acting. "My professional commitments dictated my choices," she said. "I wasn't making them at all, they were being made for me."
While finding inner strength during her break, the actor especially enjoyed little moments like getting coffee. "To just go into a coffee shop and order a coffee and have the girl who's having a bad day right there in front of you," she explained to Bustle. "It's not altered in some way. I [had] genuine experiences with people again."
After making such a huge life-altering decision, it seems like What/If will resonate with the actor on a personal level, bringing a whole other element of promise to the upcoming show.