California Rep. Adam Schiff Slams Trump's Claims That Forest Management Caused The Fires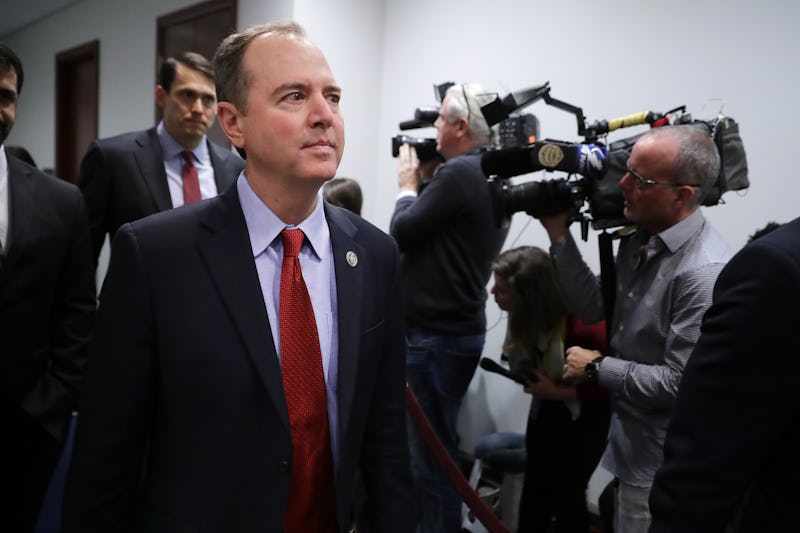 Chip Somodevilla/Getty Images News/Getty Images
On Sunday during an interview with ABC's This Week, Democrat California Rep. Adam Schiff shut down President Trump's wildfire claims. Trump originally claimed back on Nov. 10 that mismanagement of California's forests was to blame. Trump visited California on Saturday to tour some of the devastation, and he again blamed forest management as one of the factors contributing to the fires, according to NPR.
Trump said the forest floors were not properly maintained. "Got to take care of the floors. You know, the floors of the forest. It's very important. You look at other countries where they do it differently and — and it's a whole different story," Trump told reporters on Saturday, according to The Hill. "I was with the president of Finland and he said we have a much different — we're a forest nation — he called it a forest nation and they spend a lot of time on raking and cleaning and doing things and they don't have any problem."
But as multiple fires continued to rage throughout the week in California, This Week co-host Martha Raddatz asked Schiff to respond to Trump's comments. The incoming chairman of the House Intelligence Committee said he was glad to see that federal funds wouldn't actually be withheld.
"I'm glad that he's there, I'm glad that he is offering federal funds. That's what he should do, that's what a president is expected to do," Schiff told ABC. "Of course, I think all Californians were upset with the statements he made earlier in the week when people were facing utter devastation."
Schiff said the importance needs to be on the preparing for what comes next, which could include mudslides and other ecological tragedies.
But then Raddatz asked Schiff if he agreed with Trump's assessment of the forest management. Schiff sharply disagreed. "It doesn't make much sense to me. The reality is that no single fire has the same cause, every fire is going to be different," he said.
Every fire has a different cause, Schiff said, adding that climate change is making the fires harder to extinguish. "The reality is we're always going to have wildfires in California. With climate change, they're going to be worse. And we need to take steps to reduce their frequency, reduce their severity," he said. "And yes, forest management is one piece of it, but there are lots of other pieces."
Ultimately, Trump needs to listen, Schiff said. "And I think the president needs to listen to the experts because clearly he isn't one of them," he told Raddatz.
After Schiff's interview — which covered the killing of journalist Jamal Khashoggi and the appointment of Acting Attorney General Matt Whitaker — Trump tweeted about the congressman, misspelling his name. "So funny to see little Adam Schitt (D-CA) talking about the fact that Acting Attorney General Matt Whitaker was not approved by the Senate, but not mentioning the fact that Bob Mueller (who is highly conflicted) was not approved by the Senate!"