A Florida Democrat Was Sued For Sexual Harassment. Taxpayers Paid The $220,000 Settlement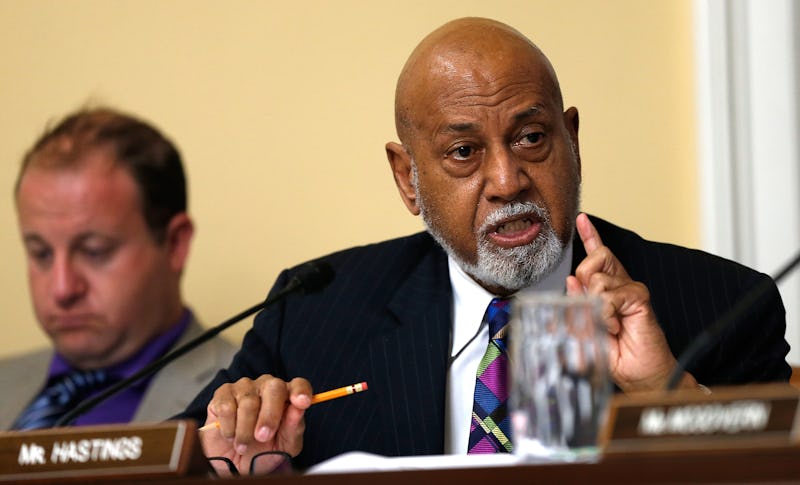 Win McNamee/Getty Images News/Getty Images
According to documents recently obtained by Roll Call, a sexual harassment lawsuit against Democratic congressman Alcee Hastings from years ago was settled with $220,000 in taxpayer money. The lawsuit was filed in 2011 by Judicial Watch on behalf of Winsome Packer, a former congressional staffer who worked with Hastings when he was the chairman of the Commission on Security and Cooperation in Europe. Hastings has denied Packers' allegations, calling them "ludicrous" and saying that he never sexually harassed her.
In the filing, Packer alleged that she was the victim of "unwelcome sexual advances" and "unwelcome touching" by Hastings. Packer also claimed that Hastings and his staff director, Fred Turner, threatened her job. After the Roll Call report came to light, Hastings claimed that he was never informed about a settlement and said that he was "outraged" that taxpayer dollars were used in the settlement:
This matter was handled solely by the Senate Chief Counsel for Employment. At no time was I consulted, nor did I know until after the fact that such a settlement was made. I am outraged that any taxpayer dollars were needlessly paid to Ms. [Winsome] Packer.
Hastings has said that the original lawsuit was dismissed in 2012 and that he was cleared by the House Committee on Ethics in 2014.
The specific payment details on the 2014 settlement involving Hastings were not included in a report by the Office of Compliance, which releases the payouts to settle discrimination cases against Congress members to the public. Only a $84,000 payment to settle a sexual harassment claim against Republican Rep. Blake Farenthold was included in the total amount.
Packer had initially sued under a statute that allows individuals to seek damages against federal officials for civil rights violations, but she had been told that laws protecting workers didn't apply to congressional staffers like her, per court records. Hastings was then dropped from the lawsuit in 2012 because he successfully argued that the law didn't apply to Congress members.
The revelation that Hastings had used government money to settle a sexual harassment case, despite claiming that he was cleared of wrongdoing by the House Committee on Ethics, is the latest sexual harassment scandal to overtake Capitol Hill. Earlier this week, Republican Rep. Trent Franks announced that he was stepping down amidst the sexual harassment allegations against him and an upcoming House Ethics investigation, leaving office on Friday ahead of his proposed resignation date of Jan. 31, 2018.
Franks denied ever having "physically intimidated, coerced, or had, or attempted to have, any sexual contact with any member of my congressional staff" but acknowledged that he made staffers "uncomfortable" by asking about fertility issues and surrogacy with two female staffers.
Sen. Al Franken also announced on Thursday that he was stepping down after multiple allegations of sexual misconduct made by former congressional aides came to light. Franken denied the allegations, mentioning in his oft-criticized resignation speech that he was "shocked" and "upset" about the allegations against him, and then saying that "women deserve to be heard and their experiences taken seriously."
Another member of the House, Democrat John Conyers also resigned this week after several former aides accused him of sexually harassing them for years, including an ex-staffer who received a $27,000 settlement using taxpayer money. Conyers denied the allegations, but agreed to step down and endorsed his son John Conyers III to take his spot in Congress.
On the heels of multiple sexual harassment claims in Capitol Hill, members of the House Administration Committee will hold a hearing for the second time this month to discuss how sexual harassment complaints are handled, how settlement claims are reached between the congressional office and accuser, and where the money should come from. Prominent lawmakers, including Rep. Jackie Speier and Sen. Kirsten Gillibrand, have already called for an overhaul of the sexual harassment policies in Congress, claiming that they are long antiquated and don't protect victims who file sexual harassment complaints.