A GOP Lawmaker Told Drug-Addicted Inmates He Deals With Problems, Too — Like Attack Ads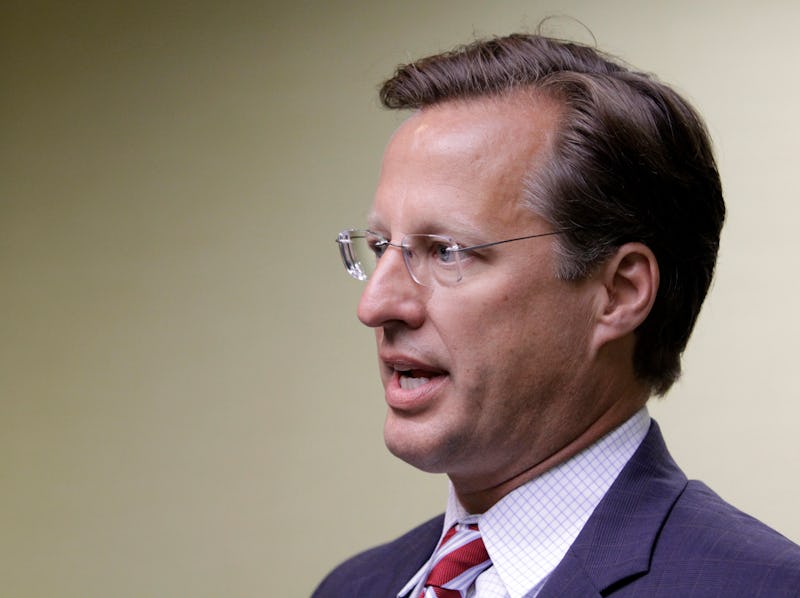 Jay Paul/Getty Images News/Getty Images
While visiting an addiction support group at a local jail on Wednesday, a Republican congressman compared the struggles of drug addiction to the stresses of running a congressional campaign, and suggested that running for Congress wasn't much easier than overcoming addiction. Rep. Dave Brat told the drug-addicted inmates that being the target of negative campaign ads, much like being addicted to potentially fatal drugs while incarcerated, is "hard."
"You think you're having a hard time?" Brat asked an inmate at the Chesterfield County Jail Wednesday. "I got $5 million worth of negative ads going at me. How do you think I'm feeling?" Brat added that "nothing's easy." Bustle has reached out to the congressman for comment.
Brat rose to prominence in 2014 for defeating the second-highest ranking Republican in the House of Representatives in a primary. He's being challenged for his seat in Virginia's seventh congressional district by Democrat Abigail Spanberger, and both RealClearPolitics and CBS News call the race a "toss-up."
"You think, I'm a congressman — 'oh, life's easy, this guy's off having steaks,'" Brat continued. "Baloney. I wake up — I've got a daughter, she's gotta deal with that crap on TV every day. Right, so it's tough. No one out there's got some easy life."
Spanberger criticized Brat for his comments later in the day, calling them "absolutely shameful" in a Twitter post.
"These comments are disturbing and damaging in the way that they belittle and trivialize addiction and the challenges facing those in recovery," Spanberger told The Washington Post. "The truth is that Congressman Brat has also taken massive campaign contributions from pharmaceutical companies, voted to give them a billion-dollar tax break, and voted to limit access to addiction services."
In a Facebook post Thursday, Sheriff Karl Leonard of Chesterfield County lamented the media's depiction of Brat's comment, and defended both Brat and other politicians who've visited the jail to speak with addicted inmates.
"I am personally displeased that an issue that I have worked so hard to prevent from being politicized has now ended up being nothing more than just a politcal [sic] football," Leonard wrote. "I have had Democratic Senator Tim Kaine in the very same room for the very same fact-finding session, as well as Democratic Governor Ralph Northam. Neither of them were there for a campaign stop nor was Dave Brat."
Leonard said that Brat "could have passed on this visit all together and focused on his campaign but he actually stepped away from the campaign trail to do this." The Post notes that Brat's visit was organized by his congressional office, not his reelection campaign.
Although he was criticized for his comments, Brat was praised by inmate Demond Williams, who called him a "good man" and told The Post that he appreciates "anybody that takes that time to find out what's going on with addicts."
Brat's plea for sympathy at the jail is reminiscent of a remark that indicted Rep. Duncan Hunter made in August. After pleading not guilty to stealing his own campaign funds and using them to pay for international vacations for him and his wife, Hunter said that "it's difficult to live" on a federal lawmaker's $174,000 salary.