Rep. Gwen Moore Announced Her Cancer Diagnosis During A Hearing On Health Care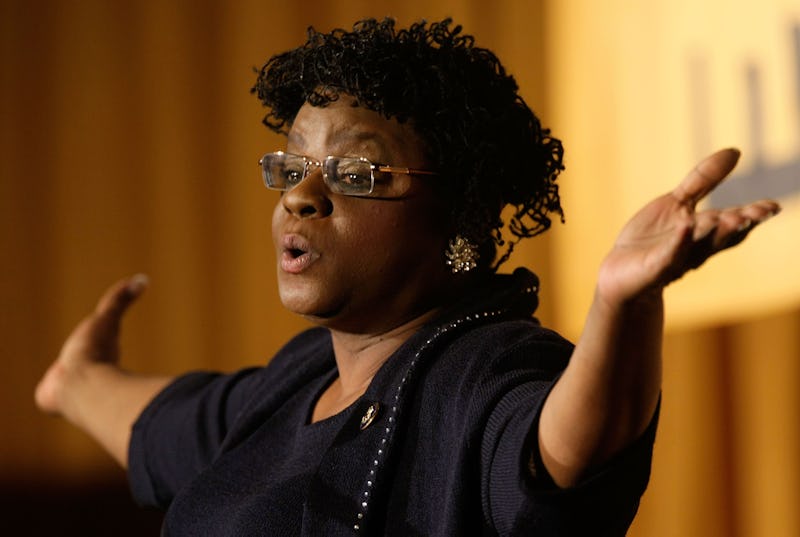 Alex Wong/Getty Images News/Getty Images
During a Ways and Means Committee hearing about the Affordable Care Act on Tuesday, Wisconsin Democratic Rep. Gwen Moore announced her cancer diagnosis and subsequent remission. She praised ObamaCare and underscored the importance of providing affordable health care for Americans.
"Instead of yielding me time, you could be delivering kind words at my memorial service," Moore said, according to Roll Call. "In the spring of 2018, I joined an exclusive club of millions of Americans with the cursed C-disease: cancer, a disease that guarantees discrimination in the insurance marketplace — for many, a death sentence."
Moore explained that she was diagnosed with small cell lymphocytic lymphoma, per Roll Call. According to WebMD, small cell lymphocytic lymphoma is a cancer that affects the white blood cells that help your body ward off infections. While this particular cancer is highly treatable, without the required treatment it can turn into a more dangerous form of lymphoma.
"Right now I'm in great health with an excellent prognosis of living with this disease," Moore told her colleagues. "I spent a lot of time on a gratitude tour, of being grateful for medical research, having insurance, and most importantly, thanking God for the ACA provisions."
Moore explained that while she doesn't currently rely on the ACA, she understood what people stood to lose if the law was repealed, especially after going through her diagnosis and all of the medical services that it required.
"We've talked a lot about this costing too much or being too expensive," Moore said at the hearing. "What does a life cost?"
She added in a press release, "This is a cancer I will live with for the rest of my life, but, because of my high-quality healthcare and insurance coverage, it is not a cancer I will die from."
Health care was one of the decisive issues of the 2018 midterm elections, as Forbes wrote, and it was a significant driver of Democrats' success in taking back control of the House of Representatives. After years of working to repeal the ACA, the Democrats' midterm messaging revealed that Americans are, in fact, very much in favor of the regulations forcing insurance companies to cover pre-existing conditions. This even pushed Republican candidates to start saying that they, too, were in favor of protecting those regulations, as The New York Times reported at the time.
In her press release, Moore commented on her Republican colleagues' efforts to get rid of Obamacare before many had a public change of heart around the midterms.
"Ways and Means Republicans have voted to defund, undercut, and undermine our country's health care system. They have made it clear as day that they care more about the cost of the ACA than the value of human life," Moore wrote. "I am announcing my remission today to remind everyone on this committee that I am a living example of the lifesaving value of essential health benefits."
Now that the Democrats have taken control of the House, Moore and her fellow Democratic colleagues will be in charge of the committee's agenda — and Moore made clear this week that defunding the ACA will not be a part of it.