There's A #MeToo Moment Happening In The Catholic Church — And It's Led By Nuns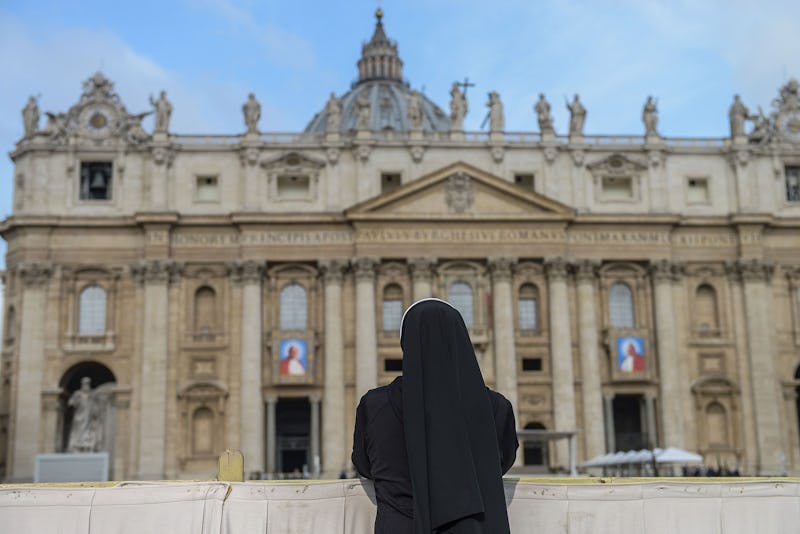 Giorgio Cosulich/Getty Images News/Getty Images
Inspired by the ongoing #MeToo movement, another group of survivors has been coming forward with stories of sexual abuse. This time, the survivors are coming from within the Catholic Church. According to a new Associated Press report, there has been a recent increase in nuns sharing stories of abuse inflicted by priests, and some say that they have held onto their secrets for decades.
"The experience of nuns who were sexually abused and raped is similar to all victims of clergy sexual abuse — namely, the church hierarchy does nothing," Tim Lennon, president of the Survivors Network of those Abused by Priests (SNAP), tells Bustle. "[They] hide, dismiss and excuse sexual abuse. Nuns, children, minors, are no different in the eyes of church hierarchy who are more interested in their reputation than the safety of those who might be victims."
Bustle has reached out to the Vatican for comment. The AP reported that while the Vatican declined to comment for its story, an anonymous official did tell the wire service that it's up to local churches to punish priests who have sexually abused nuns.
For a long time, nuns' stories of sexual abuse were confined primarily to Africa, the AP reported. But as sisters around the world have begun to come forward with their stories, it's become clear that the problem is international in scope. However, as with many other situations wherein sexual abuse appears to be concentrated, many nuns who are survivors of abuse fear that they won't be believed when they share their experiences, AP reported.
"There is a philosophical arrogance of priests called clericism," Lennon tells Bustle. "This means they preach, and consider themselves nearer to god and therefore everyone else is beneath them. For instance, you might hear, 'Fr. Murphy is a kind priest and a servant of god, how dare you accuse him of sexual abuse!'"
Much of this has to do with the innate power dynamic built into the Church. Many of the survivors' stories that the report draws upon are from nuns who say they were abused by priests or bishops. Within the church hierarchical structure, nuns fall below priests and bishops, meaning that there is an inherently uneven power dynamic that can generate fear or even lead to intimidation.
"When you elevate, through religious doctrine and law, a male clerical class that has virtually unchecked power over others, you have the continual conditions being created for sexual assault and exploitation of children and women but also men, where it's been a long-standing problem in Catholic seminaries," the Ending Clergy Abuse (ECA) global justice project tells Bustle in a statement. "This is compounded by the very structure that does practically nothing to hold itself and its leaders accountable, and simply won't, without tremendous public pressure and exposure, identify and expel abusers from the priesthood."
Stories in the AP report ranged from sexual harassment to sexual assault and rape. The accounts came from nuns in Europe, Africa, South America, and Asia, and primarily concerned harassment and assaults allegedly carried out by priests and bishops.
One nun told the AP that she no longer attends confession after allegedly being assaulted by a priest nearly two decades ago. When she reported the incident to her superior, she says, nothing happened.
"It opened a great wound inside of me," said the nun, whose name was not reported. "I pretended it didn't happen."
Stories about sexual abuse within the Catholic Church often focus on abuse that is experienced by children. The Church took a stand on that in recent years, and one cardinal just resigned this week in the midst of a scandal regarding sexual abuse of an altar boy and other minors. The pope ordered him to live a "life of prayer and penance," The New York Times reported.
Rarely does the question of abuse within the Church focus on abuse among other church leaders, however. "The place of confession should be a place of salvation, freedom and mercy," said the unnamed woman who told the AP that she was assaulted during confession. "Because of this experience, confession became a place of sin and abuse of power."
When it comes to destabilizing power structures that protect abusers, the first step is empowering survivors to come forward. While the Vatican has not released any public plan to combat the sexual abuse of nuns within the Church, the fact that survivors are sharing their experiences at all may serve as a call to action in itself.