Sarah Huckabee Sanders Didn't Get Away With Her "Fake News" Comment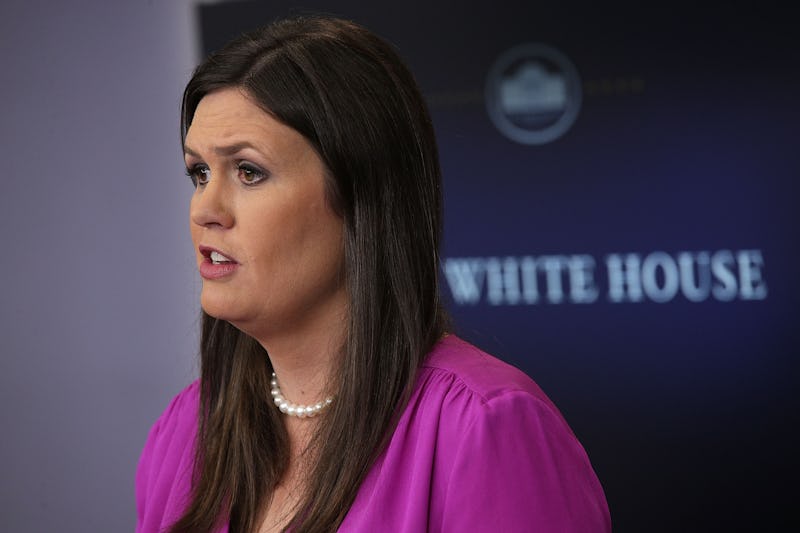 Alex Wong/Getty Images News/Getty Images
In recent weeks, Deputy White House Press Secretary Sarah Huckabee Sanders has become a familiar figure behind the White House lectern. She began sporadically filling in for White House Press Secretary Sean Spicer in May, but her familiarity to members of the White House press corps hasn't necessarily made her a friendly face. During Tuesday's briefing, Huckabee Sanders accused the media of dishonesty, carrying on a feisty exchange with a reporter.
Standing in the White House briefing room, Huckabee Sanders claimed Trump was frustrated with the "constant barrage of fake news that is directed at this president," after being asked why the president continues to slam CNN on Twitter. Then, she went on to criticize common practices of journalism, saying, "News outlets get to go on day after day and site unnamed sources, use stories without sources ... [and] have reporters resign."
In response, journalist Brian Karem called Huckabee Sanders' words inflammatory.
Sarah, that's — come on. You're inflaming everybody right here, right now with those words. This administration has done that as well. Why in the name of heavens — any one of us, right, are replaceable, and any one of us, if we don't get it right, the audience has the opportunity to turn the channel or not read us. You have been elected to serve for four years at least. There's no option other than that. We're here to ask you questions, you're here to provide the answers, and what you just did is inflammatory to people all over the country who look at it and say, see, once again, the President is right and everybody else out here is fake media. And everybody in this room is only trying to do their job.
To that, Huckabee Sanders disagreed. "If anything has been inflamed, it's the dishonesty that often takes place by the news media," she said. Video of the exchange between Karem and Huckabee Sanders quickly spread online.
Later, Karem spoke to MSNBC about the heated exchange. "It was a long time coming," he said; "it was six months." He also said that being called dishonest "rankled me."
Tuesday's press briefing began as a report on Energy Week. Energy Secretary Rick Perry joined Huckabee Sanders in the briefing room to discuss the Trump administration's "commitment to American energy dominance." According to the White House's readout from the briefing, Perry discussed streamlining bureaucratic processes and the president's decision to withdraw from the Paris climate agreement earlier this month:
There was one fact missing from the headlines about the U.S. withdrawal from the Paris Agreement, and that is that the United States already leads the world in lowering emissions. And we've done this through innovation and technology, not by signing agreements. The Paris Agreement put the taxpayer on the hook for a costly deal. There was a billion dollars already out the door. Thankfully, this President has the good sense to step in before billions more had been committed.
After taking some questions, Perry turned things over to Huckabee Sanders for the rest of the day's news. The deputy press secretary — and daughter of former presidential candidate Mike Huckabee — began filling in for Spicer when he reportedly had to serve his U.S. Navy Reserve commitment in May, according to The Hill. Her presence at Tuesday's briefing was unplanned, as Spicer had been scheduled to lead the briefing but instead stayed on Capitol Hill to support the GOP health care plan.
Tensions between the White House and the news media have escalated over the course of the Trump administration's first six months in office. In February, the White House reportedly blocked certain news outlets from attending an off-camera news briefing, according to POLITICO, though Spicer denied that claim.
More recently, off-camera press briefings have grown increasingly common, frustrating some journalists. Tuesday's talk of a dishonest media seemed to bring those tensions to a breaking point.