This Georgia Republican Admitted She Doesn't Support A Livable Wage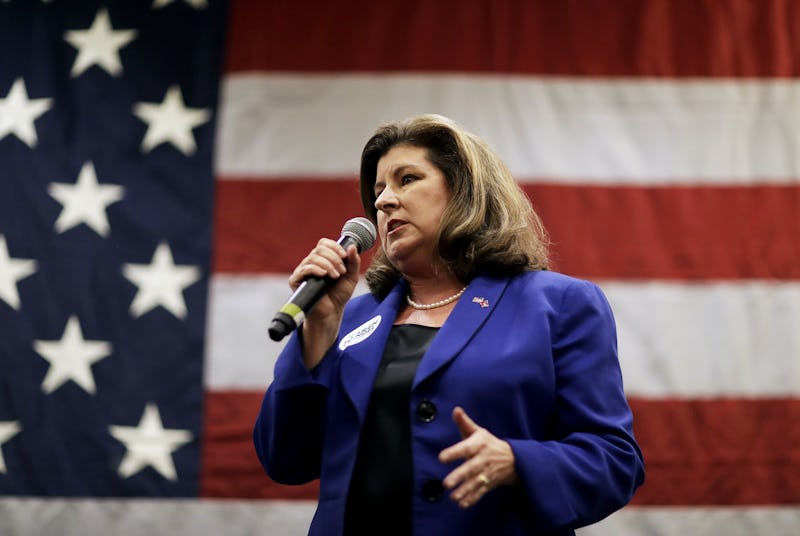 AP/REX/Shutterstock
The fight for moderates in the Georgia congressional district left vacant by Trump's appointment of Tom Price as Health and Human Services secretary has taken a turn for the extreme — at least in the case of the Republican in the race. Back in April the Democratic candidate, Jon Ossoff, nearly won enough votes to avoid the runoff altogether, and he's been hard at work to win the Republican leaning district that voted for Hillary Clinton in November. But his opponent, Karen Handel, is taking a different tack. The Republican literally said she doesn't support a living wage.
This occurred during the televised debate Tuesday night when the candidates were asked if they support raising the minimum wage. Ossoff didn't hesitate and said he favored a livable wage. "Look, if somebody's working a 40-hour work week, they deserve the kind of standard of living that Americans expect," Ossoff said. "That's part of the American dream, and there are too many folks having trouble making ends meet." Handel went far to the right — and blatantly so — with her response:
This is an example of a fundamental difference between a liberal and a conservative. I do not support a livable wage. What I support is making sure we have an economy that is robust with low taxes and less regulation so that those small businesses that would be dramatically hurt if you imposed higher minimum wages on them are able to do what they do best: grow jobs and create good paying jobs for the people of the 6th District.
Her points on business had already been addressed by Ossoff. He said that he supported having a national minimum wage that took urban and rural differences into account and that would be increased gradually so as not to hurt business and job growth.
In Georgia in particular, the minimum wage is quite low compared to a livable wage — at least in certain parts of the state. According to the National Conference of State Legislatures, the minimum is $5.15. In most cases that would be superseded by the federal minimum of $7.25, which was last raised in 2007 after a fight between Congressional Democrats, Senate Republicans, and then-President George Bush, CNN reported at the time.
The Huffington Post, using numbers from MIT's Living Wage Calculator, reported that the minimum livable wage for one adult in Georgia's 6th District is $12.01 per hour — nearly $5 more than what a current federal minimum wage owner earns each hour.
This was not the only contentious moment of the debate. Ossoff was asked who he would vote for in the election — and the answer is he can't. He's registered in a nearby district where he lives with his fiancee. The law doesn't require him to live in the district, and he rebutted fairly well.
If Ossoff does win the seat, it will send a big message to Republicans in Congress that they should be worried about Trump. One poll a few weeks ago showed a lead of 51 to 44, but as you saw in November, the winner is never guaranteed.