Republicans Confirm 2 Of Trump's Nominees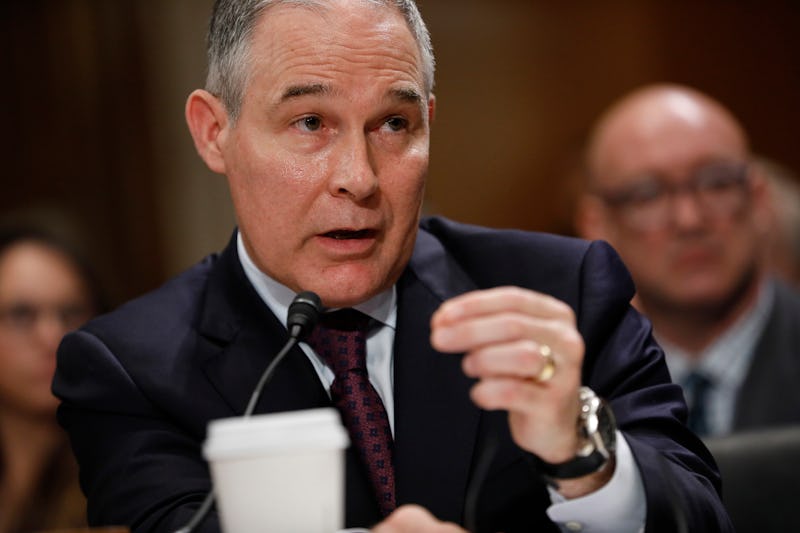 Aaron P. Bernstein/Getty Images News/Getty Images
Donald Trump's countless cabinet nominees have received consistent controversy over the past two weeks. Now, Republicans have confirmed two of Trump's nominees, Rep. Tom Price and Steve Mnuchin, without Democrats present.
After this defiant move of subverting previous Democratic boycotts by holding votes with none of them present, Democrats are also boycotting Scott Pruitt, Trump's pick for EPA chief. This sets the stage for what could be yet another controversial rule change by the committee's chairman, Wyoming Sen. John Barrasso. According to The Hill, Barrasso derided the Democrats' boycott of Pruitt's committee vote as "political theater," which gives a pretty good sense of where his head is at.
The decision to bypass the typical rule in the cases of Price and Mnuchin, which requires at least two Democrats on the committee be in attendance in order for a confirmation vote to go through committee, has stoked indignation and condemnation from members of the minority party. Both nominees made remarks in their hearings, under oath, which now appear to have been false by journalistic reporting ― Price regarding his investments in the biomedical industry while serving in the House, and Mnuchin regarding his bank's use of robo-signing to foreclose on people's homes.
This led Utah Sen. Orrin Hatch to vehemently attack the Democrats, accusing them of "posturing and acting like idiots," saying "I'm really tried of this type of crap," and that there's "no excuse for it," according to The Salt Lake Tribune. Democratic Sen. Sherrod Brown of Ohio, however, stood behind the decision for the plain reason that key portions of Mnuchin and Price's testimonies seem to have been deceptive. "We have great concern that Senator Hatch is asking us to vote on two nominees today who have out-and-out lied to our committee," Brown said.
In short, Barrasso now faces the same decision Hatch did on whether to alter the rules to push Pruitt through without Democratic participation. Obviously, there are potential political costs to doing such a thing ― it could bolster the public perception that Trump-era Republicans prefer playing with a stacked deck, and are willing to bend or break both norms and rules in order to achieve whatever they desire. That's a perception that the new administration and the Republican Congress will have to contend with if the Democrats decide to employ a rigid opposition of the sort the GOP threw up against former president Barack Obama, and the next test of it could come soon, with the Supreme Court nominee Neil Gorsuch having just been announced.