The GOP's First Anti-Abortion Bill In The Current Senate Just Went Down In Flames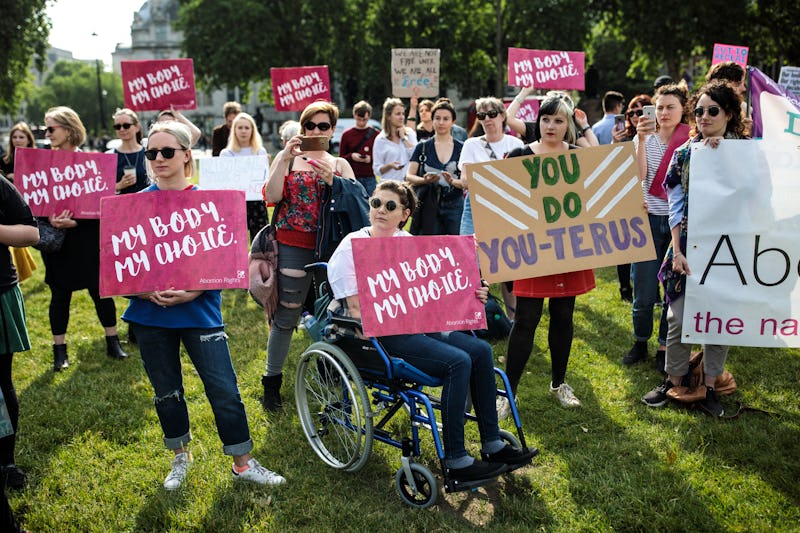 Jack Taylor/Getty Images News/Getty Images
On Thursday, Senate Republicans' first anti-abortion bill of the new Congress was defeated, Politico reports. The legislation would have permanently banned federal funds in programs like Medicaid from being used to pay for abortions; however, Republicans were unable to overcome a Democratic filibuster, and the bill was defeated.
Democratic Sens. Bob Casey and Joe Manchin voted with Republicans to pass the measure, while Republican Sens. Lisa Murkowski and Susan Collins joined Democrats to oppose it.
The bill was largely symbolic. For the last 40 years, Congress has tacked on a provision known as the the Hyde Amendment to every annual appropriations bill, Politico reports. That amendment bans the use of federal funds to pay for abortions, and the GOP bill that was defeated Thursday would have codified it into law permanently.
"Our legislation would create a permanent, government-wide prohibition on abortion funding so that not one taxpayer dollar goes toward the destruction of innocent human life," Sen. Roger Wicker, who sponsored the bill, said on the House floor.
In addition to banning the use of Medicaid dollars for abortions, Wicker's bill would have prohibited Obamacare subsidies from being used to purchase insurance plans that cover abortions, banned the District of Columbia from using its own city taxes to pay for abortions, and banned the departments of Defense and Veterans Affairs from providing abortions at their facilities.
Republicans timed the No Taxpayer Funding for Abortion Act to coincide with the annual March for Life, an anti-abortion protest in Washington, Politico reports. The Women's March and other progressive groups will be holding a demonstration to lobby for single-payer health care, sometimes referred to as "Medicare-for-all," on the same day, according to The Hill.
Five Republican senators didn't vote on the bill: Lamar Alexander, Richard Burr, Mike Crapo, Lindsey Graham, and Rand Paul. Even if they had, however, Republicans would have still been short the 60 votes needed to break a Democratic filibuster. Moreover, the bill would almost certainly have been dead on arrival in the Democratic-controlled House of Representatives even if it had cleared the Senate.
Meanwhile, House Democrats have indicated that they'd like to repeal the Hyde Amendment during the current session of Congress.
"We are going to end the Hyde Amendment," Rep. Diana DeGette said at a press conference on Tuesday. "For the first time, maybe in our nation's history, we actually have a pro-choice majority in the U.S. House of Representatives."
Ahead of and immediately after Thursday's vote, Democrats criticized Senate Majority Leader Mitch McConnell for putting an anti-abortion bill on the floor while simultaneously refusing to hold a vote on legislation to end the government shutdown, which is approaching its fourth week.
"Instead of voting to pay federal workers, they're trying to tell women what kinds of health insurance they can and can't have," Sen. Patty Murray said, according to Politico. "Instead of ending the chaos and dysfunction, and getting our country back on track they want to chip away — again — at every woman's constitutionally protected right to make her own health care decisions."