There Will Be Even Fewer Republican Women In Congress After The 2018 Midterms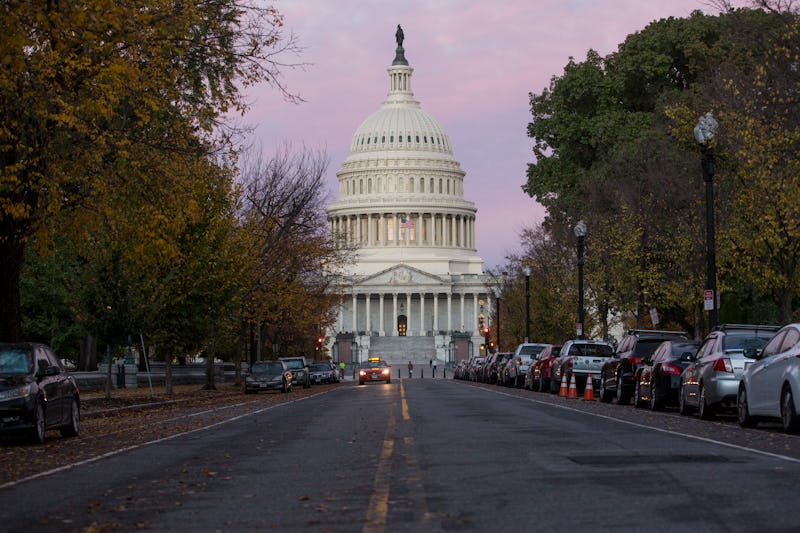 Zach Gibson/Getty Images News/Getty Images
Women made history during Tuesday's midterm elections, breaking numerous records as they won election to Congress. But even though women and minority candidates generated headline after headline on Election Day, one group of women actually suffered a loss — there will be fewer Republican women in Congress during its next session.
According to public affairs site Quorum, Democrats added 25 women to their ranks in Congress, while Republicans lost 10. Now, there are 90 Democratic women serving in the House and 16 in the Senate, as opposed to 15 Republican women in the House and 6 in the Senate.
Ballots across the country were extremely diverse, and according to USA Today, more women will fill Congressional seats than ever before. However, there was not a surge of Republican women running for elected office as there was among Democrats, The Washington Post pointed out.
The records broken among female candidates for Congress were largely Democratic victories. In New York, Alexandria Ocasio-Cortez became the youngest woman ever elected to Congress. Michigan's Rashida Tlaib and Minnesota's Ilhan Omar became the first Muslim women elected to Congress. In Kansas and in New Mexico, Sharice Davids and Deb Haaland became the first Native American women elected to Congress. But even as Democratic women achieved these victories, Republican women suffered defeats.
Per The New York Times, Virginia Rep. Barbara Comstock — a Republican — lost her seat to Jennifer Wexton, a Democrat, and she was not the only one who faced a significant challenge. In Washington, a Democratic woman threatened to flip Republican Rep. Cathy McMorris Rodgers' seat, though the Associated Press and The New York Times both projected that Rodgers would ultimately win her race. And in Arizona, Democrat Kyrstem Sinema is in an extremely close race with Republican Martha McSally.
According to the Rutgers Center for American Women and Politics, 428 Democratic women ran for Congressional seats or governorships, compared to just 162 Republican women. By the time Tuesday's midterm elections rolled around, 210 Democratic women remained candidates following their party's primary elections, as opposed to 63 Republican women.
Although Republican women seemed notably absent from Election Day ballots, white women who voted Republican in hotly contested races around the country found themselves subject to significant criticism after Election Day. CNN exit polls found that roughly 75 percent of white women voted for Republican Brian Kemp over Democrat Stacey Abrams in Georgia's gubernatorial election, while 60 percent of white women in Texas voted for Republican Sen. Ted Cruz over his Democratic opponent Beto O'Rourke. In Florida, 51 percent of white women voted for Republican Ron DeSantis instead of Democrat Andrew Gillum — his opponent in their state's gubernatorial race.
As was the case when Donald Trump won the 2016 presidential election, white women illustrated that they would largely vote along party lines. However, according to Vox and CNN, 49 percent of white women voted for Democrats in House races in this year's midterms. In their efforts to unseat Republicans, Democrats also scored the largest margin of victory among female voters to date, per The Washington Post, indicating that women of all races — including white women — were slowly shifting toward the Democratic Party.