Why Writers And Readers Are So Necessary In The Resistance Against Trump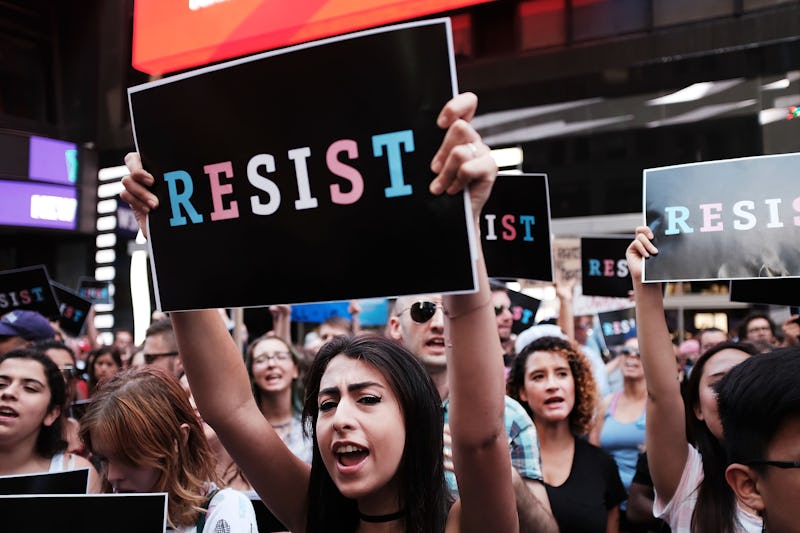 Spencer Platt/Getty Images News/Getty Images
In the months since Donald Trump has become president, more and more people have become inspired to join the Resistance — whether that means volunteering, campaigning, donating, making calls, educating themselves and others on the issues, or otherwise. Bustle's 31 Days of Reading Resistance takes a look at the role of literature and writing in the Resistance, both as a source of inspiration and as a tool for action.
When I agreed sometime in the fall to moderate a panel of writers in Brooklyn, I did so with glee — certain that the event would be triumphant and inspiring and exciting. After all, it was a panel of women talking to a roomful of what would be mostly women about writing for women. Even better, it was scheduled for November 9th — the first day of a new age — in the wake of the election of the United States's first female president.
Hope is a scoundrel.
Any writer will tell you that events are terrifying; there is no fear like the wicked, insidious whisper that promises a roomful of empty chairs. My worst is two people during a snowstorm in Michigan. Surely, this room, on November 9th — in the far reaches of Brooklyn off the G Train — would top that. Is it possible to have a negative number of audience members? That's what I expected.
The panel, I should mention, was full of romance writers. Love trumps hate is basically the story of every single romance ever written. So to add insult to injury, this panel would be about love, in an empty room, a day when love hadn't trumped hate at all.
Grim, right? And we had to put on makeup for it.
And we did just that. We turned up at that bookstore in Greenpoint with heavy hearts, knowing that everything had changed and knowing that, whatever that event had been expected to be on November 7th, it would be vastly different on November 9th.
Romance events are usually boisterous and fun. They involve champagne and confections, and raucous laughter and innuendo and discussions of things that are not appropriate at cocktail parties with, say, the Queen. I love walking into small bookstores when they're hosting romance events, because the whole place sounds like the best party ever is happening, and you've been invited. On that day, as expected, I walked into the bookstore, and there was no laughter. No raucous noise, no inappropriate conversation. There was champagne, but it wasn't fun, "Did you know the champagne glass was molded from Marie Antoinette's breast," kind of champagne. It was more like "Oh, God, Russia screwed Napoleon, too," kind of champagne.
Bleak champagne is not good champagne.
The store was eerily quiet. But here's the thing: it was also very full. Fuller than I'd expected on the commute over, sure, but also fuller than I'd expected on November 7th. Full-full. And while the authors on the panel are talented and delightful, there were people in that room who had come out not for their writing, but for writing and books in general. For an honest talk about where we go from here. Because that's what we were all asking ourselves that day. Where do we go from here?
That's what we're still asking ourselves. What do we do? Where do we go? How do we continue to resist? In the months since the election, I've put this question to countless writers — novelists and playwrights, journalists and poets, television writers and essayists. And across the board, to a person, they've answered similarly. No one has a damn clue. No one knows what we do next. Where we go from here. How we stay fired up. How we resist.
But every one of them knows how to write. How to imbue that writing with passion and purpose, with hope and fear, with truth and with strength, and yes—in the case of romance—with love. After all, isn't living happily ever after one of the most powerful blows we can deliver?
And so, writers are doing today what they have always done in times of resistance. They are writing hard fought, magnificent things. In the past eight months, we've seen personal and political essays, investigative journalism, television shows and poetry and prose that hold a mirror to the world around us, that laud the strength of the many and cast bright light on weakness of the few.
And the novels that are coming — that have started to arrive — bold and brilliant and winning — books that rip open hearts and remind us all that it is on us to stand tall. That remind us that complacency is unacceptable. That hope remains. That we resist. And yes… that happily ever after is still in our grasp. That we are not here to suffer and lose, but rather, to fight and to triumph.
If you've ever spent time with writers, you know that it's rare to find one who is a great talker. The problem with speech is that it can't be revised, and any writer worth her salt will tell you that everything magical comes in revisions. And so it occurs to me that now, in 2017, the work of writers is the work of revision. Of writing the world as we see it and rewriting it as we dream it. Of writing truth and possibility. The cautionary tale of its future. The hope of it.
Of writing resistance. Of reading resistance.
Follow along all month long for more Reading Resistance book recommendations.