This 1952 Ad Was The First To Acknowledge That Women Wear Makeup For Themselves, Not Men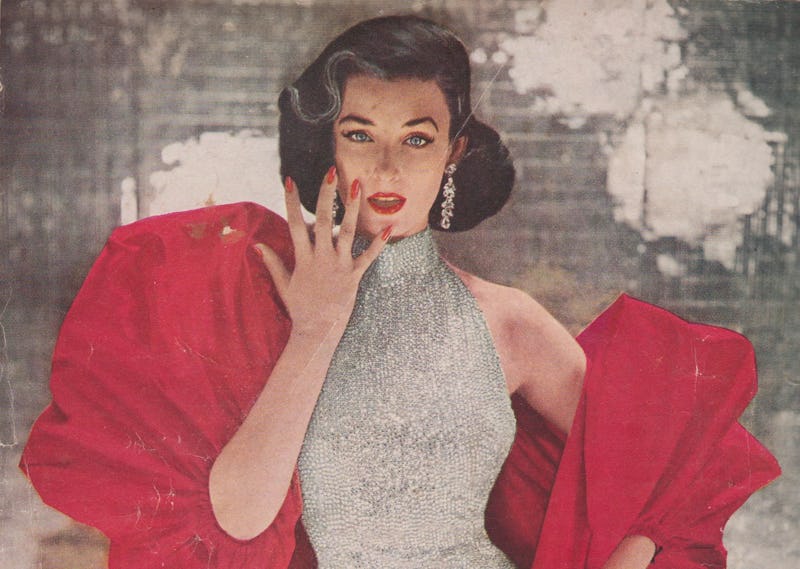 Revlon
Imagine taking out your tube of lipstick on the bus, flicking open your compact mirror, and putting on your favorite bordeaux lip. Not a very uncommon scene, right? The only difference is that prior to the 1960's, everyone sitting around you would assume a man caught your eye and so you were having a quick primp. Makeup was only seen as a tool to snag a man, and never for self-expression, creativity, or a way to play with identity. That is, until Revlon came onto the scene and changed everything. Revlon's Fire & Ice ad empowered women to wear makeup for themselves for the first time, taking men out of the equation.
If you looked at the ads of that time period, makeup was used more for the benefit of the man than the woman buying it. Hazel Bishop's Long-Lasting Lipstick had the motto "Stays on you...not on him;" Max Factor's pink Color Fast Lipstick touted "Nothing draws a man to a woman like...Crushed Rose;" and Seventeen Cosmetics ads promised they give "That 'natural' look men look for."
But the copy didn't reflect reality, and women used their cosmetics for a number of reasons that didn't revolve around leaving smudges on shirt collars.
Which is what Revlon tapped into with its revolutionary Fire & Ice beauty ad in 1952. A two-page spread, on one side it featured engineer-turned-It-Girl model Dorian Leigh in a silver-sequined dress and wrapped in a red cape, and the other side featured a questionnaire with a series of questions that tried to figure out if you were either naughty or nice; fire or ice.
It asked questions like, "Do you blush when you find yourself flirting," or "Would you streak your hair with platinum without consulting your husband," and if you answered yes to eight out of the 15 questions, then you were ready for the lipstick. The aim was to show there was a little bit of bad in every woman, even if she was a church-going suburbanite wife.
And women loved it, because it put their feelings front and center — and no one else's. "The questions were calculated to make every woman who read them want to answer yes, because doing so would make her feel sexy, adventurous, and just a wee bit dangerous. The ads were hailed as brilliant, and the color became Revlon's top shade," Nancy MacDonell Smith, author of The True Story of the Little Black Dress and Nine Other Fashion Favorites, shared in her book.
The reason why was simple. "There was no man in sight, and no romance was alluded to. Instead, the ad suggested that applying lipstick was something a woman did for her own pleasure and gratification," according to MacDonell Smith.
The ad was written by Kay Daly, who at the time was the highest-paid woman executive in the United States, and she made the ad's intended audience women from the outset.
"The ad copy was written to give women a bit of 'immoral support' and amusement. The ad had been designed for the female gaze in the belief that women would have the ability to step back, be amused, and know that they would not win a man with Revlon lipstick," David L. Miller, author of Introduction to Collective Behavior and Collective Action, shared in his book. "If they bought the lipstick it would be in the spirit of fun and not 'posturing for the male gaze.'"
The instant success of the ad created a sea-change in advertising, and makeup became something personally linked to the woman wearing it, acknowledging that her looks could be just for her.