A Former Cabinet Official Says He Had To Stop Trump From Doing Things That Broke The Law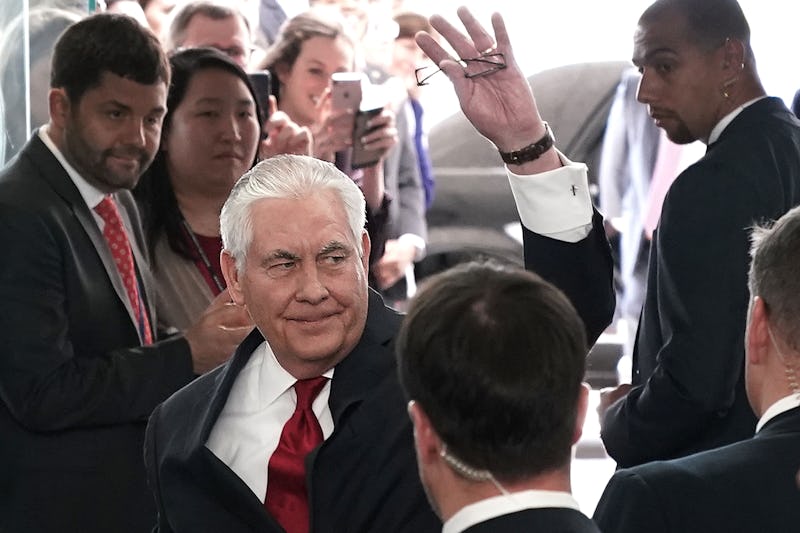 Alex Wong/Getty Images News/Getty Images
When former Secretary of State Rex Tillerson was fired earlier this year, he didn't divulge much about his on the job experience. In fact, he kinda, sorta seemed to disappear, opting to keep a low profile. But Tillerson stepped back into the national spotlight on Thursday when he appeared at a fundraising event to discuss his former boss. Indeed, Tillerson revealed some details about his relationship with Trump.
"When the President would say, 'well, here's what I want to do and here's how I want to do it,'" Tillerson said while speaking with CBS News political contributor Bob Schieffer at a fundraising dinner in Houston, Texas, on Thursday. "And I would have to say to him, 'Mr. President, I understand what you want to do but you can't do it that way. It violates the law, it violates treaty."
Tillerson said Trump "got really frustrated" by that. "I think he grew tired of me being the guy every day that told him you can't do that and let's talk about what we can do," Tillerson said. Bustle has reached out to the White House for comment on his remarks.
The former secretary of state said he and Trump did not share "a common value system" and appeared to imply that that contributed to the breakdown of their working relationship.
Tillerson also described Trump as "undisciplined" and as someone who tries to act on instinct. "It was challenging for me, coming from the disciplined, highly process-oriented Exxon Mobile Corporation, to go to work for a man who is pretty undisciplined," Tillerson told Schieffer. Tillerson went on to say Trump "doesn't like to read [and] doesn't read briefing reports."
"[Trump] doesn't like to get into the details of a lot of things but rather just kind of says, 'look this is what I believe and you can try to convince me otherwise, but most of the time you're not going to do that,'" Tillerson said.
After months of tension and public clashes on foreign policy, Trump announced he'd replaced Tillerson with then-CIA Director Mike Pompeo in a tweet on March 13. "Thank you to Rex Tillerson for his service!" the president tweeted at the time.
While the president refrained from giving any specific reasons for Tillerson's ousting back in March, CNN reported he'd told reporters he "got along well with Rex" and that he respected his "intellect." But Trump also told reporters that he thought Tillerson would "be much happier now" that he wasn't serving as secretary of state.
According to CNN, Tillerson — perhaps tellingly — did not thank the president in the farewell statement he gave before leaving office.
But perhaps things weren't all that bad between Tillerson and Trump. After all, on Thursday, Tillerson told Schieffer he was proud of his government service and that he'd be willing to return to the Trump administration as secretary of state if the president asked him to. Parts of Tillerson's interview with Schieffer at the MD Anderson Cancer Center fundraising dinner were aired Friday on CBS This Morning.